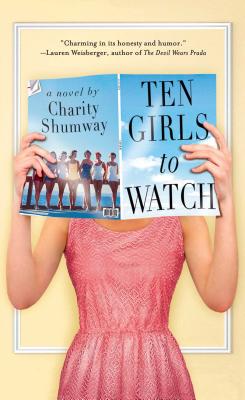 Ten Girls to Watch
A Novel
Paperback

* Individual store prices may vary.
Description
A radiant debut novel about stumbling through the early years of adulthood—and a love letter to the role models who light the way.

Like so many other recent graduates, Dawn West is trying to make her way in New York City. She's got an ex-boyfriend she can't quite stop seeing, a roommate who views rent checks and basic hygiene as optional, and a writing career that's gotten as far as penning an online lawn care advice column.

So when Dawn lands a job tracking down the past winners of Charm magazine's "Ten Girls to Watch" contest, she's thrilled. After all, she's being paid to interview hundreds of fascinating women: once outstanding college students, they have gone on to become mayors, opera singers, and air force pilots. As Dawn gets to know their life stories, she'll discover that success, love, and friendship can be found in the most unexpected of places. Most importantly, she'll learn that while those who came before us can be role models, ultimately, we each have to create our own happy ending.
Praise For Ten Girls to Watch: A Novel…
"A winning debut featuring the kind of witty, appealing good girl that captures readers' hearts....a sort of modern-day Mary Tyler Moore, Dawn West...is a young woman of substance and her trials are of more consequence than the search for the perfect Little Black Dress." —Kirkus

"A smoothly paced plot, peppered with robust vignettes from Charm's success stories and quirky details from Dawn's life, ensures a fast, funny, and moving read." —Publishers Weekly

"Debut author Shumway offers a fresh and modern take on chick lit. Instead of showcasing the melodramatic and helpless, she highlights the power and will of women. There is an inspirational undercurrent without being sappy. Dawn makes a great everywoman, and her story will appeal to girls of all ages." —Library Journal

"Upbeat and engrossing, this chick-lit novel gratifyingly focuses more on Dawn's burgeoning career than on which man she'll end up with." —Booklist

"Loved The Baby-Sitter's Club? Read Ten Girls To Watch...You won't see any baby-sitters here. But what you will recognize is the determination, spunk, entrepreneurial attitude and girl power ferocity you identified with and loved about your favorite group of friends" —Bustle

"Delightful…a debut that proves to be nothing short of charming. An intriguing plot, brilliant characters, and beautiful prose combine to create a novel that readers will adore." —Deseret News

"Charming in its honesty and humor, this novel captures that time right after college, when we all feel overwhelmed and adrift. Shumway expertly guides us through a young woman's love life, her family, friends, and career as she proves that perfect endings aren't the only happy ones."
—Lauren Weisberger, #1 New York Times bestselling author of The Devil Wears Prada

"Ten Girls to Watch is an insightful, funny take on post grad tribulations that thoughtfully mines the wisdom of women."
— Emma McLaughlin and Nicola Kraus, #1 New York Times bestselling authors of The Nanny Diaries

"The heroine of Charity Shumway's lively, smart and funny debut is as inspiring as the female luminaries it is her job to interview. What I loved about this coming-of-age story was its realistic and confirming celebration of feminine resilience, brilliance and generosity. Not your stereotypical single gal novel, Shumway's book is a passion-stirring breath of fresh air."
—Helen Schulman, New York Times bestselling author of This Beautiful Life

"Once you turn the first page, you won't be able to tear yourself away from Ten Girls to Watch. This is a thoroughly charming, sassy, highly satisfying debut from a writer with a rare gift: She sounds like your best friend, telling a story you don't ever want to end. I adored this book."
—Sarah Pekkanen, author of These Girls

"A sparkling novel about how we find our friends, our mentors, and our way in the world."
—Jean Hanff Korelitz, author of Admission and a 1983 Glamour Top Ten College Women

"Ten Girls to Watch will inspire you to follow your heart and believe in your own dreams, no matter how many challenges or obstacles the universe throws your way. It's a heartwarming story about a gathering of extraordinary women who offer wisdom, warmth and humanity, as well as shoulders broad enough for all of us to stand upon. I can't wait to give this book to my sisters and best girlfriends."
—Nicolle Wallace, New York Times bestselling author of Eighteen Acres
Washington Square Press, 9781451673418, 368pp.
Publication Date: July 31, 2012
About the Author
Charity Shumway received an MFA in Creative Writing from Oregon State University and a BA in English from Harvard University. After graduate school, she spent nine months reporting on the 50th anniversary of Glamour's "Top Ten College Women" contest. Her writing has appeared in Glamour, Ladies Home Journal, Fitness, and Garden Design, and her short fiction has been honored by Glimmer Train and Slice magazine, among others. She lives with her husband in Brooklyn, New York.
Book Videos