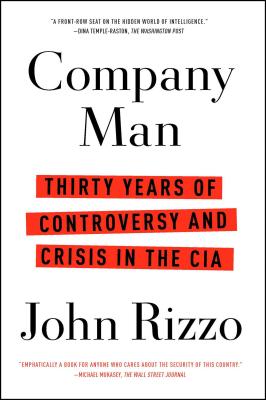 Company Man (Paperback)
Thirty Years of Controversy and Crisis in the CIA
Scribner, 9781451673944, 336pp.
Publication Date: October 7, 2014
Other Editions of This Title:
Digital Audiobook (5/12/2014)
Compact Disc (5/13/2014)
Hardcover (1/7/2014)
Pre-Recorded Audio Player (8/1/2014)
MP3 CD (5/13/2014)
Compact Disc (5/13/2014)
* Individual store prices may vary.
Description
The "revealing" (The New Yorker) insider history of the CIA from a lawyer with a "front-row seat on the hidden world of intelligence" (The Washington Post). Former CIA director George J. Tenet called Company Man a "must read."

Over the course of a thirty-four-year (1976-2009) career, John Rizzo served under eleven CIA directors and seven presidents, ultimately becoming a controversial public figure and a symbol and victim of the toxic winds swirling in post-9/11 Washington. In Company Man, Rizzo charts the CIA's evolution from shadowy entity to an organization exposed to new laws, rules, and a seemingly never-ending string of public controversies. As the agency's top lawyer in the years after the 9/11 attacks, Rizzo oversaw actions that remain the subject of intense debate, including the rules governing waterboarding and other "enhanced interrogation techniques."

Rizzo writes about virtually every significant CIA activity and controversy over a tumultuous, thirty-year period. His experiences illuminate our nation's spy bureaucracy, offering a unique primer on how to survive, and flourish, in a high-powered job amid decades of shifting political winds. He also provides the most comprehensive account of critical events, like the "torture tape" fiasco surrounding the interrogation of Al Qaeda suspect Abu Zubayadah, and the birth, growth, and death of the enhanced interrogation program. Company Man is the most authoritative insider account of the CIA ever written—a groundbreaking, timely, and remarkably candid history of American intelligence. This is "emphatically a book for anyone who cares about the security of this country" (The Wall Street Journal).
Praise For Company Man: Thirty Years of Controversy and Crisis in the CIA…
"CIA Directors have come and gone over the past several decades. There were two constants at the agency: crises and John Rizzo in the Office of General Counsel helping to manage them. A larger than life character, with great style, nobody worked harder to protect the nation and the men and women of CIA than John Rizzo.
Company Man
offers fresh insights into the some of the most highly debated national security issues of our time, from the perspective of an honest and dedicated public servant. It is a must read for those trying to understand some very important moments in the history of the CIA."
"A wonderful book by a man who was in the eye of the storm for thirty-four years. Told with humor and unfailing appreciation for the politics of espionage,
Company Man
is the best book out there on the modern CIA."
"John Rizzo has seen it all in his 30 years as a CIA lawyer, and he tells the truth in this absorbing, well-written memoir of his life as a
Company Man
. Think of Tom Hagen, the Corleone family lawyer in "The Godfather," and you begin to get the flavor of what Rizzo had seen and heard. He draws vivid portraits of the agency's great characters and their sometimes outrageous schemes. The best thing about the book is that you sense Rizzo never stopped being a lawyer or trying to give his clients good, straight-up advice. If you're interested in the inside life of the CIA, read this book!"
"John Rizzo, formerly the CIA's top attorney, has superbly captured the scope of his fascinating career in
Company Man
. Not only does he cover the major espionage and covert action of the decades he served, he also conveys an enduring and critical lesson for all liberal democracies--the centrality of the rule of law at the nexus of foreign policy and intelligence. John, who always provided clear and honest counsel to the CIA's Clandestine Service, has crafted an important book with the same sense of intellectual integrity and duty."
"When the CIA was in trouble, big trouble, it called John… Rizzo knows where the bodies are buried because he helped stash them.
Company Man
reads like the CIA's conscience: what the CIA was
thinking
as it shifted from collecting information to killing terrorists after 9/11. Why did the CIA violently interrogate suspects and then destroy the evidence? Rizzo knows, and he's talking."
"Company Man is simply the most revealing insider account to date of the top ranks of the CIA during its most historic--and controversial--era. There is news and humor in every chapter. Frankly, I often found myself wondering why the CIA's pre-publication censors signed off on some of it."
"[A] lively memoir of life and work inside the nation's intelligence headquarters."
"Under seven presidents and 11 different CIA directors, Rizzo rose to become the CIA's most powerful career attorney… [he] accumulated more than 30 years of war stories, and he tells most of them…[Rizzo] clearly loved his job and, readers conclude, served the agency and his country well."
"Must reading for today's political junkies…. As insider looks go, this one is about as close-up as you can get."
"[A] revealing and funny memoir…. Rizzo provides a clear, detailed account of his decision-making and his role in the C.I.A.'s interrogation program…. Rizzo's memoir is an important contribution."
"Revealing… Whatever conclusion you draw, Rizzo's book makes an important contribution to history and the debate over interrogation….
Company Man
is tailor-made for CIA buffs. Rizzo's career as an agency lawyer spanned the decades from Iran-Contra to drones, with Russian turncoat Aldrich Ames, the rise of al-Qaida…. His book manages to strike notes that are both earnest and candid. That alone sets
Company Man
apart in the genre."
"A gripping story."
"Few books have this scope or insider perspective on the CIA. Rizzo seems to have been there for everything — from Iran-contra to Valerie Plame to the arrival of President Obama. And that makes
Company Man
a front-row seat on the hidden world of intelligence over the past 30 years.... Rizzo rose from humble beginnings to become a fixture in national intelligence.... An atlas to navigate the dark, murky morality that governs the business of intelligence."
"Emphatically a book for anyone who cares about the security of this country and about how the political classes treat those charged with protecting it."
"Both students and lay readers of American politics should find considerable value in this memoir."
"Rizzo's memoir often reads like a good spy novel."
"A gripping, affecting and revelatory story."
"John Rizzo takes readers deep inside Langley.... Informative and mordantly witty, [Rizzo] … reveals fascinating details … and does not hesitate to peer into the future with an insider's prediction that ought to command our attention."
"Fascinating and insightful… A unique and refreshing perspective… a surprising page-turner."
"Rizzo saw and heard a lot. The astonishing roster of his bosses begins with William Colby, followed by George H.?W. Bush, Stansfield Turner, William Casey, William Webster, Robert Gates, James Woolsey, John Deutch, George Tenet, Porter Goss, and Leon Panetta. Rizzo's portraits of these individuals in action—some of them legendary figures in the history of American espionage—make this memoir worth the price of admission. But
Company Man
also holds interest for the light it sheds on a variety of quasi-secret subjects, some of them highly controversial."
"[A] remarkable career… Rizzo is a good story-teller… I liked this book very much …. one man whose story is wrapped up in the many twists and turns of the CIA's modern history of triumph, failure, and scandal, and whose personal story offers an important window into why those triumphs, failures, and scandals probably can't ever be separated."
"An exceptionally valuable resource. What this book does well, among other things, is explain the inner workings of the processes of the most controversial CIA programs of the past decade….
Reading John Rizzo's book, and being more familiar with the scope of law within the area of national security law would help citizens and reporters to process the actions and accusations of our nation's elected and appointed leaders….
Company Man
is an excellent read."
or
Not Currently Available for Direct Purchase