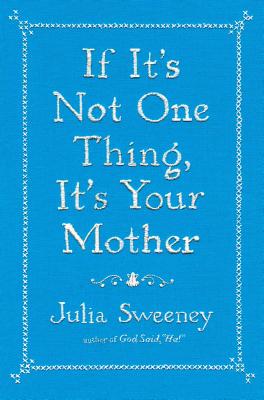 If It's Not One Thing, It's Your Mother
Hardcover

* Individual store prices may vary.
Other Editions of This Title:
Digital Audiobook (4/1/2013)
Paperback (4/8/2014)
CD-Audio (4/2/2013)
Description
Julia Sweeney, the delightful former cast member of Saturday Night Live, takes readers into the depths of her family in this hilarious and unique parenting book.

"I took so long to assemble my lovely family. If only they would disappear."

While Julia Sweeney is known as a talented comedienne and writer and performer of her one-woman shows, she is also a talented essayist. Happily for us, the past few years have provided her with some rich material. Julia adopted a Chinese girl named Mulan ("After the movie?") and then, a few years later, married and moved from Los Angeles to Chicago. She writes about deciding to adopt her child, strollers, nannies (including the Chinese Pat), knitting, being adopted by a dog, The Food Network, and meeting Mr. Right through an email from a complete stranger who wrote, "Desperately Seeking Sweeney-in-Law." She recounts how she explained the facts of life to nine-year-old Mulan, a story that became a wildly popular TED talk and YouTube video.

Some of the essays reveal Julia's ability to find that essential thread of human connection, whether it's with her mother-in-law, who candidly reveals a story that most people would keep a secret, or with an anonymous customer service rep during a late-night phone call. But no matter what the topic, Julia always writes with elegant precision, pinning her jokes with razor-sharp observations while articulating feelings that we all share.

Poignant, provocative, and wise, this is a funny, and at times powerful, memoir by a woman living her life with originality and intelligence.
Praise For If It's Not One Thing, It's Your Mother…
"What a gift! If It's Not One Thing, It's Your Mother is an intimate and hilarious book that will leave you resenting your mother less, hugging your children tighter, and glowing with gratitude that Julia Sweeney has put it all into words."
— Maria Semple

"Reading If It's Not One Thing, It's Your Mother gave me the delightful sensation of being Julia Sweeney's best friend. I curled up in bed with this book and we shared secrets, swapped parenting fiascos and boyfriend dramas, complained about our mothers, laughed a lot, cried a little, and just generally had an awesome time. Write another book soon, Ms. Sweeney! Legions of your friends are waiting!"
— Ayelet Waldman

"A deep, candid, insightful, and emotional look at love, family, independence, and commitment. . . . Reading it is like catching up through a long, soul-baring night with your funniest old friend."

"A thoughtful set of essays on motherhood embroidered with humor . . . As you'd expect, there's humor here, but it's also a deeper read about relationships and the unpredictability of life."

"Frank, funny."

"Julia Sweeney can you make you laugh about anything. . . . Wry and honest."

"Funny, funny stuff . . . clever and quirky . . . she exhibits that rare ability as a writer to make the ordinary seem interesting."

"Outlandishly funny . . . For every mother who could use a laugh—in other words, every mother—If It's Not One Thing, It's Your Mother offers a touch of wisdom and plenty of wit."

"Intimate and humorous . . . Sweeney's devilish sense of humor successfully makes the transition to page, linking the scenes of her life as daughter, sister, wife, and mother into a delightful whole."

"Laugh-out-loud moments blended with honesty and despondency."

"Sweeney takes life's quotidian rituals to hilarious heights."

"This is the sort of book that made me want to be the person who wrote it. Pithy, painful and very, very funny."
— Emma Thompson

"I am hereby breaking my vow to not write any more blurbs because . . . it's Julia Sweeney! In my opinion, any new creative offering from Julia Sweeney, no matter what the medium, is a cause for celebration because she is such a spectacular combination of insightful, hilarious and honest. So, yay! A new book from Julia Sweeney! Drinks are on me!"
— Merrill Markoe, author of Cool, Calm, and Contentious

"What a delicious treat! Julia Sweeney is one of the truest, warmest, wittiest voices in the world today, and we're so lucky that she spent her precious alone-time (while her husband and daughter were away) writing a book that invites everyone into her heart and home."
— Cindy Chupack, a writer/executive producer of HBO's Sex and the City and author of The Between Boyfriends Book

"[Sweeney's] sharp humor shines through . . . singles looking to adopt will find inspiration along with the giggles."
Simon & Schuster, 9781451674040, 256pp.
Publication Date: April 2, 2013
About the Author
Julia Sweeney was a cast member of Saturday Night Live from 1990 to 1994. She has also written and performed in several successful, critically acclaimed one-woman shows, including God Said Ha!, which played on Broadway and was made into a film; In the Family Way, which appeared Off Broadway; and Letting Go of God, which was performed Off Broadway and made into a film. She lives outside of Chicago.
or
Not Currently Available for Direct Purchase