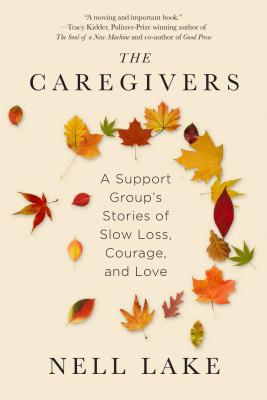 The Caregivers
A Support Group's Stories of Slow Loss, Courage, and Love
Hardcover

* Individual store prices may vary.
Other Editions of This Title:
Paperback (4/14/2015)
Hardcover, Large Print (8/6/2014)
Description
A gifted writer's chronicle of the extraordinary bravery and strength of a group of people who care for loved ones during long, final illnesses.

A moving, intimate, and compassionate book that chronicles the experiences of a group of long-term caregivers and illuminates critical issues of old age, end-of-life care, medical reform, and social policy

In 2010, journalist Nell Lake began sitting in on the weekly meetings of a local hospital's caregivers support group. Soon members invited her into their lives. For two years, she brought empathy, insight, and an eye for detail to understanding Penny, a fifty-year-old botanist caring for her aging mother; Daniel, a survivor of Nazi Germany who tends his ailing wife; William, whose wife suffers from Alzheimer's; and others with whom all caregivers will identify.

Witnessing acts of devotion and frustration, lessons in patience and in letting go, Lake illuminates the intimate exchanges of caregiving and carereceiving. Her work considers important and timely social issues with humanity, warmth, and concern: How can we care for the aging, ill, and dying with skill and compassion, even as the costs and labors of care increase? How might the medical profession take into account the needs of caregivers as well as patients? Nell Lake understands that broad policy questions are experienced personally, in the daily, difficult but rewarding lives of caregivers everywhere. The Caregivers is a thoughtful and tenderly reported depiction of the real-life predicaments that evoke these crucial questions.

With more and more people spending their late years ill and frail, and 43 million Americans caring for family members over age fifty, The Caregivers is an important chronicle of a widely shared experience and a public concern. It offers a humane, realistic, and life-affirming portrait of what it means to give and receive love.
Praise For The Caregivers: A Support Group's Stories of Slow Loss, Courage, and Love…
"A beautifully written account of a year in the life of caregivers...The Caregivers is as elegantly constructed as a novel, but more than that, Lake writes about these people with such warmth and vividness that they feel as memorable as our favorite fictional characters. In sharing these stories with readers, Lake has written a book that bears witness to their 'necessary, intimate, private heroism.'"
— Kate Tuttle

"A penetrating glimpse into the modern world of caregiving…Lake shines as a storyteller…Her sympathetic portrayals are touching and thought-provoking, but Lake is at her best when examining the place and character of caregiving in today's society….Those who are currently caregivers will find in Lake's subjects understanding and compassion, just as they share with each other in the context of the support group."
— Kirkus Reviews

"A chronicle of the extraordinary bravery and strength of a group of people who care for loved ones during long, final illnesses."
— Publishers Weekly

"An elegantly written and thoughtful book that considers one of the biggest of the Big Questions we face as a society—how do we care for a ballooning aging population, with people living longer but with more health problems?—as well as the personal challenges of individuals who care for loved ones who are elderly or infirm."
— Maureen Turner

"We are legion, we members of the middle-aged, mostly female caregiver corps, and we work our extra jobs behind the scenes. Since many of us can't seem to summon up the energy to join that support group our friends keep suggesting to us, it's quite canny of writer Nell Lake to provide one in book form…­­­Lake tells a good tale, and—just like an actual support group—provides comfort in the time-honored form of shared experience: Oh, You've been through that too."
— Lynette Lamb

"An intimate portrait."
— Susan Kaplan

"Lake offers views into the complexities of caregiving: the profound stress, the upheaval of family roles, the slow, often excruciating grief, as well as the graceful humanity of it all."
— Rachel Zimmerman

"This profound study on the effects of tending to ill loved ones offers powerful testimony to friendship and mutual support."
— Publishers Weekly

"A moving and important book."
— Tracy Kidder

"Virtually every one of us worries about an elderly family member who needs care, or knows we'll be responsible for someone in the future, or fears needing such care someday ourselves. Yet seldom does a fine and thoughtful writer address this subject. Nell Lake's warm and compassionate book fills a gap, speaks to universal anxieties, and lets us know we are not alone. I hope it starts a national conversation."
— Adam Hochschild

"The Caregivers offers companionship to those shouldering the sudden, complex, asymmetric, and protracted demands of caring for a family member in decline. Kind, and beautifully written, The Caregivers shares stories of lives overtaken by this common but often all-too-private, messy, and mandatory generosity. The book is not only a lucid examination of life's closing years, but a celebration of the solace and strength that come to many who accept this burden
— Mark Kramer, Writer in Residence, Boston University

"Nell Lake has achieved a remarkable intimacy with the people she writes about, and she repays their trust with this refined and affecting book. In its sensitivity, compassion, and wisdom, it exemplifies the virtues it celebrates."
— Richard Todd

"Nell Lake's chronicle of some ordinary people who do some extraordinary things is a perfect match of subject and writer. They are inspiring, and so is she."
— Daniel Okrent

"Nell Lake's The Caregivers illuminates asubculture all too easily overlooked and undervalued: the men and women whotoil to ease the final days, weeks, and often years of loved ones who need helpnavigating everything from the simplest activities of daily living to thecomplexities of transportation, doctors, meds and endless paperwork. In prosethat is by turns elegiac, humorous, gritty, and intimate, Lake gives hersubjects the one response they so amply deserve and so rarely receive: a deepand abiding respect."
— Madeleine Blais, Pulitzer Prize winning journalist and author of Uphill Walkers: A Family Memoir and In These Girls, Hope is a Muscle
Scribner, 9781451674149, 320pp.
Publication Date: February 11, 2014
About the Author
Nell Lake, a journalist and magazine writer, was the founding editor of the Nieman Narrative Digest at the Nieman Foundation at Harvard University. She has written for The Boston Globe, Yankee, Harvard Magazine, and other publications, and has reported for public radio. She lives with her family in western Massachusetts.
or
Not Currently Available for Direct Purchase