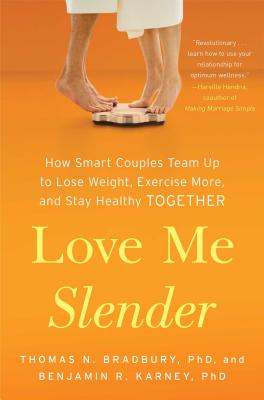 Love Me Slender (Hardcover)
How Smart Couples Team Up to Lose Weight, Exercise More, and Stay Healthy Together
Atria Books, 9781451674514, 336pp.
Publication Date: February 4, 2014
Other Editions of This Title:
Paperback (1/6/2015)
* Individual store prices may vary.
Description
Based on cutting-edge research with more than 1,000 married couples, Love Me Slender shows you how to bolster your resolve by strengthening your relationship, offering a fresh approach to weight loss that will turn your spouse from diet saboteur into your most loyal health ally.

My husband keeps undermining my diet. My wife keeps nagging me to exercise. I want to be healthier, but I can't do it on my own!

First comes love, then comes marriage . . . then comes a larger pant size? Many couples find themselves gaining weight as they settle into a relationship, but some couples manage to buck this trend. They exercise (together or separately), they support each other's healthy eating habits, and their relationships are stronger as a result. What are their secrets?

It turns out that many of us are ignoring the most powerful tool we have to help us get healthier and stay healthier—our spouse or significant other. For more than twenty years, Drs. Thomas Bradbury and Benjamin Karney, codirectors of the Relation­ship Institute at UCLA, have been studying how couples communicate around these issues, wit­nessing firsthand how partners can help (and hinder) one another's progress toward better health. In Love Me Slender, they identify the specific principles that successful couples use in their quest to improve their health. Learn:

Why reassurance and praise can actually backfire when you're trying to change your partner's habits—and what to say instead.

What your spouse can tell you (that no one else can) to shift your attention toward your long-term health goals.

How even if only one partner resolves to become healthier, both partners will benefit.

How to nudge your partner toward a healthier lifestyle in subtle, effective ways—without them even noticing it.

Featuring self-assessments and case studies from real couples working to stay healthy together, Love Me Slender is an eye-opening, uplifting guide to changing the dynamic of your relationship and improving your health—and the health of those you love most.
About the Author
Thomas N. Bradbury, Ph.D., is a professor of psychology at UCLA and world-renowned expert on marriage and an award-winning teacher and author. He lives in Southern California. Visit UCLARelationshipInstitute.org.

Benjamin R. Karney, Ph.D., is a professor of psychology at UCLA and is internationally acclaimed for his research and teaching on couples and relationships. He lives in Southern California. Visit UCLARelationshipInstitute.org.
Praise For Love Me Slender: How Smart Couples Team Up to Lose Weight, Exercise More, and Stay Healthy Together…
"Love Me Slender is a revolutionary book! It breaks the cultural trance about the sources of optimal health and fills the ignorance gap about the power of healthy relationships, especially healthy intimate partnership for optimal health and well being and happiness. Why don't diets work? Mystery solved! They also show couples and others how to use their relationship for optimal wellness. I recommend it to everyone."
— Dr. Harville Hendrix, co-author with Helen Lakelly Hunt of Making Marriage Simple

"This eminently readable and wise book shows us how to seek and offer support to our loved ones so that we can all be happier and healthier. Our relationships really can be the royal route to healthier living. This is a timely and important book—everyone should read it. We can't get healthier and stronger all by ourselves!"
— Dr. Sue Johnson, author of Love Sense: The Revolutionary New Science of Romantic Relationships

"Love Me Slender lays out fundamental inspiring principles surrounding commitment, understanding, and influence. Regardless of which dietary approach you choose as a couple, applying these principles will ensure long term success."
— Colette Heimowitz, vice president of nutrition and education at Atkins Nutritionals, Inc., and author of The New Atkins Made Easy

"Offer[s] a fresh approach to weight loss that will turn your spouse into your most loyal health ally."
or
Not Currently Available for Direct Purchase