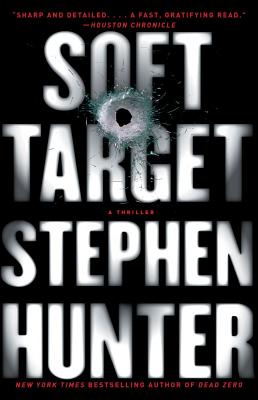 Soft Target (Paperback)
Pocket Books, 9781451675344, 256pp.
Publication Date: May 29, 2012
* Individual store prices may vary.
or
Not Currently Available for Direct Purchase
Description
New York Times bestselling author Stephen Hunter is back with a breakneck thriller brimming with his trademark action and masterful plotting, as ex-Marine sniper Ray Cruz confronts a group of murderous terrorists who've laid siege to the Mall of America. Black Friday America's largest shopping mall Suburban Minneapolis 3:00 P.M. Ten thousand people jam the aisles and the escalators of America, the Mall--a giant structure with its own amusement park located in the spacious center atrium. Of those people, nine thousand nine hundred and eighty-eight have come to shop. The other twelve have come to kill. Stephen Hunter's hyper-drive, eighth-gear thriller chronicles the day when the unthinkable happens: terrorists descend upon the heartland, opening fire in mall corridors and executing innocent victims one by one. Those on the upper floors, including retired Marine sniper Ray Cruz, take cover or get out any way they can, but within minutes the gunmen have rounded up more than a thousand hostages, and the story comes down to one man with a gun. Except Ray doesn't have a gun.
About the Author
Stephen Hunter has written seventeen novels. The retired chief film critic for The Washington Post, where he won the 2003 Pulitzer Prize for Distinguished Criticism, he has also published two collections of film criticism and a nonfiction work, American Gunfight. He lives in Baltimore, Maryland.
Praise For Soft Target…
One of the Best Books of 2012

-St. Louis Post-Dispatch


"Stephen Hunter spent years reviewing movies for The Washington Post. That work gave him a keen sense of pacing and timing. The evidence shows up in Soft Target, which unrolls a complicated and grabby plot in just 256 tense pages. And Hunter packs in a surprise with the identity and motive of the individual behind the terrorist attack."—St. Louis Post-Dispatch



"Hunter's writing is sharp, detailed and laced with enough offhand wit to keep readers from sinking into the general gore and Islam-bashing. . . . Hunter has produced a fast, gratifying read."—The Houston Chronicle



"A solid addition to Stephen Hunter's sniper series, made more engaging by its invocation of current events and political posturing. I join his other fans in hoping he has another one already in the works."—The Washington Times



"Stephen Hunter didn't invent the high-action thriller. But, as he once again demonstrates in the lightning-paced Soft Target, he might as well have. . . . Soft Target is Die Hard with a brain and a plan. A lean, action-packed tale that begs to be read in a single sitting."—The Providence Journal



"Fast-paced…fearsome."—Publishers Weekly



"Combining elements of the locked-room mystery, the disaster novel, and the lock-and-load thriller, Hunter produces a remarkably gripping tale, building character (the captives, the bureaucrats, and the "terrorists" all get compelling backstories) every bit as convincingly as he drives the narrative to its High Noon–style finale."—Booklist (starred review)



"Any thriller in which Middle Eastern terrorists whack Santa on the first page is bound to be exciting. As always, Hunter has crafted a fast-paced and all-too-plausible telling of our worst nightmares coming true. Ray Cruz is a worthy successor to Swagger. Hunter's fans, along with new readers, will enjoy the violent battle between Cruz and the bad guys."—Library Journal



"Black Friday [is] on the cusp of becoming blood-soaked Friday. . . . Among the shoppers, albeit reluctantly, is Ray Cruz, a retired marine sniper, son of the iconic marine sniper Bob Lee Swagger, whose valorous exploits Hunter has richly detailed (Dead Zero, 2010, etc.). . . . Snipers and SWAT teams gather, but only one man is in an advantageous tactical position, behind enemy lines, as it were. Only one man, but he's Bob Lee Swagger's son, and what a good thing it is that the apple hasn't fallen far from the tree."—Kirkus Reviews
Advertisement