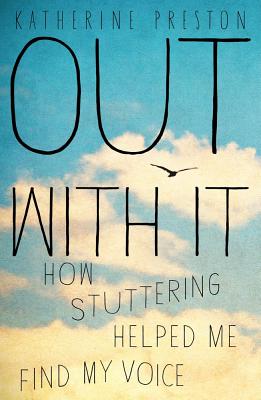 Out With It
How Stuttering Helped Me Find My Voice
Hardcover

* Individual store prices may vary.
Other Editions of This Title:
Paperback (3/4/2014)
Description
A fresh, engaging account of a young woman's journey, first to find a cure for a lifelong struggle with stuttering, and ultimately to embrace the voice that has defined her character.

A vividly powerful memoir of a young woman who fought for years to change who she was until she finally found her voice and learned to embrace her imperfection.

Imagine waking up one day to find your words trapped inside your head, leaving you unable to say what you feel, think, want, or need. At the age of seven that happened to Katherine Preston. From that moment, she began battling her stutter and hiding her shame by denying there was anything wrong. Seventeen years later, exhausted and humiliated, she made a life-changing decision: to leave her home in London and spend a year traveling around America meeting hundreds of stutterers, speech therapists, and researchers. What began as a vague search for a cure became a journey that debunked the misconceptions shrouding the condition, and a love story that transformed her conception of what it means to be normal.

Shedding light on an ancient condition that affects approximately 4 million people in the United States and 60 million people worldwide, Preston has assembled an anthology of expertise and experience. In addition to specialists in the field, she interviews celebrities, writers, musicians, social workers, psychologists, and financiers—men and women from all walks of life battling their difficulties with speech. A heartwarming memoir and a journalistic feat, Out With It is more than a chronicle of one of the most prevalent speech problems in the world; it's a story about understanding yourself, and learning to embrace the voice within.
Praise For Out With It: How Stuttering Helped Me Find My Voice…
"Preston's book pulses with wit and energy, and the realities of how difficult living with [stuttering] is painted vividly.... Preston is unflinching and funny; she manages to find a happy balance of education, memoir, and feel-good-factor that few books actually achieve, concluding that it is our 'imperfections that ultimately make us beautiful.' Never saccharine or pandering, Preston's book is a triumph of telling your story without fear or glossing over the harder to look at details."

"An inspiring memoir.... Readers expecting a fairy-tale ending when they finish the book can't have been reading very closely, but Preston comes to a truce with stuttering, and her battles with it make for engaging reading."

"Out With It is both a compassionate, unflinching memoir and an anatomy of life with a stammer. Katherine Preston offers affirmation for the millions of us who live with a speech disfluency and practical insight for those who don't. I highly recommend this astute and engaging book."
— David Mitchell, author of Cloud Atlas

"Katherine Preston is an upbeat and inspiring example of how to deal with a problem that concerns so many and yet is acknowledged by so few. Out With It deserves the widest possible audience."
— Michael Palin, actor, author, and founder of the Michael Palin Centre for Stammering Children

"Katherine Preston's memoir is an astute and personal exploration on the human experience.... A must-read."
— Emily Blunt, actress

"A frank, encouraging, and fresh exploration of a problem that's more widespread than we think. Out With It is a welcome addition to the small body of literature on this fascinating and mysterious subject."
— Margaret Drabble, author of The Peppered Moth and A Pattern in the Carpet: A Personal History with Jigsaws

"Out With It is a highly personal, vivid, and affecting account of one woman's journey from disability to wholeness through self-acceptance. It is sure to engage anyone who has traveled down a kindred path."
— Benson Bobrick, author of The Caliph's Splendor and Knotted Tongues: Stuttering in History and the Quest for a Cure

"Katherine Preston is an extraordinary new literary voice and a triumphant storyteller of her generation. How she got there is a captivating tale and we are all the richer for her experience and her arrival."
— Carl Bernstein, author of A Woman in Charge: The Life of Hillary Rodham Clinton

"I've spent decades helping others reach their peak level of physical fitness and realize that the strength within creates the picture of health on the outside. Though I may look like a tough guy, I've fought my own inner battle with stuttering for most of my life. In Out With It, Katherine Preston describes, in such great detail, what it's like to not be able to express yourself clearly and without ridicule. With her memoir, she's become a voice for anyone with speech issues. My only complaint is that she didn't write it sooner."
— Jake Steinfeld, Chairman & CEO, Body by Jake; Founder, Major League Lacrosse; Chairman of the National Foundation for Governors' Fitness Councils

"A compelling bird's eye view of a condition few people are exposed to—and even fewer have patience for. Out With It is an inspiring, emotional story about one woman's struggle to be heard—with an intelligent and unique love story as an added delight."
— Liz Tuccillo, co-author of He's Just Not That Into You, author of How to Be Single, and member of the board of directors of Our Time, a theater company for kids who stutter

"A refreshingly honest memoir.... Out With It is a unique book, and I thoroughly recommend it to anyone who stammers, knows someone who stammers, or simply wants to know more about this often misunderstood condition. It made me laugh out loud, gave me deep, positive revelations about the stammering experience, and simply made me appreciate the journey a little bit more."

"An interesting journey, both across country and in life."
Atria Books, 9781451676587, 256pp.
Publication Date: April 16, 2013
About the Author
Katherine Preston is a writer, public speaker, and a regular contributor to Psychology Today. Raised in England, she currently lives in San Francisco. Find out more at KatherinePreston.com.
Book Videos
or
Not Currently Available for Direct Purchase