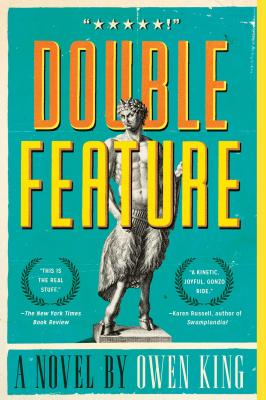 Double Feature
A Novel
Paperback

* Individual store prices may vary.
Other Editions of This Title:
Digital Audiobook (3/18/2013)
Hardcover (3/19/2013)
Description
"An ambitious and warmhearted first novel" (Entertainment Weekly) from Owen King—the epic tale of a young man coming to terms with his life in the aftermath of the spectacularly bizarre failure of his first film.

SAM DOLAN is a young man coming to terms with his life in the process and aftermath of making his first film. He has a difficult relationship with his father, B-movie actor Booth Dolan—a boisterous, opinionated, lying lothario whose screen legacy falls somewhere between cult hero and pathetic. Allie, Sam's dearly departed mother, was a woman whose only fault, in Sam's eyes, was her eternal affection for his father. Also included in the cast of indelible characters: a precocious, frequently violent half-sister; a conspiracy-theorist second wife; an Internet-famous roommate; a contractor who can't stop expanding his house; a happy-go-lucky college girlfriend and her husband, a retired Yankees catcher; the morose producer of a true-crime show; and a slouching indie-film legend. Not to mention a tragic sex monster.

Unraveling the tumultuous, decades-spanning story of the Dolan family's friends, lovers, and adversaries, Double Feature is about letting go of everything—regret, resentment, dignity, moving pictures, the dead—and taking it again from the top. Against the backdrop of indie filmmaking, college campus life, contemporary Brooklyn, and upstate New York, Owen King's epic debut novel combines propulsive storytelling with mordant wit and brims with a deep understanding of the trials of ambition and art, of relationships and life, and of our attempts to survive it all.
Praise For Double Feature: A Novel…
"Owen King has spun a story with great compassion and humor. And in examining the creative process, it's also horrifyingly accurate."
— Bill Hader, Saturday Night Live

"Wonderfully, organically funny. Owen King has a gift."
— Dave Barry

"Double Feature is a many-headed comic monster. Its concerns are varied; it's hilarious first and foremost, but it's also a heartbreaking and poignant meditation on the vagaries of art. The sweep of the novel is epic."
— Los Angeles Review of Books

"Tartly delicious."
— Tampa Bay Times

"[An] ambitious and warmhearted first novel…King writes with witty verve."
— Entertainment Weekly

"Fresh, new, and original."
— Christian Science Monitor

"[A] powerfully insightful and often devastatingly funny debut…. Double Feature constantly walks the line between tragedy and comedy, between love and loathing, between friendship and strained codependency, between art and what's only posing as art."
— Bookpage

"Epic, ambitious, and dedicated to the uncontainable…[King] has a captivating energy, a precision and a fondness for people that are rare…King loves people as well as words, and he has the reach of a novelist…this is the real stuff, I think, and there's plenty of it."
— The New York Times

"The son of horror master Stephen, the younger King delivers a darkly humorous and often heartfelt work that's part ode to low-budget movies, part family drama and part screwball comedy with a slew of oddball characters… the only scary thing here is the new novelist's potential as a writer."
— USA Today

"Sharp, hilarious, and irreverent, Double Feature is not only a love-letter to cinema, but also a moving exploration of what it means to be an artist. This novel is brilliant, and Owen King is a magician."
— Lauren Groff, author of The Monsters of Templeton and Arcadia

"Owen King's Double Feature is an ingeniously structured novel about fathers and sons, good art and bad art, success and failure, fight or flight. It manages both to redeem and condemn the overconfidence of youth, and introduces us to a wonderfully, tragically lovable cast of characters. This is terrific book."
— Tom Bissell, author of God Lives in St. Petersburg and Magic Hours

"Double Feature is a beautiful, wrenching beginning, and Owen King is a young writer of immense promise."
— Larry McMurtry

"Dear Reader: With this amazing tour de force, Owen King hasmore than lived up to the great promise of his debut collection. You will fallin love with Booth Dolan (just try not to) even as you're giving thanks he'snot your father. This is a big, generous American novel from a dazzlingnovelist I'll be watching for years."
— Tom Franklin, author of Crooked Letter, Crooked Letter

"What a kinetic, joyful, gonzo ride—Double Feature made me laugh so loudly on a plane that I had to describe the plot of Sam's Spruce Moose of a debut film (it stars a satyr) to my seatmate by way of explanation. Booth and Sam are an unforgettable Oedipal duo. A book that delivers walloping pleasures to its lucky readers."
— Karen Russell, author of Swamplandia!

"Owen King shows incredible heart, humor and structural mastery in his debut novel. Double Feature, as the title might suggest, has both glorious comic sweep and poignant intimacy."
— Sam Lipsyte, author of The Ask

"I didn't believe the species existed any more: a fun, goodhearted and readable to the point of being addictive epic, contemporary novel. To delve this smoothly into the film world, art, this winningly into the complex mess between sons and fathers, this compassionately into life after a man has taken his shot and is no longer the talented, bright-eyed prodigy... it just doesn't happen. Owen King is some kind of impressive novelist, and Double Feature is a goddamn unicorn."
— Charles Bock, author of Beautiful Children

"Owen King has a generous heart and a devious mind; there's no other possibility that would explain the ways this novel turns from the beautiful and the true right into the bizarre and hilarious. Tackling the act of creation (parents and children, artists and art), King writes with such assurance that the only option for me, once I finished this epic tale, was to start over and hope to experience it anew."
— Kevin Wilson, author of The Family Fang and Tunneling to the Center of the Earth

... Samuel Dolan graduated from a liberal arts college in upstate New York. His girlfriend, Polly, left to live with her parents in Florida. Sam's mother is dead, and Sam doesn't much like his father, Booth. Booth Dolan has made a career out of scenery-chewing in B-movies—and doing what he wants, including chasing skirts. Sam's passionate ambition is his indie film, Who We Are, "about the costs of growing up—and the costs of not growing up. And that was heavy stuff." Sam makes his film, but the film that finds its way into print isn't the film he made... King's characters are both attractive and realistic, not only larger-than-life Booth and disaffected Sam, but also Allie, Sam's mother, who was always cool and accepting, even of Booth's "blithe selfishness." There's Mina, Sam's wise and fragile half sister; Polly, who still beds Sam even after marrying a buffoonish retired Yankee baseball player; Rick Savini, an eccentric yet successful character actor who treats Sam as an equal; and television producer Tess, earnest and bossy, whom Sam meets as he films a wedding. The narrative blossoms and unfolds and expands, Sam becoming wiser and more likable, even as he reconciles with his world at a happily-enough-ever-after homecoming. Unique in concept and execution, with much mention of Orson Welles and Dog Day Afternoon, King's novel is winning.

Superbly imagined lit-fic about family, fathers and film.
— Kirkus

"King's first novel, about facing reality and failed aspirations, is irreverent and ambitious. Its sweeping scope covers several generations in a humorous and cynical narrative that bounces between decades. Entertaining and thought-provoking…"
— Booklist

"King strikes a balance between the grand narratives of popular storytelling—there are affairs and phone sex, jilted lovers and enraged cuckolds, budding romance, emotionally unstable teenagers, fights both verbal and physical, and of course a satisfying resolution in the end—and the small, sharp details of higher-brow, character-driven, artsy fare….The literary and the popular can coexist. Double Feature makes this point, and proves it too."
— The Rumpus

"One of the year's best debuts... Double Feature is funnier than any movie to come out this year."
— Complex
Scribner, 9781451676907, 448pp.
Publication Date: June 3, 2014
About the Author
Owen King is the author of the novel Double Feature and We're All in This Together: A Novella and Stories. He is the coauthor of Sleeping Beauties and Intro to Alien Invasion and the coeditor of Who Can Save Us Now? Brand-New Superheroes and Their Amazing (Short) Stories. He lives in Upstate New York with his wife, the writer Kelly Braffet, and their daughter.