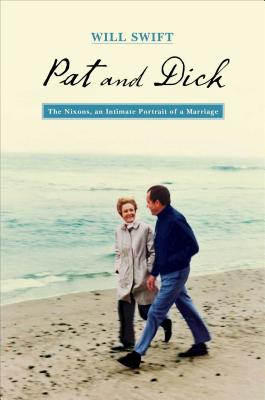 Pat and Dick
The Nixons, An Intimate Portrait of a Marriage
Hardcover

* Individual store prices may vary.
Other Editions of This Title:
Paperback (8/5/2014)
Description
Shortlisted for the 2015 Plutarch Award for Best Biography, "the most humanizing portrait of the Nixons we're likely to have" (Douglas Brinkley) is a sweeping depiction of the turbulent fifty-three-year marriage of Richard and Pat Nixon.

When Americans remember the controversial Nixons, they usually focus on the political triumphs, the turbulent White House years, and the humiliating public downfall. But a very different image of the polarizing president emerges in this fascinating portrait of his relationship with Pat. Now, the couple's recently released love letters and other private documents reveal that as surely as unremitting adversity can fray the fabric of a marriage, devotion can propel it to surmount disgrace and defeat.

In Pat and Dick, biographer Will Swift brings his years of experience as a historian and as a marital therapist to this unique examination of a long-misunderstood marriage. Nixon the man was enormously complicated: brilliant, insecure, sometimes coldly calculating, and capable of surprising affection with his wife.

Much less is known about Pat. With the help of personal writings and interviews with family and friends, Swift unveils a woman who was warm and vivacious, yet much shrewder and more accomplished than she has been given credit for. From Dick's unrelenting crusade to marry the glamorous teacher he feared was out of his league through the myriad crises of his political career, the Nixons' story is filled with hopes and disappointments, both intimate and global.

This remarkable biography shows us the couple at their most human: a wife walking a delicate line between self-sacrifice and healthy love while her husband struggles to balance global ambitions and personal intimacy. The Nixons came to represent the best and worst of American life and culture. But though their union was tested by all manner of trials, they managed to find the strength, courage, and resilience to sustain a true connection for more than half a century.
Praise For Pat and Dick: The Nixons, An Intimate Portrait of a Marriage…
"[A] fair-minded and thorough attempt to trace the long, jagged arc of the Nixons' marriage...highly intelligent and far more sophisticated than the decades' worth of quick takes...Swift's psychological paradigms serve him well."
— The New York Times

"[Swift] gives us among the most nuanced portraits of these two complex indivdiduals that we have yet seen...for all biography buffs, presidential history buffs, and those who study profiles of marriage."
— Library Journal (starred review)

"The marriage of Richard and Pat Nixon undergoes sharp analysis by Swift...a nuanced portrait...a model of well-documented revisionist history."
— Kirkus (starred review)

"A complicated picture of the Nixons...[a] largely sympathetic examination of one of America's most mysterious political couples...the distance from Watergate — and access to new personal documents — gives Pat and Dick a freshness to a much-considered chapter of history."
— USA Today (3 out of 4 stars)

"Swift has formed an absorbing depiction of Richard and Patricia Nixon...he provides one of the best, if starkest, descriptions of Richard in love and politics."
— Publishers Weekly

"Presidential biographer Swift focuses on the spousal team of Pat and Dick Nixon, zeroing in on the incredibly strong marriage that sustained them through both personal and political triumphs and humiliations... This intimate portrait into their marriage not only humanizes their carefully constructed and often maligned public image but also illuminates the strong ties that irrevocably bound the private couple. Admire Nixon or revile him, his biggest success in life was forging a long-term marriage and fostering the devotion of his indomitable family unit."
— --Margaret Flanagan, Booklist

"With an eye for the telling detail, Will Swift deftly revises our view of the Nixon marriage, showing that the reserve the couple displayed in public masked a deep love and abiding respect. The marriage underwent strains that would test even the strongest ties, and Swift is frank in assessing these. He uses his expertise as a psychologist to compare the Nixon marriage to others—in the ups and downs, the use of varying techniques to preserve the union, and the differing needs of the two partners. Even readers who thought they fully understood "Plastic Pat" and "Tricky Dick" will be enlightened by Swift's perspective and delighted with his vivid descriptions."
— Betty Boyd Caroli, author of First Ladies: From Martha Washington to Michelle Obama

"The daunting challenge in writing a dual biography, particularly one about a president and First Lady, is composing the subjects in a comfortable balance, so that one does not eclipse the other. Swift meets this challenge brilliantly, and his Nixons--equally fascinating--illuminate each other. The result is an insightful and engaging book."


— Daniel Mark Epstein, author of The Lincolns: Portrait of a Marriage

"Will Swift, a superb researcher and an insightful psychologist, has written the first dual biography of Pat and Dick Nixon. This intriguingly fresh and lucid portrait of these two epochal figures will be the standard reference work for many years."
— Irwin Gellman, author of The Contender: Richard Nixon, The Congress Years

"Will Swift's Pat and Dick is the most humanizing portrait of the Nixons we're likely to have. Based on first-rate research, clear writing and smart analysis Pat and Dick triumphantly sets the historical record straight in these illuminating pages. Highly recommended."
— Douglas Brinkley, author of Walter Cronkite and The Great Deluge

"Will Swift's deeply moving and nuanced portrait of the Nixon marriage sheds new light - and brings a fascinating layer of human emotion - to the most controversial President of the 20th Century. This is not just a book for scholars, but for anyone who has ever wondered about the real lives behind the scandal of the Nixon era."
— Amanda Foreman, author of A World on Fire: Britain's Crucial Role in the American Civil War.

"Will Swift's excellent Pat and Dick is thorough, fair-minded, and evidence-based. This is a compelling and eye-opening portrait of a complicated, but good marriage. In this beautifully written book, Swift gives us an incisive lens to understand the politics and psychology of late 20th-century society."
— Evan Thomas, author of Ike's Bluff: President Eisenhower's Secret Battle to Save the World

"Pat and Dick does exactly what a biography should do: show its subjects with empathy, insight, and critical acumen. We see Richard and Pat Nixon as they saw themselves, beleaguered and underdeserving of the bad press they often received. At various points, the hard-driving Nixon tried to modify his public image as a political hit man to no avail, even when he proposed progressive policies. His shrewd and sensitive wife was sometimes shut out of key decisions, and yet he also acknowledged what a great ambassador she was for his politics and their marriage. Swift does not minimize their failings, especially their vindictive and petty efforts to punish their critics, but he also shows why the pressures of office made them behave, at times, with such animosity. In Pat and Dick the personal and political merge in a narrative that makes Swift's book one of the must-read biographies of the age."
— Carl Rollyson, author of Amy Lowell Anew: A Biography

"All marriages are mysterious and few were more so, or suffered more stress, than the fifty-plus-year union of Richard Nixon and Thelma (Pat) Ryan. Will Swift, a biographer and a psychologist, gets as close as anyone is likely to get in giving us a realistic and nuanced understanding of the Nixons in hard times, good times, and the very worst of times."
—  Jeffrey Frank, author of Ike and Dick: Portrait of a Strange Political Marriage

"Pat and Dick is a portrait of two tough-luck kids who fell in love, took on the world, were savaged by their foes, lashed back, claimed the highest prize - and lost it. Spectacular, yet intimate. The Nixons you didn't know."
— John Farrell, author of Clarence Darrow: Attorney for the Damned

"For someone who was taught from childhood to loathe Richard "Tricky Dick" Nixon -- and to pity poor plain, stoic Pat -- Will Swift's sympathetic but rigorous examination of their marriage upended many long-held assumptions and left me deeply moved by the end. This president and his first lady left such a deep mark on their times and our history that it is important to come to understand, in reading Pat and Dick, the intricate personal drama that was going on behind the public upheavals."
— Kate Buford, author of Burt Lancaster: An American Life

"Pat and Dick is a joy. It is smart, thoughtful, poignant and insightful. Will Swift sensitively renders two of the most caricatured and pilloried Americans of the late twentieth century in all their multi-dimensionality and complexity. Pat and Dick offers readers a guided tour of America, illuminating its politics, the American family, the White House, and the American home."
— Gil Troy, author of Mr. and Mrs. President: From the Trumans to the Clintons

"In his sympathetic yet not uncritical portrayal of the Nixon marriage, Will Swift brings his keen insights as a clinical psychologist and his considerable skills as an historian to explain the always fascinating and complex relationship between two very private public figures. Moreover, he perceptively describes their enduring relationship in the context of evolving attitudes toward marriage in postwar America."
— Melvin Small, author of The Presidency of Richard Nixon

"In analyzing the Nixon's marriage, Will Swift provides new insight into two of the most complex political actors of the twentieth century. Swift further erodes the "plastic Pat" image, giving her a place of prominence beside, not behind, her husband."
— Mary C. Brennan, author of Pat Nixon: Embattled First Lady
Threshold Editions, 9781451676945, 496pp.
Publication Date: January 7, 2014
About the Author
Will Swift has written for more than twenty years on American leaders and British royalty of the nineteenth and twentieth centuries. He is the author of The Roosevelts and the Royals and The Kennedys Amidst the Gathering Storm. A dynamic public speaker, Dr. Swift has been interviewed about political, presidential, and royal history on prominent radio stations across the country. He has been a featured speaker at presidential libraries and on CSPAN. He is also a founding board member of the Biographers International Organization. Dr. Swift has been in private practice as a clinical psychologist and marital therapist in Manhattan for more than thirty years. Visit him on the web at WillSwift.com and
Facebook.com/PatAndDickTheNixonsAnIntimatePortraitOfAMarriage.
or
Not Currently Available for Direct Purchase