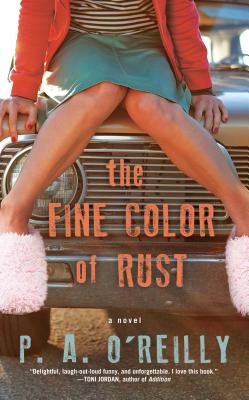 The Fine Color of Rust
Paperback

* Individual store prices may vary.
Description
Set in the Australian outback, a wryly funny, beautifully observed novel about friendship, motherhood, love, and the importance of fighting for things that matter. Set in the Australian bush, a wryly funny, beautifully observed novel about friendship, motherhood, love, and the importance of fighting for things that matter. Loretta Boskovic never dreamed she would end up a single mother with two kids in a dusty Australian country town. She never imagined she'd have to campaign to save the local primary school. She certainly had no idea her best friend would turn out to be the crusty old junk man. All in all, she's starting to wonder if she took a wrong turn somewhere. If only she could drop the kids at the orphanage and start over . . . But now, thanks to her protest letters, the education minister is coming to Gunapan, and she has to convince him to change his mind about the school closure. And as if facing down the government isn't enough, it soon becomes clear that the school isn't the only local spot in trouble. In the drought-stricken bushland on the outskirts of town, a luxury resort development is about to siphon off a newly discovered springwater supply. No one seems to know anything, no one seems to care. With a dream lover on a Harley unlikely to appear to save the day, Loretta needs to stir the citizens of Gunapan to action. She may be short of money, influence, and a fully functioning car, but she has good friends. Together they can organize chocolate drives, supermarket sausage sizzles, a tour of the local slaughterhouse--whatever it takes to hold on to the scrap of world that is home. Warm, moving, and funny, The Fine Color of Rust is "a story about love: where we look for it, what we do with it, and how it shows up in the most unexpected packages" (Big Issue, Australia).
Praise For The Fine Color of Rust…
"Delightful, laugh-out-loud funny, and unforgettable. I love this book."

-Toni Jordan, author of Addition


"I adored The Fine Color of Rust. It's funny, irreverent and highly entertaining. I was sad to finish it, and I still miss Loretta!"

-Liane Moriarty, author of What Alice Forgot


"Loretta is one entertaining, compelling narrator, funny and self-deprecating, with an acerbic wit and occasional histrionics that belie a deep love of the people around her, whether she likes them or not.... A truly moving surprise at the end reveals O'Reilly's point all along, that there is value in things that don't cost anything and true beauty in a pile of junk."



"O'Reilly's tale of a backwater Australian town seen through the eyes of Loretta Boskovic, who struggles to make ends meet and do good for her community, is hilarious and tenderly moving."
Washington Square Press, 9781451678161, 283pp.
Publication Date: September 4, 2012
About the Author
P.A. O'Reilly is a writer from Victoria, Australia. Her work has been published and broadcast widely in Australia and internationally. Her short story collection, The End of the World, was shortlisted for several awards. Her debut novel The Factory was broadcast in fifteen episodes as the ABC Radio National Book Reading in 2009. Find out more at PaddyOReilly.com.au.