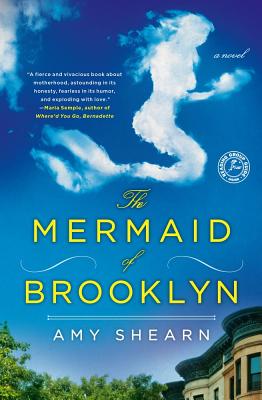 The Mermaid of Brooklyn
A Novel
Paperback

* Individual store prices may vary.
Other Editions of This Title:
Digital Audiobook (4/1/2013)
Compact Disc (4/2/2013)
Compact Disc (4/2/2013)
MP3 CD (4/2/2013)
Description
Hailed by The Washington Post as "tantalizing" and "mesmerizing," The Mermaid of Brooklyn is a whip-smart, heartfelt exploration of what happens when modern day motherhood meets with a little touch of magic.

Sometimes all you need in life is a fabulous pair of shoes—and a little help from a mermaid

Formerly an up-and-coming magazine editor, Jenny Lipkin is now your average, stretched-too-thin Brooklyn mom, tackling the challenges of raising two children in a cramped Park Slope walk-up. All she really wants is to survive the sweltering New York summer with a shred of sanity intact. But when her husband, Harry, vanishes one evening, Jenny reaches her breaking point. And in a moment of despair, a split-second decision changes her life forever.

Pulled from the brink by an unexpected ally, Jenny is forced to rethink her ideas about success, motherhood, romance, and relationships. But confronting her inner demons is no easy task…
Praise For The Mermaid of Brooklyn: A Novel…
"Amy Shearn's second novel charmingly blends the magical with the real. … Funny, fearless, and unexpectedly moving, this modern fairy tale is, in a word, enchanting."
— Boston Globe

"In this sly and wise new novel … Shearn captures both the beauty and the banality of parenthood. We spend most of this delightful, grown-up fairy tale wondering if the mermaid is real or a figment of Jenny's imagination—or her id. Regardless, she leaves us wondering how to bring a little mermaid magic into our own lives."
— Oprah.com

"A blend of Park Slope parenting and magic."
— New York Times Motherlode

"There are many laughs to be found, but most come from the dark recesses of the heart, where laughter barely conquers tears. . . . Fans of acerbic humor should enjoy The Mermaid of Brooklyn."
— New York Journal of Books

"The Mermaid of Brooklyn is an engaging and quirky read. . . . [A] witty tale of self-discovery."
— New York Family

"A total treat that will . . . make you realize motherhood is overwhelming, funny and fantastic—in fiction, too!"
— WorkingMother.com

"[A] whimsical modern-day fable . . . There's no doubt that Shearn is gifted, crafting quirky and charming prose."
— Publishers Weekly

"Shearn's narrative is delightfully manic and extremely witty. …The author possesses a gift for infusing a mundane situation (an abandoned housewife) with the implausible (a mermaid) and building a story that many readers will find intuitive, clever and, on many levels, perfectly believable."
— Kirkus Reviews

"A heartfelt and authentic tribute to motherhood that will resonate with contemporary moms."
— Booklist

"A fierce and vivacious book about motherhood, astounding in itshonesty, fearless in its humor, and exploding with love."
— Maria Semple, author of Where'd You Go, Bernadette

"I absolutely loved this inventive, smartly written tale of astruggling single mother who finds herself seeing her life through neweyes--those of a lusty, fearless and frequently wise mermaid eager to take onall the world has to offer. Insightful and engaging."
— Jill Smolinski, author of Objects of My Affection and The Next Thing on My List

"An absorbing, energetically offbeat novel that merits attention."
— Kansas City Star

"A wise, funny tale of hope." –Parenting magazine
Touchstone, 9781451678284, 368pp.
Publication Date: April 2, 2013
About the Author
Amy Shearn is the author of How Far Is the Ocean from Here. She is a graduate of the University of Iowa and the University of Minnesota's MFA program. Her work has appeared in The Millions, Poets & Writers, The L Magazine, Opium, and Five Chapters, and she writes for Oprah.com and RedbookMag.com. She lives in Brooklyn with her husband and two children. Visit her online at AmyShearnWrites.com.
or
Not Currently Available for Direct Purchase