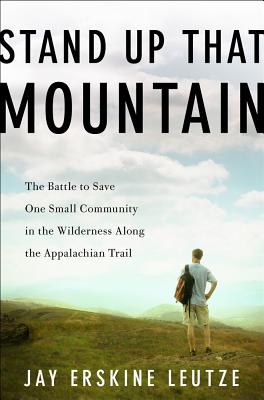 Stand Up That Mountain
The Battle to Save One Small Community in the Wilderness Along the Appalachian Trail
Hardcover

* Individual store prices may vary.
Other Editions of This Title:
Paperback (7/30/2013)
Description
In the tradition of A Civil Action—the true story of an outdoorsman living alone in Western North Carolina who teams up with his neighbors and environmental lawyers to save a treasured mountain peak from the mining company.

In the tradition of A Civil Ac tion—the true story of a North Carolina outdoorsman who teams up with his Appalachian "mountain people" neighbors to save treasured land from being destroyed

Living alone in his wooded mountain retreat, Jay Leutze gets a call from a whip-smart fourteen-year-old, Ashley Cook, and her aunt, Ollie Cox, who say a mining company is intent on tearing down Belview Mountain, the towering peak above their house. Ashley and her family, who live in a little spot known locally as Dog Town, are "mountain people," with a way of life and speech unique to their home high in the Appalachians. They suspect the mining company is violating the law, and they want Jay, a nonpracticing attorney, to stop the destruction of the mountain. Jay, a devoted naturalist and fisherman, quickly decides to join their cause.

So begins the epic quest of the "Dog Town Bunch," a battle that involves fiery public hearings, clandestine surveillance of the mine operator's activities, ferocious pressure on public officials, and high-stakes legal brinksmanship in the North Carolina court system. Jay helps assemble a talented group of environmental lawyers to do battle with the well-funded attorneys protecting the mining company's plan to dynamite Belview Mountain, which happens to sit next to the famous Appalachian Trail, the 2,184-mile national park that stretches from Maine to Georgia. As the mining company continues to level the forest and erect a gigantic rock-crushing plant on the site, Jay's group searches frantically for a way to stop an act of environmental desecration that will destroy a fragile wild place and mar the Appalachian Trail forever.

Much more than the record of a legal battle, Stand Up That Mountain takes the reader to a remote corner of Appalachia, a region often stereotyped and little understood, even now in the twenty-first century. A naturally elegant writer, Jay Leutze delivers a powerful, beautifully written story full of remarkable characters, such as "Wingfoot," an elusive protector of the Appalachian Trail; a stubborn mining company engineer intent on pulling down the mountain in the face of intense opposition; and Ron Howell, a retired and legendary North Carolina Superior Court judge known as the "Heel Hound" for his relentless pursuit of legal victory. Jay's plaintiff group is eventually joined by several national conservation groups who see that Belview Mountain and the Appalachian Trail must be protected for future generations of Americans.

A great contemporary story that demonstrates what is possible when local people set their minds to righting a local wrong, Stand Up That Mountain will appeal to conservationists, hikers, attorneys, and readers fascinated by Appalachia and rural life, and anyone interested in a compelling story both well told and true.
Praise For Stand Up That Mountain: The Battle to Save One Small Community in the Wilderness Along the Appalachian Trail…
"Suspenseful, inspiring, and sometimes funny...Leutze writes beautifully about his own love of nature and fierce loyalty to the region...enough to make you want to head for the mountains." --Raleigh News & Observer



"Stand Up That Mountain is the story of that struggle, and it isn't just a good book in a progressive, environmental, eat-your-vegetables kind of way. It's a good book, period. Leutze's style of literary reportage is in the tradition of narrative nonfiction like Jonathan Harr's A Civil Action, all the way back to Truman Capote's classic In Cold Blood." -Charlotte Observer

"Jay Erskine Leutze makes memorable work. He is brilliant at portraying characters (heroes and villains alike) and depicting his stunning setting." --Cleveland Plain Dealer

"Deeply personal and reflective, and as much about his own future as about the mountain he loves, Leutze's account, enormously compelling from start to finish, can serve as a guidebook for activists everywhere." -Booklist

"Leutze's affable narrative takes the scenic route, pausing to recount a piece of Avery County lore or to take in the panoramic vistas. Wide-eyed and instructive, the story carries the reader through the complex, occasionally riveting twists and turns of the American judicial system and strikingly depicts the region's unique beauty." -Publishers Weekly, starred review

"Even Jay Leutze could not possibly make these people up. From the brilliant Ashley Cook to the unmovable mine owner, Stand Up That Mountain is populated with riveting real characters from a world apart. Leutze lets us listen as they speak and tells their story —and his own —with an expert hand. He has given us a glimpse of Appalachia that is both heartbreaking and inspiring."
—Lee Smith, Best-selling author of Fair and Tender Ladies, The Last Girls, and On Agate Hill

"Stand Up That Mountain is not just a page-turner, but a testament of how deeply place and community can instruct us. Jay Leutze, a naive young law-school graduate, living "intentionally" in the Southern Appalachian Mountains, has the modesty to be instructed by a mountain, by the Appalachian Trail, and by mountain people who lead him with hillbilly humor and unstoppable ardor in a fight to save their homes. Gentle, funny, affectionate, smart, and self-effacing, Jay Leutze leads us gingerly through a tangle of lawsuits and small-town run-ins that would have delighted Faulkner, to a dramatic and surprising end."
—Gretel Ehrlich

"Jay Erskine Leutze has long been a passionate defender of the priceless natural resources of the Southern Appalachian Mountains. His love of those mountains and the small communities they harbor has found expression in many ways, including the permanent protection of thousands of acres of land. In the case of the Putnam Mine, Jay also demonstrated his pit-bull tenacity in the face of seemingly impossible odds. All those who appreciate these mountains, both residents and visitors alike, including the many thousands each year who traverse that area along the Appalachian Trail, owe Jay a debt of gratitude for his unswerving defense of those all-too-fragile mountain landscapes."
—David N. Startzell, Former Executive Director, Appalachian Trail Conservancy

"Starting with a phone call from a neighbor, Jay Erskine Leutze describes an epic fight to save the landscape from utter destruction. Telling the story through the characters in his Appalachian community, he brings the mountain people alive with their speech, history, and values. As the group takes their case from the county to the state's highest court, Stand Up That Mountain celebrates the power of grass roots political action in America at a time when grass roots efforts are essential to protect our land."
—John H. Adams, Founding Director, Natural Resources Defense Council and Chairman, Open Space Institute
Scribner, 9781451679007, 400pp.
Publication Date: June 5, 2012
About the Author
Jay Erskine Leutze was born in Virginia in 1964. He now lives in the Southern Appalachian mountains of North Carolina. Trained as an attorney, he has become a leading voice for state and federal conservation funding for investment in public lands. He is a Trustee for Southern Appalachian Highlands Conservancy, one of the nation's most established land trusts.
Book Videos
or
Not Currently Available for Direct Purchase