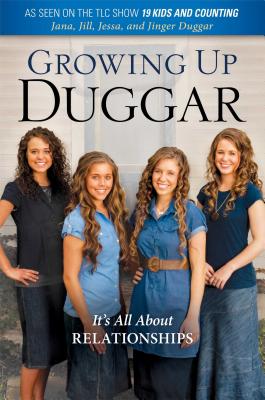 Growing Up Duggar
Hardcover

* Individual store prices may vary.
Other Editions of This Title:
Paperback (3/29/2016)
Compact Disc (7/14/2015)
MP3 CD (9/2/2014)
MP3 CD (3/4/2014)
MP3 CD (3/4/2014)
Compact Disc (3/4/2014)
Compact Disc (3/4/2014)
Description
In a rare look inside America's favorite mega-sized family, the four eldest girls talk about their faith, their dreams for the future, and what it's like growing up a Duggar.

It's All About Relationships!

In this delightful and very personal book, the four oldest Duggar girls share their hearts and their core beliefs, explaining that it's all about relationships!

• Relationship with self: The girls share their own personal journeys to self-acceptance and navi­gating the difficult stage of adolescence.

• Relationship with parents: You'll find revelations about how Jim Bob and Michelle keep the lines of communication open with their children.

• Relationships with siblings: Here, you'll get a peek into the Buddy system, how the siblings handle conflict, and how the loss of little Jubilee (their sister) affected their relationships with each other.

• Relationships with friends: You'll find principles on how the Duggar kids deal with peer pressure and how they interact with friends outside their family.

• Relationships with boys: You'll learn the Duggar view of dating and courtship, and these four sisters will address the often-asked question of when one of them will get married.

• Relationship with God: And woven throughout the book, the girls talk about their most impor­tant relationship of all—their relationship with God and their own personal faith and beliefs.

This candid look into what Jana, Jill, Jessa, and Jinger believe and why they believe it will give you practical insights into your own life and will inspire you to evaluate principles that will work for you.
Howard Books, 9781451679168, 256pp.
Publication Date: March 4, 2014
About the Author
Jill is 20 and currently a student midwife. She is the social butterfly of the family, easy-goin' and loves taking time off to hang out with her younger brothers and sisters if that means running an errand or making dinner together. Oftentimes you will find her counseling girls via phone, text, person, or email. She enjoys playing harp and violin, spending time outdoors and loving on little ones! Among other things these days, Jill keeps busy studying Spanish, checking up on pregnant mommas, volunteering on the fire department and helping out on political campaigns. Lord willing, she hopes to someday use the skills she is learning to share the hope and love of Jesus with the people of Latin America!

At 18, Jinger is thrilled to be able to vote this year! She is full of energy, that is when she has a cup of coffee in her hand! Jinger has become quite the photographer and loves practicing her skills with her siblings while picking up helpful tips from other professional crews that often come through. Jinger can probably make more facial expressions than anyone in the whole family and loves jammin' in the living room playing duets on the piano with Jana. She has a passion to reach the world for Christ, so it's not uncommon to see her stop and pass out gospel tracts in a grocery store or at a resale
shop on one of her many shopping outings!

Jessa (19) is talented at playing several instruments, her current favorite is the guitar. She can hear something once and the next thing you know she's up in the girls room pickin' it out on an instrument. In her "spare time" she enjoys reading interesting books, memorizing scripture, discipling friends and hanging out with her fam. Jessa has the gift of organization and loves using it! Whether she is de-cluttering a storage area, packing for a trip, or lining the six little boys out, if she gets involved in a task you can be sure it won't be done halfway!
or
Not Currently Available for Direct Purchase