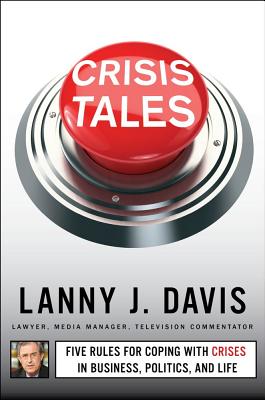 Crisis Tales (Hardcover)
Five Rules for Coping with Crises in Business, Politics, and Life
Threshold Editions, 9781451679281, 381pp.
Publication Date: March 5, 2013
* Individual store prices may vary.
Description
A veteran political strategist provides insight into crisis management on cases ranging from Martha Stewart to Whole Foods to Bill Clinton in a book on what to do when disasters--both personal and political--strike. TELL IT ALL, TELL IT EARLY, TELL IT YOURSELF Nobody ever calls Lanny Davis to give him good news. As a legal crisis manager, he's the man public figures such as Bill Clinton, Martha Stewart, U.S. representative Charlie Rangel, and companies such as Whole Foods, among many others, rely on to pull them through public scandal with their reputations intact. Winning your case in a courtroom instead of the media is no longer a viable option. These days, every scandal is tried in the court of public opinion. Refusing to dignify allegations with an answer is grounds for flagellation by the press. Political insider Davis has spent years helping politicians, sports figures, business executives, and corporations through the biggest reputation crises of our times, and each case has aided him in the creation of five invaluable rules that absolutely anyone can use to protect himself from damaging hearsay-- online and off. In this fascinating and practical resource, Davis tells the real stories behind his famous clients' very public scandals as he explains what he and his team did right, what they did wrong, and how they learned from their mistakes and successes. As impossible as it is to believe, many public relations experts still rely on the faulty Nixon model--deny, deny, deny. This tactic was detrimental not only to Nixon's presidency but, for example, to Exxon and BP (not Davis's clients) following major oil spills. Instead, Davis believes, it is important to tell the full story yourself, even if it means sharing unflattering details before they leak on their own. By getting ahead of the story, you have more control over how the information is reported and perceived in the media. Damaging falsehoods can go viral in an instant, but the nation's premier political spin doctor will teach you how to fight back.
About the Author
Lanny J. Davis is a lawyer, crisis manager, consultant, author, and television commentator who counsels individuals, corporations, and others under scrutiny on crisis management and legal issues. Lanny served as special counsel to President Bill Clinton and was a spokesperson for the President and the White House on matters concerning campaign finance investigations and other legal issues. In 2005 President George W. Bush appointed Lanny to serve on the five-member Privacy and Civil Liberties Oversight Board, created by the U.S. Congress as part of the 2005 Intelligence Reform Act. He graduated from Yale Law School, where he won the prestigious Thurman Arnold Moot Court prize and served on the Yale Law Journal.
Praise For Crisis Tales: Five Rules for Coping with Crises in Business, Politics, and Life…
"Written in clear, quick, conversational prose, Crisis Tales provides a wealth of sensible advice for handling crises of all sizes and shapes, whether affecting individual businesses, institutions or nations...from one of our leading crisis-meisters."

-The Washington Times


 "Our company turned to Lanny Davis when we faced a legal problem in Washington. He found a way to combine his considerable legal, media, and political skills to find a solution satisfactory to all parties. This book demonstrates the effectiveness of his multi-disciplinary approach to crisis management."


-John P. Mackey, co-founder and co-CEO, Whole Foods Market


"Crisis Tales offers simple crisis management rules, told through riveting true-to-life stories, that can help everyone facing a business, governmental, or personal crisis.   In my experience, Lanny applies his unique combination of legal, media, and experience to get the facts out early, develop the right strategy to communicate them effectively, and find the "sweet spot" solution among competing viewpoints to solve the problem."  


-Gary Lauer, chairman and CEO, eHealth Inc


Praise for Scandal:
"To many conservatives, Lanny Davis is a cherished anomaly: a thoughtful liberal, a decent guy, and a fair-minded Democratic operative who loves his country even more than he loves his party."


-Michael Medved, nationally syndicated conservative talk show host and author of Right Turns


"When a controversy arises involving a public figure, Lanny Davis is the 'go-to guy' for journalists. The irony is that if this book is read—and actually heeded—by more politicians and celebrities, there will be less need of Lanny's services."

- Carl M. Cannon, editor of RealClearPolitics
or
Not Currently Available for Direct Purchase