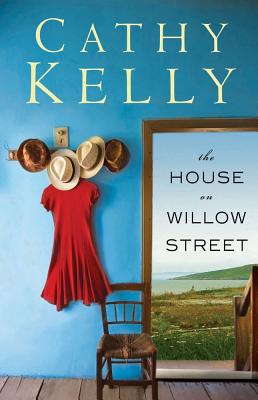 The House on Willow Street (Paperback)
A novel
Gallery Books, 9781451681406, 496pp.
Publication Date: January 8, 2013
Other Editions of This Title:
Hardcover (3/1/2012)
Paperback (3/1/2012)
* Individual store prices may vary.
Description
Set in an idyllic village named Avalon, a warm and wonderful new novel from Ireland's #1 bestselling author.

#1 international bestselling author Cathy Kelly's writing is "warm, lyrical, and fascinating" (Marian Keyes) and "rich with the emerald allure of the Irish landscape" (Publishers Weekly). In The House on Willow Street, four women discover that home isn't where you come from, but where you are meant to be. . . .

Every picture-perfect village tells a story. . . .

The Irish seaside town of Avalon is a tourist's dream of quaint shops and welcoming cafés. Avalon House, perched at the end of Willow Street, was in Tess Power's family for generations. Now Tess ekes out a living from her antiques shop while the crumbling mansion awaits a new owner. Her marriage and business may be floundering, but her affection for Avalon is undimmed. The same can't be said of her glamorous sister. Suki left without a backward glance and married into an American political dynasty. Only a muckraking biographer could send her slinking back to Ireland to escape a scandal.

Postmistress Danae watches from the sidelines, doling out gentle advice while locking away her own secrets. Then her unconventional niece Mara comes to stay and draws her lonely aunt back into the world. As autumn gives way to winter, the four women encounter old loves, embrace new friendships, and begin to look beyond the past to the possibilities just beginning to unfold.
About the Author
Cathy Kelly is the #1 bestselling author of fifteen bestselling novels in Ireland, which have all hit the Sunday Times' top ten in London. She lives in Ireland with her husband and twin sons. In 2005 she was appointed an ambassador for UNICEF Ireland. Contact her on Twitter at @CathyKellyBooks or follow her on Facebook or at CathyKelly.com.
Praise For The House on Willow Street: A novel…
The House on Willow Street is beautifully written. I could almost hear the wind howling through the trees and the people chatting in the local cafe. I thoroughly enjoyed every minute and look forward to reading Cathy Kelly's other books.
— Debs Carr

A novel for and about women, a tapestry woven of romance and mystery, secrets kept and revealed, hearts broken and mended, dreams shattered and realized as destinies are rediscovered.

The author begins by taking the reader on a tour of the small town of Avalon on the Irish Coast, introducing her cast of characters, hinting at their secrets, letting them question, surprise and ultimately support one another. Danae, the postmistress, is kind and discreet, careful not to pry too much into the private lives of the people she serves, knowing from personal experience that some things are just too hard to talk about. Her niece Mara leaves small-town life for a career in the big city only to return to nurse a broken heart. Tess remains home to care for her dying father, marries, has two children and runs an antiques business. When her marriage to Kevin grows bland, she suggests a trial separation to see if absence will make their hearts grow fonder. Tess' older sister Suki left home as soon as she could, seeking a bigger pond, and when her marriage into a famous, wealthy American family ended, she embarked upon an affair with a famous rock star. Additionally, she made a name for herself as the author of a best-selling feminist work titled Women and Their Wars. By the time we meet her, Suki is alone, broke and dealing with writer's block. She is also running from a scandalmonger seeking information about the famous family she was once a part of and decides to hide out with her sister back home.

The characters, with all their detailed idiosyncrasies, are authentically portrayed, and the peregrinations of the complex plot make for a fascinating journey and an excellent read.

"A book for those who believe in love."

Shelf Awareness Review:

As postmistress of the tiny Irish town of Avalon, Danae Rahill knows a lot of secrets. She has managed to keep the secret of her own past for 18 years, but when her niece Mara comes to stay (and heal from a broken heart), she asks more questions than Danae is prepared to answer.

Tess Power grew up in genteel poverty with her sister, Suki, in a big house overlooking the town, but was forced to sell it after her father's death. Now, as Tess's marriage and her antique shop both face difficulties, the house has come back up for sale. When Suki returns to Avalon, as does Tess's first love, Cashel Reilly, now a wealthy businessman, Tess must revisit painful memories from her past even as she struggles to care for her children and help Suki navigate her own personal crisis.

Kelly creates a charming small-town setting, complete with a cozy café, nosy but well-meaning shopkeepers and neighbors, and not one but two faithful dogs. While the central love story unfolds predictably, other surprises in the narrative (including a cheery motorcycle mechanic and a Christmas dinner party composed of unlikely guests) will hold readers' interest. The slowly unraveling secret of Danae's past lends gravity to an otherwise light plot, providing more reasons to admire her quiet strength.

A tribute to family, friendship and the hope of new beginnings, The House at Willow Street is a heartwarming read perfect for a quiet winter weekend.

Discover: A heartwarming story of four women in a tiny Irish town, navigating personal crossroads and embracing the hope of new beginnings.
— Katie Noah Gibson