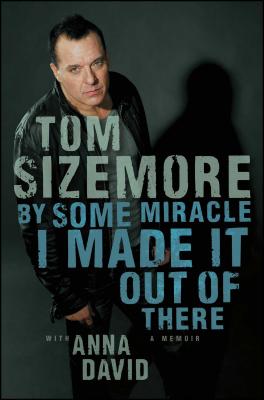 By Some Miracle I Made It Out of There (Paperback)
A Memoir
Atria Books, 9781451681680, 248pp.
Publication Date: March 1, 2016
Other Editions of This Title:
Hardcover (4/9/2013)
* Individual store prices may vary.
Description
A harrowing, deeply personal memoir of the acclaimed actor's wild ride through Hollywood, fueled by his crippling addiction to methamphetamines, exposing the darkest side of fame and how one man found a path to recovery.

Tom Sizemore has been called many things. Brilliant. Brutal. Fiercely talented. Angry. Drug-addicted. In reality, he's all of them. He's a survivor of the Detroit ghetto, the father of twin boys, and a veteran of dozens of movies. He's also now sober, after his addiction took his life as far down, arguably, as any human being could go.

Through screen-stealing performances in the 1990s movies True Romance, Heat, and Natural Born Killers, Sizemore was so in demand that even when his drug problem was widely known, directors such as Steven Spielberg offered him roles and begged him to stay sober for them. Robert De Niro, Jack Nicholson, Robert Downey, Jr., and Johnny Depp each went out of their way to befriend him. But the same man who once romanced Elizabeth Hurley and Juliette Lewis was accused of domestic violence by the world's most famous madam and moved from Beverly Hills to solitary confinement in state prison.

For years, Sizemore's days were filled with overdoses, suicide attempts, and homelessness. By Some Miracle I Made It Out of There is a harrowing journey into the heart of his addiction, told in riveting and often shocking detail. By turns gritty and heartbreaking, it is also one man's look at a particular moment in entertainment history—a window into the drug-fueled spotlight that sent Robert Downey, Jr., to jail and killed River Phoenix, Heath Ledger, Chris Farley, and many others far before their time.
About the Author
Tom Sizemore rose in prominence as an actor throughout the 1990s, establishing himself as a memorable tough-guy character. Born in Detroit, he got his start in Born on the Fourth of July and has since starred in Devil in a Blue Dress, Strange Days, Wyatt Earp, Natural Born Killers, Heat, Saving Private Ryan, and Black Hawk Down, among many others. Sizemore recently costarred in Fox's television pilot Exit Strategy and had a recurring guest-star role on Hawaii Five-O. Sizemore has counseled both teens involved in substance abuse and recovering addicts and is actively involved with the Hollenbeck Youth Center in East Los Angeles.

Anna David is the author of the novels Party Girl and Bought, the anthology Reality Matters, and the memoir Falling for Me. She is the executive editor of the addiction and recovery website The Fix, is doing graduate work in drug and alcohol counseling at UCLA, and speaks at colleges across the country on addiction.
or
Not Currently Available for Direct Purchase