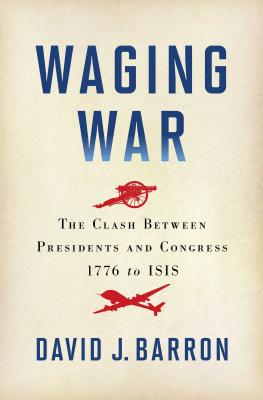 Waging War (Hardcover)
The Clash Between Presidents and Congress, 1776 to ISIS
Simon & Schuster, 9781451681970, 576pp.
Publication Date: October 4, 2016
Other Editions of This Title:
Paperback (10/24/2017)
* Individual store prices may vary.
Description
"Vivid…Barron has given us a rich and detailed history." —The New York Times Book Review

"Ambitious...a deep history and a thoughtful inquiry into how the constitutional system of checks and balances has functioned when it comes to waging war and making peace." —The Washington Post

A timely account of a raging debate: The history of the ongoing struggle between the presidents and Congress over who has the power to declare and wage war.

The Constitution states that it is Congress that declares war, but it is the presidents who have more often taken us to war and decided how to wage it. In Waging War, David J. Barron opens with an account of George Washington and the Continental Congress over Washington's plan to burn New York City before the British invasion. Congress ordered him not to, and he obeyed. Barron takes us through all the wars that followed: 1812, the Mexican War, the Civil War, the Spanish-American war, World Wars One and Two, Korea, Vietnam, Iraq, and now, most spectacularly, the War on Terror. Congress has criticized George W. Bush for being too aggressive and Barack Obama for not being aggressive enough, but it avoids a vote on the matter. By recounting how our presidents have declared and waged wars, Barron shows that these executives have had to get their way without openly defying Congress.

Waging War shows us our country's revered and colorful presidents at their most trying times—Washington, Lincoln, Theodore Roosevelt, Franklin Roosevelt, Truman, Eisenhower, John F. Kennedy, Johnson, both Bushes, and Obama. Their wars have made heroes of some and victims of others, but most have proved adept at getting their way over reluctant or hostile Congresses. The next president will face this challenge immediately—and the Constitution and its fragile system of checks and balances will once again be at the forefront of the national debate.
About the Author
David Barron is a United States Circuit Judge for the United States Court of Appeals for the First Circuit and former S. William Green Professor of Public Law at Harvard Law School. He previously served as the Acting Assistant Attorney General of the Office of Legal Counsel at the United States Department of Justice. He is coauthor, with Martin Lederman, of the article "The Commander in Chief at the Lowest Ebb" and the author of Waging War.
Praise For Waging War: The Clash Between Presidents and Congress, 1776 to ISIS…
"A brilliant book by one of our most brilliant young jurists, Waging War plumbs two hundred and forty years of history for answers to an urgent question about the future of the American democracy. Will presidents wage the wars of tomorrow within limits or without constraints? David J. Barron has written the definitive account of the value of constitutional government in the way the United States goes to war."
— John Fabian Witt, author of Lincoln's Code: The Laws of War in American History

"As the distinguished jurist and law professor David J. Barron reminds readers in his splendid and wonderfully lucid new work, the conflict between the commander-in-chief and congress to declare and wage war is truly the story of America. With a scholar's rigor and precision, a historian's hunger and curiosity, and a natural story-teller's gift for narrative and character, Waging War takes readers from the struggle to win and sustain independence to today's shadowy post-Cold War world characterized by shifting global and terrorist threats and lethal new technologies. For those who care about the past and future control of the supreme power of the American state, Waging War is a vital and essential contribution."
— Gordon M. Goldstein, author of Lessons in Disaster: McGeorge Bundy and the Path to War in Vietnam, Adjunct Senior Fellow, Council on Foreign Relations

"Waging War, deeply researched with a compelling and exciting narrative, immerses readers in the struggles of presidents as commanders in chief, and Congress as they walk the Constitution's high wire over when and how to wage war. With challenges to presidential powers at their zenith today, Barron offers lessons learned from George Washington to Barack Obama about a decision critical to American lives and the world at large."
— Marcia Coyle, author of The Roberts Court

"[Barron] chronicles the centuries long push/pull between the executive and the legislative branches over the conduct of America's wars. . . . smoothly readable prose, with a sure grasp of the big picture . . . A first-rate history filled with revealing incidents and informed analysis."

"Barron reveals, since the birth of our nation there has been a constant tug-of-war between Congress and the president. Given the current election cycle, this interesting, well written work is a worthy, timely read."

"Barron surveys the fraught struggles between presidents and congresses over their war powers since before the creation of American constitutional government in 1787 and up through the Obama administration. . . . The book should be read widely by those responsible for the development and implementation of national policies. It's a fine example of the use of history to illuminate current circumstances and to counter unsupportable claims and arguments about Congress and the president."

"Barron . . . chronicles the eternal tug-of-war between our executive and legislative branches when it comes to putting American troops into warfare — the topic is both timely and timeless."

"With an ambitious sweep and brimming with subtle insights, 'Waging War' ultimately is a deep history and a thoughtful inquiry into how the constitutional system of checks and balances has functioned when it comes to waging war and making peace. Barron's argument — bolstered by a sure grasp of constitutional debates and the ongoing struggles pitting the executive against the legislative and judicial branches — is both surprising and oddly reassuring. Members of Congress in particular would do well to absorb it."

"Vivid. . . The stories are terrific. . . . a political analysis about how far Congress has been prepared to push its interventions over the years and how defiant presidents have been willing to be. . . . David Barron has given us a rich and detailed history, and not the least of its riches is that it occasions these thoughts about why it is Congress and not just any old institution that faces off against the president in wartime."

"An insightful treatise on how Congress and the presidency have negotiated war powers throughout U.S. history. . . . a valuable work that bolsters Constitutional understanding . . . Highly recommended"
or
Not Currently Available for Direct Purchase