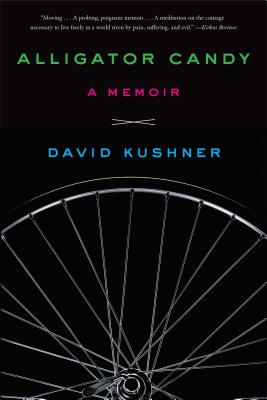 Alligator Candy
A Memoir
Hardcover

* Individual store prices may vary.
Other Editions of This Title:
Paperback (3/21/2017)
Description
From award-winning journalist David Kushner, a regular contributor to Rolling Stone, The New Yorker, Vanity Fair, and other premier magazines, Alligator Candy is a reported memoir about family, survival, and the unwavering power of love.

David Kushner grew up in the early 1970s in the Florida suburbs. It was when kids still ran free, riding bikes and disappearing into the nearby woods for hours at a time. One morning in 1973, however, everything changed. David's older brother Jon biked through the forest to the convenience store for candy, and never returned.

Every life has a defining moment, a single act that charts the course we take and determines who we become. For Kushner, it was Jon's disappearance—a tragedy that shocked his family and the community at large. Decades later, now a grown man with kids of his own, Kushner found himself unsatisfied with his own memories and decided to revisit the episode a different way: through the eyes of a reporter. His investigation brought him back to the places and people he once knew and slowly made him realize just how much his past had affected his present. After sifting through hundreds of documents and reports, conducting dozens of interviews, and poring over numerous firsthand accounts, he has produced a powerful and inspiring story of loss, perseverance, and memory. Alligator Candy is searing and unforgettable.
Praise For Alligator Candy: A Memoir…
"Eloquently told...A raw story about courage, survival and most certainly about love."
—Tampa Bay Times

"Kushner's moving book is not only a memorial to a brother tragically deprived of his right to live; it is also a meditation on the courage necessary to live freely in a world riven by pain, suffering, and evil. A probing, poignant memoir about tragedy, grief, and trying to cope."
—Kirkus Reviews

"[A] thoroughly reported, masterfully written memoir."
—Booklist

"A loving and agonized examination of what Jonathan's kidnapping and murder did to the family and…to the idea of the American childhood…[Kushner] was only 4 when his brother disappeared, and so the book is also a piece of detective work…The parents emerge as the real heroes of the book…Together, [Gilbert and Lorraine Kushner] started one of the country's first chapters of Compassionate Friends, a support group for parents who have lost children. A story that might otherwise have been too dark to bear is instead shot with light."
—New York Times Book Review

"Kushner's riveting memoir, Alligator Candy, begins by asking how any parent or family can survive such unimaginable evil and devastating grief…. Parents today can understand the love, hope and fear he so eloquently describes in this account of one family's transcendent courage in the face of crushing pain."
—BookPage

"[A] solemn memoir….The strength of Kushner's narrative lies in his exploration of how trauma distorts and reshapes even the strongest families….his vivid evocation of his brother, his family, and their Jewish, academic, Southern milieu is a moving tribute."
—Publishers Weekly

"Those seeking to understand how life continues after a grave loss will love Kushner's eloquent words and personal viewpoint."
—School Library Journal

"Kushner's story is uniquely, horrifyingly tragic, but his reckoning with loss and the fear of loss is universal and deeply human."
—Entertainment Weekly

"Offers insights into how people manage to live through even such miserable experiences…a valuable story."
—Providence Journal

"Bracingly poignant… a powerful meditation on sorrow and survival."
—Men's Journal

"Jonathan Kushner never saw his 12th birthday but, thanks to his grieving brother, he lives on and, perhaps more significantly, represents the start of an era of not taking for granted the safety of our children."
—Buffalo News

"Less a crime story than meditation on the shattering of middle-class innocence and the elusive comforts of memory… [Kushner] weaves an excruciating wistfulness into his book."
—Seattle Times

"Alligator Candy is a fine piece of subjective journalism."
—By The Book
Simon & Schuster, 9781451682533, 256pp.
Publication Date: March 15, 2016
About the Author
A contributing editor of Rolling Stone, David Kushner also writes for publications including The New Yorker, Vanity Fair, Wired, The New York Times Magazine, New York, GQ, and Esquire. Kushner served as the digital culture commentator for National Public Radio's Weekend Edition Sunday, and has taught journalism at Princeton University and New York University. He has been featured in The Best Business Writing, The Best American Crime Reporting, and The Best Travel Writing, and his ebook The Bones of Marianna: A Reform School, a Terrible Secret, and a Hundred-Year Fight for Justice. His books include The Players Ball; Alligator Candy: A Memoir (an NPR Best Book of the Year); Jacked: The Outlaw Story of Grand Theft Auto; Levittown: Two Families, One Tycoon, and the Fight for Civil Rights in America's Legendary Suburb; Jonny Magic and the Card Shark Kids: How a Gang of Geeks Beat the Odds and Stormed Las Vegas; and Masters of Doom: How Two Guys Created an Empire and Transformed Pop Culture.
Coverage from NPR
or
Not Currently Available for Direct Purchase