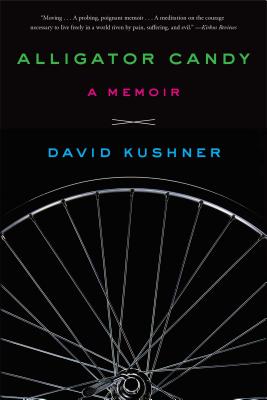 Alligator Candy (Paperback)
A Memoir
Simon & Schuster, 9781451682601, 256pp.
Publication Date: March 21, 2017
Other Editions of This Title:
Hardcover (3/15/2016)
* Individual store prices may vary.
Description
From award-winning journalist David Kushner, a regular contributor to Rolling Stone, The New Yorker, and Vanity Fair, Alligator Candy is "a raw story about courage, survival, and most certainly about love" (Tampa Bay Times).

David Kushner grew up in the suburbs of Florida in the early 1970s, running wild with his friends, exploring, riding bikes, and disappearing into the nearby woods for hours at a time. One morning in 1973, however, everything changed when David's older brother Jon took a short bike trip to the local convenience store. He never returned. Alligator Candy is the story of Jon's murder at the hands of two sadistic drifters, and everything that happened after.

Jon's death was one of the first in what turned out to be a rash of child abductions and murders that dominated headlines for much of the 1970s and 80s. It was around this the time that milk cartons began to feature the images of missing children, and newscasters began asking, "It's 10:00, do you know where you children are?" Alligator Candy chronicles Jon's story, but also tells how parenting in America has changed, casting light on the transition between two generations of children—one raised on freedom, the other on fear. "Parents today can understand the love, hope, and fear Kushner so eloquently describes in this account of one family's transcendent courage in the face of crushing pain" (Bookpage, "Top Ten Book of the Month").

Alligator Candy is a disturbing, insightful, and inspiring meditation on grief, growth, and what childhood has become: "not only a memorial to a brother tragically deprived of his right to live; but also a meditation on the courage necessary to live freely in a world riven by pain, suffering, and evil" (Kirkus Reviews).
About the Author
A contributing editor of Rolling Stone, David Kushner also writes for publications including The New Yorker, Vanity Fair, Wired, The New York Times Magazine, New York, GQ, and Esquire. Kushner served as the digital culture commentator for National Public Radio's Weekend Edition Sunday, and has taught journalism at Princeton University and New York University. He has been featured in The Best Business Writing, The Best American Crime Reporting, and The Best Travel Writing, and his ebook The Bones of Marianna: A Reform School, a Terrible Secret, and a Hundred-Year Fight for Justice. His books include The Players Ball; Alligator Candy: A Memoir (an NPR Best Book of the Year); Jacked: The Outlaw Story of Grand Theft Auto; Levittown: Two Families, One Tycoon, and the Fight for Civil Rights in America's Legendary Suburb; Jonny Magic and the Card Shark Kids: How a Gang of Geeks Beat the Odds and Stormed Las Vegas; and Masters of Doom: How Two Guys Created an Empire and Transformed Pop Culture.
Praise For Alligator Candy: A Memoir…
"A raw story about courage, survival and most certainly about love." —Tampa Bay Times

"Kushner's moving book is not only a memorial to a brother tragically deprived of his right to live; it is also a meditation on the courage necessary to live freely in a world riven by pain, suffering, and evil. A probing, poignant memoir abouttragedy, grief, and trying to cope." —Kirkus Reviews

"Kushner's riveting memoir, Alligator Candy, begins by asking how any parent or family can survive such unimaginable evil and devastating grief….Parents today can understand the love, hope and fear he so eloquently describes in this account of one family's transcendent courage in the face of crushing pain." —Bookpage, "Top Ten Book of the Month"

"A powerful exploration of loss, survival and the tricks of memory." —NPR, Best Books of 2016