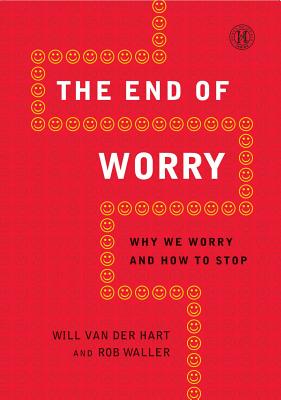 The End of Worry (Paperback)
Why We Worry and How to Stop
Howard Books, 9781451682809, 240pp.
Publication Date: February 5, 2013
* Individual store prices may vary.
Description
Easy to understand and practical, a psychiatrist and an Anglican vicar show us how to diffuse worry by offering practical solutions and long-term hope.

Do you find yourself worrying and unable to stop?

Does worry consume your days and keep you up at night?

Do you know that worry doesn't help, but you keep worrying anyway?

If you are holding this book, it's likely that you or someone you know has a problem with worry. Within these pages, you will find an understanding of what worry is, why we worry, and how to worry less. This easy-to-read mix of cutting-edge psychology, biblical teaching, personal experience, plentiful anecdotes, and practical exercises will help anxious readers overcome the troubling problem of worry and find new joy in every day.
About the Author
Reverend Will van der Hart is an Anglican vicar in London and founding director of Mind and Soul, an organization that is a Christian interface to emotional and mental health issues.

Dr. Rob Waller is a consultant psychiatrist working for the National Health Service in Scotland and an Honorary Senior Clinical Lecturer at the University of Edinburgh. Rob partners with Will in the Mind and Soul organization.
Praise For The End of Worry: Why We Worry and How to Stop…
"Jesus didn't say, 'There's nothing to worry about,' but 'Don't worry, in spite of everything there is to worry about.' Will van der Hart and Rob Waller tackle this key issue in many people's lives."
— Nicky Gumbel, Vicar of Holy Trinity Brompton

"One of the hardest verses in the Bible is 'Do not worry,' and I was therefore intrigued by The End of Worry. Well, I couldn't put it down! It is honest, humorous, and holistic. I was re-educated and I am already seeing the benefits."
— Canon J. John, author and evangelist

"A very thoughtful, balanced and practical approach to the reality of anxiety. The authors have authority to write on worry, not only because they know the subject very well, but especially because they have a passion to help others with the same spirit as the Great Physician: reaching the whole person and not only their emotions. The End of Worry goes far beyond the practical help of a mere self-help book; it is a therapeutic tool that is solidly founded on the Scriptures."
— Dr. Pablo Martinez, author and psychiatrist

"This for me is a brilliant example of exactly what a good self-help book should look like and so seldom does. If you have a tendency to worry then this book really is highly recommended reading, and if you are in a position of pastoral oversight then this is also well worth looking at for the insights it can offer."
— Good Book Stall Review

"The End of Worry is the best book I have personally read on this subject. It is a compassionate book as well as being practical and well-researched, drawing on the best of Christian theology and psychological insight."
— The Baptist Times