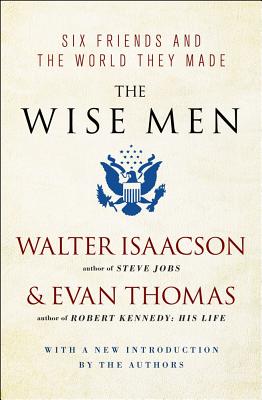 The Wise Men: Six Friends and the World They Made with a new introduction by the authors (Hardcover)
Six Friends and the World They Made with a new introduction by the authors
Simon & Schuster, 9781451683226, 864pp.
Publication Date: May 8, 2012
* Individual store prices may vary.
or
Not Currently Available for Direct Purchase
Description
With a new Introduction by the authors, this is the classic account of the American statesmen who rebuilt the world after the catastrophe of World War II. Six close friends shaped the role their country would play in the dangerous years following World War II. They were the original best and brightest, whose towering intellects, outsize personalities, and dramatic actions would bring order to the postwar chaos, and whose strong response to Soviet expansionism would leave a legacy that dominates American policy to this day. In April 1945, they converged to advise an untutored new president, Harry Truman. They were Averell Harriman, the freewheeling diplomat and Roosevelt's special envoy to Churchill and Stalin; Dean Acheson, the secretary of state who was more responsible for the Truman Doctrine than Truman and for the Marshall Plan than General Marshall; George Kennan, selfcast outsider and intellectual darling of the Washington elite; Robert Lovett, assistant secretary of war, undersecretary of state, and secretary of defense throughout the formative years of the Cold War; John McCloy, one of the nation's most influential private citizens; and Charles Bohlen, adroit diplomat and ambassador to the Soviet Union. Together they formulated a doctrine of Communist containment that was to be the foundation of American policy, and years later, when much of what they stood for appeared to be sinking in the mire of Vietnam, they were summoned for their steady counsel. It was then that they were dubbed "the Wise Men." Working in an atmosphere of trust that in today's Washington would seem quaint, they shaped a new world order that committed a once-reticent nation to defending freedom wherever it sought to flourish.
About the Author
Walter Isaacson, the CEO of the Aspen Institute, has been chairman of CNN and the managing editor of Time magazine. He is the author of Steve Jobs; Einstein: His Life and Universe; Benjamin Franklin: An American Life; and Kissinger: A Biography.Evan Thomas is the author of The Very Best Men: Four Who Dared: The Early Years of the C.I.A.; Robert Kennedy: His Life; The War Lovers: Roosevelt, Lodge, Hearst and the Rush to Empire, 1989; Sea of Thunder: The Last Great Naval Command, 1941-1945; and John Paul Jones. He is at work on a book about President Dwight Eisenhower.
Advertisement