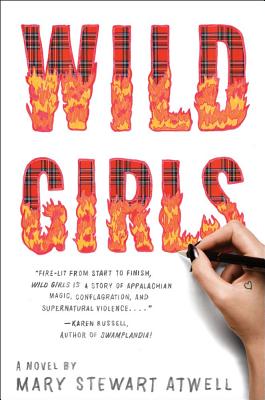 Wild Girls (Hardcover)
Scribner Book Company, 9781451683271, 288pp.
Publication Date: October 16, 2012
* Individual store prices may vary.
Description
Curtis Sittenfeld's Prep meets Donna Tartt's The Secret History, this daringly imagined, atmospheric, and original debut is part coming-of-age story and part supernatural tale about teenage girls learning their own strength. Daringly imagined, atmospheric, and original, Wild Girls is an exhilarating debut--part coming-of-age story and part supernatural tale about girls learning their own strength. Kate Riordan fears two things as she grows up in the small Appalachian town of Swan River: that she'll be a frustrated townie forever or that she'll turn into one of the mysterious and terrifying wild girls, killers who start fires and menace the community. Struggling to better her chances of escaping, Kate attends the posh Swan River Academy and finds herself divided between her hometown--and its dark history--and the realm of privilege and achievement at the Academy. Explosive friendships with Mason, a boy from the wrong side of town, and Willow, a wealthy and popular queen bee from school, are slowly pulling her apart. Kate must decide who she is and where she belongs before she wakes up with cinders at her fingertips. Mary Stewart Atwell has written a novel that is at once funny and wise and stunningly inventive. Her wild girls are strange and fascinating creatures--a brilliant twist on the anger teenage girls can feel at their powerlessness--and a promise of the great things to come from this young writer.
Praise For Wild Girls…
"Fire-lit from start to finish, Wild Girls is a story of Appalachian magic, conflagration, and supernatural violence; it is also a quiet and keenly perceptive account of the close ties (and the noose knots) that bind adolescent female friendships. Atwell has written a fantastic hybrid, part horror story and part bildungsroman: an elegy to the midnight selves that girls try to destroy, overcome, 'outgrow' on the way to adulthood, and a testament to their uncanny resilience." —Karen Russell, author of Swamplandia!


"Wild Girls lives up to its name. This beautifully written novel alternates lyrical passages with sharp eruptions of emotional fervor, with surprises on every page. The characters and the relationship between them are drawn with compassion and an utter lack of sentimentality. Wild Girls is an impressive debut from a writer we'll be anxious to hear more from." —Alice LaPlante, author of Turn of Mind



"If Jeffrey Eugenides' The Virgin Suicides were somehow miraculously to be gene-spliced with one of Joyce Carol Oates' baroque backwoods concoctions, you might end up with something very much like WILD GIRLS: sensual, frightening, written in lines of diamond-hard prose. One could not ask for a more exciting first novel." — Pinckney Benedict, author of Miracle Boy and Other Stories



"Wild Girls is a thrilling and dangerous trek through the haunted wilderness of adolescence. You will lose yourself in the mist of Atwell's implacable Appalachian landscape, in the mystical years of girlhood, in the mythology of violence, and you will find yourself in every character, in every stunning revelation. I simply loved this book."
—Alison Espach, the author of The Adults



"First—time novelist Atwell deftly mixes things up. Kate is a mature narrator whose sense of fairness and responsibility holds at bay the usual tensions over cliques, bullying, and competitive nastiness until an explosive episode of demonic possession targets the whole town."



"Atwell has imbued Wild Girls with wit, humor and sometimes startling atmosphere. She makes Kate sympathetic and the tensions in her life believable."



"A chilling tale of high school girls gone wild, capturing the terrors of both adolescence and dark magic in one sweeping story."



"Wild Girls successfully creates a sinister atmosphere for this engaging tale of a young girl facing her fears and her future."



"Atwell uses witchcraft, legend, herbal lore, and just enough factual evidence to keep the reader—and Kate—guessing about the mysterious series of events that unfold."
or
Not Currently Available for Direct Purchase