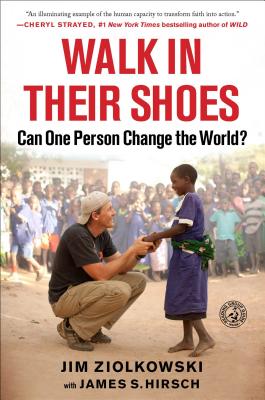 Walk in Their Shoes (Hardcover)
Can One Person Change the World?
Simon & Schuster, 9781451683554, 272pp.
Publication Date: September 17, 2013
Other Editions of This Title:
Paperback (6/17/2014)
* Individual store prices may vary.
Description
The powerful, personal story of Jim Ziolkowski, the man behind the organization buildOn—which turns inner city teens into community leaders at home and abroad—and his inspiring mission to change the world one community at a time.

THE STORY OF REAL CHANGE CAN START WITH JUST ONE PERSON

Twenty-one years ago, Jim Ziolkowski gave up a fast-track career in corporate finance to dedicate his life to buildOn, an organization that turns inner-city teens into community leaders at home and abroad. He set out to show not that he could change the world, but how each one of us can, through the power of service to others.

Today, buildOn students have contributed more than 1.2 million hours of service, from Detroit and the South Bronx to Haiti, Mali, and Nepal, while building more than five hundred fifty schools worldwide. Together, they are breaking the cycle of poverty, illiteracy, and low expectations in their own lives and transforming their communities.

An international chronicle of faith and the boundless potential of the human spirit, Walk in Their Shoes tells the story of Jim's movement and the thousands of young people who have decided to step forward, step up, and make a difference.
About the Author
Jim Ziolkowski started the nonprofit organization buildOn to break the cycle of poverty and illiteracy in nations throughout the world. He lives in Stamford, Connecticut.

James S. Hirsch is a bestselling author who has written on race, sports, and the human drama behind topics ranging from the military to medicine. He lives in the Boston area.
Praise For Walk in Their Shoes: Can One Person Change the World?…
"Jim Ziolkowski's rare commitment to children living in poverty in the US and abroad is an inspiration to me. Walk in Their Shoes tells his moving and unique story with heart, humility and even a touch of humor. Perhaps more importantly, Jim's tenacity in the face of many hardships and doubts offers an illuminating example of the human capacity to transform faith into action."
— Cheryl Strayed

"Walk in Their Shoes is an inspiring tribute to the power of compassion and education: the keys to leading a meaningful life."
— His Holiness the Dalai Lama

"Ziolkowski's life and work give testimony that service is the hallway that leads to the ballroom of kinship and exquisite mutuality. This is a heartfelt and brave account of gulfs being bridged, distances erased, and offers the hope that the illusion that we are separate can be obliterated. Both buildOn and its founder have helped us inch closer to dismantling the barriers that exclude."
— Gregory Boyle

"The answer is yes. Yes, one person can change the world. This book will challenge you and inspire you and push you to understand that you can (and should) make a difference."
— Seth Godin

"Ziolkowski balances sobering facts with an approachable writing style. His unflinching determination drove him to establish over 500 schools . . . He believed that one person could indeed change the world, and his story may inspire others to do the same."
or
Not Currently Available for Direct Purchase