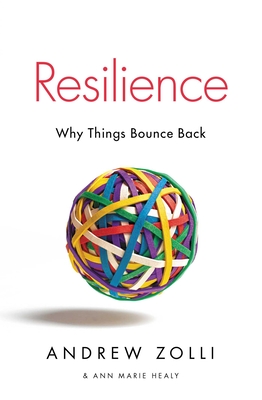 Resilience
Why Things Bounce Back
Paperback

* Individual store prices may vary.
Other Editions of This Title:
Digital Audiobook (7/9/2012)
Compact Disc (7/10/2012)
MP3 CD (7/10/2012)
Hardcover (7/10/2012)
Description
Discover a powerful new lens for viewing the world with fascinating implications for our companies, economies, societies, and planet as a whole.

What causes one system to break down and another to rebound? Are we merely subject to the whim of forces beyond our control? Or, in the face of constant disruption, can we build better shock absorbers—for ourselves, our communities, our economies, and for the planet as a whole?

Reporting firsthand from the coral reefs of Palau to the back streets of Palestine, Andrew Zolli and Ann Marie Healy relate breakthrough scientific discoveries, pioneering social and ecological innovations, and important new approaches to constructing a more resilient world. Zolli and Healy show how this new concept of resilience is a powerful lens through which we can assess major issues afresh: from business planning to social develop­ment, from urban planning to national energy security—circumstances that affect us all.

Provocative, optimistic, and eye-opening, Resilience sheds light on why some systems, people, and communities fall apart in the face of disruption and, ultimately, how they can learn to bounce back.
Praise For Resilience: Why Things Bounce Back…
"In an increasingly complex world, we can't avoid shocks--we can only build better shock absorbers. This is a brilliant exploration of how best to do that, told with compelling examples and stories." —Chris Anderson, editor in chief of Wired, bestselling author of The Long Tail: Why the Future of Business Is Selling Less of More and Free: The Future of a Radical Price

"From biological systems to communities to businesses, Resilience teaches us that being strong is not about doing one thing very well. Instead, it is about utilizing flexibility, redundancy, and variety. In this important and useful book, Zolli and Healy help us all understand the importance of planning for the future, even when it means giving up some short-term gains." —Dan Ariely, James B. Duke Professor of Psychology and Behavioral Economics, Duke University, and author of Predictably Irrational, The Upside of Irrationality, and The Honest Truth About Dishonesty

"Smart and sophisticated, this is a landmark work in a new field. If you are part of a system that wants to avoid collapse, read this book." —David Eagleman, neuroscientist, author of Incognito and Why the Net Matters

"Resilience is mandatory reading for people of all disciplines that will transform how you approach daily global events. Part complexity theory, part psychology, it is a pivotal book for today and a necessity to strategically plan for tomorrow." —David Agus, MD, Professor of Medicine and Engineering, University of Southern California, and author of The End of Illness


"A whirlwind tour through an idea whose time has come. I suspect that the concepts in this book will define the next decade." —Jad Abumrad, host and creator of Radiolab and 2011 MacArthur Fellow

"Resilience is the most compelling book I've read in years about how to navigate the accelerating pace of change that characterizes our lives today. More than anything else it maps new territory for leaders whether they seek to impact business, science, national security, or social transformation. Making deeply original thinking both accessible and captivating, Andrew Zolli and Ann Marie Healy have produced a rare and necessary book. The minute I put it down I began rethinking everything I thought I knew about how to make a lasting difference in the world." —Bill Shore, founder and CEO of the antihunger organization Share Our Strength

"When the next disruption strikes, some will fall—and some, following the lessons of this book, will rise." —Juan Enriquez, author of As The Future Catches You and Homo Evolutis and managing director of Excel Venture Management

"Spending time with Andrew Zolli's mind—that is what you will experience when reading Resilience—provides an understanding of the deep structures that will govern success in the coming century." —Bruce Mau, cofounder and director of Massive Change Network

"Resilience is the most important key to healing a planet that faces the most dangerous of times. More important and far more essential that either sustainability or corporate responsibility. Andrew Zolli and Ann Marie Healy's new book has arrived at a time when we need their insight and wisdom most. Understanding resilience is imperative for our very health and survival." —Jeffrey Hollender, cofounder of Seventh Generation and founder of Jeffrey Hollender Partners

"Resilience is, quite simply, a terrific book—an important sequel to Clay Shirky's Here Comes Everybody. The property of resilience is the key to health, well-being, and opportunity in networked, inter-connected, self-organized systems. Andrew Zolli and Ann Marie Healy provide a roadmap to a more resilient world." —Anne-Marie Slaughter, Professor of Politics and International Affairs at Princeton University, Former Director of Policy Planning for the United States Department of State
Simon & Schuster, 9781451683813, 336pp.
Publication Date: July 9, 2013
About the Author
Andrew Zolli directs the global innovation network PopTech and has served as a fellow of the National Geographic Society. His work and ideas have appeared in a wide array of media outlets, including PBS, The New York Times, National Public Radio, Vanity Fair, Fast Company, and many others. He lives in Brooklyn, New York.

Ann Marie Healy is a playwright, screenwriter, and journalist. Her work has been produced in the United States as well as internationally, and her plays, essays, and stories have been published through Smith & Kraus, Samuel French, and The Kenyon Review. She lives in the Hudson River Valley.