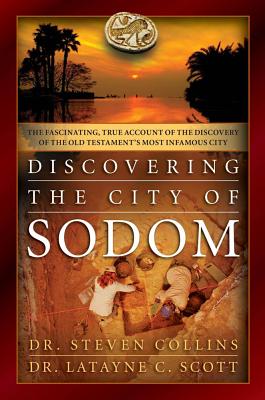 Discovering the City of Sodom (Hardcover)
The Fascinating, True Account of the Discovery of the Old Testament's Most Infamous City
Howard Books, 9781451684308, 334pp.
Publication Date: April 2, 2013
* Individual store prices may vary.
Description
The fascinating, true account of the quest for one of the Old Testament's most infamous cities. Like many Christians today in the academic world, Dr. Steven Collins felt pulled in different directions when it came to apparent conflicts between the Bible and scholarly research and theory--an intellectual crisis that inspired him to lay it all on the line as he set off to locate the lost city of Sodom. Recounting Dr. Collins's quest for Sodom in absorbing detail, this adventure-cum-memoir reflects the tensions that define biblical archaeology as it narrates a tale of discovery. Readers follow "Dr. C" as he tracks down biblical, archaeological, and geographical clues to the destruction of Sodom and Gomorrah, narrowing the list of possible sites as he weighs evidence and battles skeptics. Finally, he arrives at a single location that looms as the only option: a massive ancient ruin called Tall el-Hammam in the Hashemite Kingdom of Jordan. Many scholars who were initially opposed to Dr. Collins's theory now concede that history books may need to be rewritten in light of his groundbreaking discovery. It--along with several other recent finds--is challenging the assumptions of academics and asserting a new voice in the controversy of biblical archaeology and the dispute over using the Bible as a credible historical source. *** From respected archaeologist Dr. Steven Collins and award-winning author Dr. Latayne C. Scott comes the fascinating, true account of the frustrating search and exciting excavation of the city the Bible calls Sodom, which scholars and others had "misplaced" for hundreds of years. Like many modern-day Christians, Dr. Collins struggled with what seemed to be a clash between his heritage of belief in the Bible and the research regarding ancient history and human evolution. This crisis of faith led him to embark on a quest to put both his archaeological education and the Bible to the test by seeking out the lost ancient city, an expedition that has led to one of the most exciting finds in recent archaeology. Challenging the assumptions of academics around the world, Discovering the City of Sodom may well inspire a revision of the history books. Dr. Collins has become a new voice in the controversy over using the Bible as a credible source of understanding the past--and opened a new chapter in the struggle over the soul of biblical archaeology.
Praise For Discovering the City of Sodom: The Fascinating, True Account of the Discovery of the Old Testament's Most Infamous City…
Praise for Dr. Steven Collins:
"[Steve] is one of the most dynamic archaeologists I have ever met and his energy level would wear out the Energizer Bunny. . . . I consider Tall el-Hammam to be one of the most significant excavations—if not the most significant—in Biblical Archaeology that is now taking place in the Middle East; it is even more significant than Hazor and Gezer."

-Dr. Clyde Billington of Northwestern College, article for Artifax


"T. Hammam, an immense site, cries out for excavation. It is surely at least as significant as Bab Edh-Dhra, but probably more so. . . . Dr. Collins and his team have the deep experience and broad background to be ideal excavators of this wonderful site. His academic background is impeccable and his field experience is up to date in every regard."

-William J. Fulco, S.J., NEH Professor of Ancient Mediterranean Studies, Loyola Marymount University


"Dr. Collins is a meticulous archaeologist with an extraordinary team of specialized scholars who are not afraid to challenge the traditional assumptions about the location and fate of the Bible's most mysterious city—Sodom. His findings are scholarly, fascinating,educational, and extremely convincing to anyone who needs hard facts to support their conclusions regarding this famous city. The massive accumulation of the archaeological and geographical data from Tall el-Hammam, and its surrounding territory, leaves little doubt in my mind that Dr. Collins has emerged as the authority on the identification of Sodom. This riveting account of Dr. Collins'fascinating journey and discovery has contributed a unique body of knowledge that surpasses anything published on the subject. I don't know of a more convincing case for Sodom's long-awaited identification."

-Joseph M. Holden, Ph.D., President of Veritas Evangelical Seminary and co-author


"This lively volume provides the compelling story of the(re)discovery and excavation of an important biblical-period site, combining personal experiences, archaeological evidence, and discussion of biblical texts. Even if one does not see eye-to-eye with the authors' interpretations on the identity of the site and relationship to specific parts of the biblical narrative, the enthusiastic description of the story of the study of this site and related issues makes it a great read!"

-Prof. Aren Maeir, Bar-Ilan University, Ramat-Gan, Israel


"Dr. Steven Collins writes an intriguing account of his excavations at Tell el-Hammam in the Jordan Valley, a site which he identifies with Sodom of the Bible. In this book, Collins provides the most complete discussion to date of all of the relevant biblical texts. The most compelling part of the book is Dr. Collins' argument for locating Sodom northeast of the Dead Sea, rather than further to the south as many have assumed. This book will engender a great deal of interest among the general public, but it is likely to be received with less enthusiasm by many specialists in the field. Even so, it is clear that Dr. Collins has thought very deeply about the relationship between his site and the biblical narrative. Much of the skepticism about the historicity of Sodom over the years has been conducted in an archaeological vacuum. Now, with the excavations of Tell el-Hammam and Dr. Collins' extensive presentation of the historical, geographical and archaeological data, we now have a better material basis for further discussion. For those who do not believe that Tell el-Hammam could be Sodom, Dr. Collins still has an interesting and extremely important site that will produce valuable information about the cultural history of the Dead Sea basin during the Early Bronze Age, the Middle Bronze Age, and the Iron Age."

-Robert A. Mullins, Ph.D., Professor of Archaeology and Old Testament, Azusa Pacific University


"Discovering the City of Sodom is sure to create discussion, conversation, controversy, and enjoyment among lay and scholarly communities alike. Collins' carries the reader on a journey through the Bible's ancestral tales of sacred obedience, decadent lust, and apocalyptic destruction, uncovering impressive archaeological remains of a sprawling metropolis possibly used by the biblical writers as their geographic setting. A book not to be missed in the debate over the Bible's role in archaeological studies."

-David C. Maltsberger, Professor of Religion, Wayland Baptist University


"'Welcome to Sodom' signs are absent—so has Steven Collins found the place? Latayne Scott imaginatively tells how Collins concludes it is Tall el-Hammam, east of the Jordan river, arguing vigorously from biblical texts, geography and his discoveries at this large site. Archaeology's slow processes come to life in this vivid narrative."

-Alan Millard, Emeritus Rankin Professor of Hebrew & Ancient Semitic Languages, The University of Liverpool


"Dr. Steven Collins and Dr. Latayne C. Scott have produced a long-awaited report of the excavations that have taken place over the last ten years at Tall-al-Hammam in Jordan. As a seminary professor, I highly recommend this book as a classic example for our students of how sound biblical scholarship is conducted using the most sophisticated scientific tools to elucidate the biblical text. The authors have produced a highly readable account of the hard work of archaeology and have provided a pedagogically sound description of their case for the identification of biblical Sodom. Any teacher of the Bible or archaeology will find in this volume an ideal resource for students to enhance their knowledge of either field."

-Dr. Steve Lowe, Professor of Education, Erskine Theological Seminary, Erskine, SC


"The intrigue and biblical/historical detective work in this book thoroughly captivated me."

-Chris Fabry, author of ECPA Best Fiction winner Almost Heaven


"Scripture and science meet in a pop-archaeological text."
or
Not Currently Available for Direct Purchase