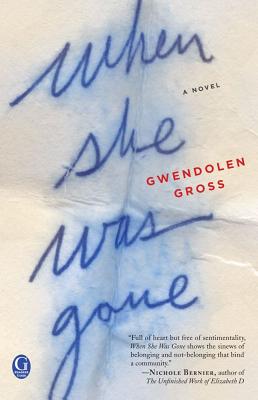 When She Was Gone
Paperback

* Individual store prices may vary.
Description
Tom Perotta's Little Children meets Alice Sebold's The Lovely Bones in this suspenseful and beautifully wrought story of a seventeen-year-old girl who vanishes on the eve of her departure for college, as told through the alternating perspectives of her neighbors.

What happened to Linsey Hart? When the Cornell-bound teenager disappears into the steamy blue of a late-summer morning, her quiet neighborhood is left to pick apart the threads of their own lives and assumptions.

Linsey's neighbors are just ordinary people—but even ordinary people can keep terrible secrets hidden close. There's Linsey's mother, Abigail, whose door-to-door searching makes her social-outcast status painfully obvious; Mr. Leonard, the quiet, retired piano teacher with insomnia, who saw Linsey leave; Reeva, the queen bee of a clique of mothers, now obsessed with a secret interest; Timmy, Linsey's lovelorn ex-boyfriend; and George, an eleven-year-old loner who is determined to find out what happened to his missing neighbor.

As the days of Linsey's absence tick by, dread and hope threaten to tear a community apart. This luminous new novel by the acclaimed author of The Orphan Sister explores coming of age in the shadows of a suburban life, and what is revealed when the light suddenly shines in. . . .
Praise For When She Was Gone…
"What happens behind the closed doors of a neighborhood, and beyond the facades of the people who live there? Gwendolen Gross has the sharp insight of a documentarian, turning her lens on each house of a frightened town after a college-bound girl goes missing. Full of heart but free of sentimentality, When She Was Gone shows the sinews of belonging and not-belonging that bind a community."
— Nichole Bernier

"Gwendolen Gross uses the disappearance of a young woman to tell the story of a community in crisis, and her gaze is both unflinching and surprisingly tender. When She Was Gone is a dark but elegantly crafted book, the tension building toward a climax that promises redemption to its wayward characters."
— Holly Goddard Jones

"Gwendolen Gross creates characters so familiar they could live next door. Her new novel, When She Was Gone, reflects a perfect balance of darkness and intricate struggles, woven together with hope and redemption. Abigail, Reeva, and Mr. Leonard's voices form some of the most powerful and beautiful language I've read in quite a while. Mix in a nail-biting plot and you have one outstanding read."
— Ann Hite

"Death, life, redemption and music combine in a rewarding novel."
— Kirkus

"Similar in title and theme to Gillian Flynn's Gone Girl, Gross's fifth novel feels more genuine in that her characters are less contrived. Gross deftly depicts the dread-filled unfolding of a mother's realization that her child is missing and clearly portrays how a crisis of this nature unearths alliances and fissures within a community."
— Library Journal

"Engaging and sentence-perfect, wonderful in so many ways, but I love it best for its vibrant, emotionally complex main character Clementine. I felt so entirely with her, as she loves those around her with both devotion and complexity and as she struggles to achieve a delicate balance between belonging to others and being herself."
— New York Times bestseller Marisa de los Santos

"With exquisite language and an empathetic ear, Gwendolen Gross paints a gorgeous portrait of life, love, loss and sisterhood, and forces you to ask yourself: how far will you go for your family and what secrets can shatter even that bond? The Orphan Sister will linger long after you've turned the final page."
— New York Times bestseller Allison Winn Scotch

"Breathtakingly original. A haunting exploration of love, loyalty, sisters, hope, and the ties that bind us together—and make the ground tremble beneath us when they break. I loved, loved, loved this novel."
— New York Times bestseller Caroline Leavitt

"This charming portrait of an impossibly gorgeous and gifted family is something rare: a delightful confection, filled with humor and warmth, that also probes the complex nature of identity, the vagaries of romantic and filial love, and the materialism inherent in contemporary American culture."
— Joanna Smith Rakoff
Gallery Books, 9781451684742, 304pp.
Publication Date: March 19, 2013
About the Author
Gwendolen Gross is the author of five critically acclaimed novels, including The Orphan Sister and The Other Mother. She has worked with porcupines and kinkajous as a science demonstrator, on mountain tops as a naturalist, as an editor, opera singer, writing instructor, and mom. She lives in Northern New Jersey with her husband, daughter, and son.
or
Not Currently Available for Direct Purchase