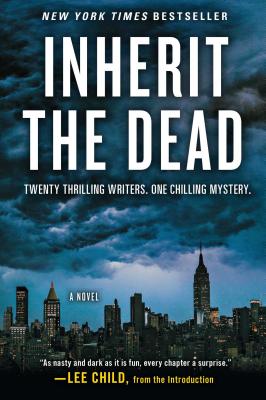 Inherit the Dead
A Novel
Paperback

* Individual store prices may vary.
Description
This New York Times and USA TODAY bestseller is a collaboration between twenty bestselling mystery novelists who have joined forces to create a spellbinding story of love, betrayal, and intrigue. "Readers can't go wrong with this juicy thriller" raves Library Journal.

Pericles "Perry" Christo is a PI with a past—a former cop who lost his badge and his family when a corruption scandal left him broke and disgraced. So when wealthy Upper East Side matron Julia Drusilla summons him one cold February night, he grabs what seems to be a straightforward (and lucrative) case.

The socialite is looking for her beautiful, aimless daughter, Angelina, who is about to become a very wealthy young woman. But as Christo digs deeper, he discovers there's much more to the lovely "Angel" than meets the eye. This classic noir tale twists and turns down New York's mean streets and along the Hamptons beaches and back roads during a bitterly cold and gray winter where nothing is as it seems and everyone has something to hide.

In this inventive "serial novel" storytelling approach, each of the twenty bestselling writers brings his or her distinctive voice to a chapter of Inherit the Dead, building the tension to a shocking, explosive finale. The editor, Jonathan Santlofer, has arranged to donate any royalties in excess of editor and contributor compensation to Safe Horizon, the leading victim assistance agency in the country.
Praise For Inherit the Dead: A Novel…
"Although it's not a sequel to 2011's No Rest for the Dead, this novel-by-committee is a very good followup. Twenty writers—among them such notables as Billingham, Box, Bruen, Connolly, and McDermid—combine forces. … There are some stylistic variations between the 20 authors—John Connolly doesn't sound like Charlaine Harris—but, for the most part, the story moves as though there were a single hand on the tiller. Not merely a genre curiosity, the book is a well-told mystery that stands on its own two (or 40) feet."
— Booklist

"Well drawn and idiosyncratic . . . [with] some amazing twists. An entertaining mystery."
— Romance Reviews Today

"Each chapter is written by a different author (all top-notch contributors ranging from Charlaine Harris and Heather Graham to John Connolly to Mary Higgins Clark) who moves the story forward in his or her own distinctive style . . . culminating in a surprising and shocking conclusion masterfully written by Lawrence Block. Thrillers fans will definitely want to check this book out! Not only is it a good read, you can feel good too as it supports a very worthy cause!"
— Fresh Fiction

"Not a hiccup from one chapter to the next. It's a delightful book. … But what else can you expect when these tried and true authors combine their skills?"
— BookLoons.com

"Readers can't go wrong with this juicy thriller written serial style by 20 popular authors."
— Library Journal

"Distinguished crime authors who each contribute a chapter to this team project succeed in fashioning an engaging and cohesive plot. The chapters move seamlessly as clues and storylines set up by one author are expanded by the next."
— Publishers Weekly

"A wonderfully written mind teasing mystery. The plot twist and turns will have you questioning and second guessing till the end. Each chapter starts with the contributing author so not only do you get a great story but a good taste of each author's individual work...making us want more."
— Tome Tender Book Blog

"When 20 of the best crime writers of our time team up to write a story, you know it will be worth the read. . . . The imagery evoked is noire, the PI just hardboiled enough, and the main reason for the investigation is a true femme fatale."
— RAGMAG

"Good book, good cause, bad guy caught: win, win, win."
— Post and Courier

"Each chapter is a gem, as though this were the only project that the writer had on his or her desk … well done!"
— Crimespree
Touchstone, 9781451684773, 304pp.
Publication Date: June 24, 2014
About the Author
Lee Child, previously a television director, union organizer, theater technician, and law student, was fired and on the dole when he hatched a harebrained scheme to write a bestselling novel, thus saving his family from ruin. Killing Floor went on to win worldwide acclaim. The Midnight Line, is his twenty-second Reacher novel. The hero of his series, Jack Reacher, besides being fictional, is a kindhearted soul who allows Lee lots of spare time for reading, listening to music, and watching Yankees and Aston Villa games. Lee was born in England but now lives in New York City and leaves the island of Manhattan only when required to by forces beyond his control. Visit Lee online at LeeChild.com for more information about the novels, short stories, and the movies Jack Reacher and Jack Reacher: Never Go Back, starring Tom Cruise. Lee can also be found on Facebook: LeeChildOfficial, Twitter: @LeeChildReacher, and YouTube: LeeChildJackReacher.

C.J. Box is the New York Times bestselling author of fifteen novels including the award-winning Joe Pickett series. Box has won the Edgar Award for Best Novel as well as the Anthony, Macavity, Barry, and Le Calibre .38 awards. His novels have been translated into twenty-five languages. Box lives outside of Cheyenne, Wyoming.

Charlaine Harris is a New York Times bestselling author who has been writing for over thirty years. She was born and raised in the Mississippi River Delta area. She has written four series, and two stand-alone novels, in addition to numerous short stories, novellas, and graphic novels (cowritten with Christopher Golden). Her Sookie Stackhouse books have appeared in twenty-five different languages and on many bestseller lists. They're also the basis of the HBO series True Blood. Harris now lives in Texas, and when she is not writing her own books, she reads omnivorously. Her house is full of rescue dogs.

John Connolly is the author of the Charlie Parker series of thrillers, the supernatural collection Nocturnes, the Samuel Johnson Trilogy for younger readers, and (with Jennifer Ridyard) the Chronicles of the Invaders series. He lives in Dublin, Ireland. For more information, see his website at JohnConnollyBooks.com, or follow him on Twitter @JConnollyBooks.

The #1 New York Times bestselling author Mary Higgins Clark wrote forty suspense novels, four collections of short stories, a his­torical novel, a memoir, and two children's books. With bestselling author Alafair Burke she wrote the Under Suspicion series including The Cinderella Murder, All Dressed in White, The Sleeping Beauty Killer, Every Breath You Take, and You Don't Own Me. With her daughter Carol Higgins Clark, she coauthored five more suspense novels. More than one hundred million copies of her books are in print in the United States alone. Her books are international bestsellers.