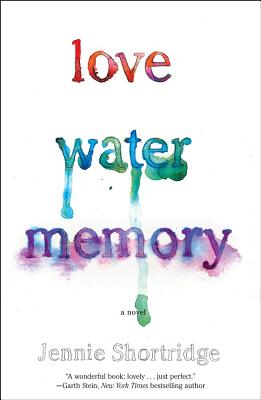 Love Water Memory (Hardcover)
Gallery Books, 9781451684834, 336pp.
Publication Date: April 2, 2013
Other Editions of This Title:
Paperback (1/14/2014)
Compact Disc (4/2/2013)
Compact Disc (1/14/2014)
MP3 CD (9/22/2015)
Hardcover, Large Print (7/1/2013)
Compact Disc (4/1/2013)
MP3 CD (4/1/2013)
MP3 CD (1/14/2014)
MP3 CD (4/2/2013)
* Individual store prices may vary.
Description
From the highly acclaimed author of When She Flew and Riding With the Queen, a powerful new novel that asks how well we know the people we love—and how well we know ourselves.

A bittersweet masterpiece filled with longing and hope, Jennie Shortridge's emotional novel explores the raw, tender complexities of relationships and personal identity.

Who is Lucie Walker? Even Lucie herself can't answer that question after she comes to, confused and up to her knees in the chilly San Francisco Bay. Back home in Seattle, she adjusts to life with amnesia, growing unsettled by the clues she finds to the selfish, carefully guarded person she used to be. Will she ever fall in love with her handsome, kindhearted fiancé, Grady? Can he devote himself to the vulnerable, easygoing Lucie 2.0, who is so unlike her controlling former self? When Lucie learns that Grady has been hiding some very painful secrets that could change the course of their relationship, she musters the courage to search for the shocking, long-repressed childhood memories that will finally set her free.
About the Author
Jennie Shortridge has published five novels: Love Water Memory, When She Flew, Love and Biology at the Center of the Universe, Eating Heaven, and Riding with the Queen. When not writing, teaching writing workshops, or volunteering with kids, Jennie stays busy as a founding member of Seattle7Writers.org, a collective of Northwest authors devoted both to raising funds for community literacy projects and to raising awareness of Northwest literature.
Praise For Love Water Memory…
"A wonderful book; lovely....just perfect."
—Garth Stein, New York Times bestselling author of The Art of Racing in the Rain

"Part tense mystery and part brilliant psychological drama, Shortridge's eloquent novel is a breathtaking story of how well we really know the people we love—and ourselves."
—Caroline Leavitt, New York Times bestselling author of Pictures of You

"Intriguing, resonant, and deeply satisfying, Love Water Memory takes us into the mystery of one woman's past and her attempts to reclaim both herself and the love she left behind."
—Erica Bauermeister, author of The School of Essential Ingredients

"Love Water Memory is a beautiful novel about what the mind forgets and what the heart remembers. A story of memories as shadows, elongated and distorted by time, until they eclipse cherished loves, familial connections, and painful truths. A captivating read from start to finish."
—Jamie Ford, New York Times bestselling author of Hotel on the Corner of Bitter and Sweet

"By the end of page one of Love Water Memory, readers care about Lucie and why she's standing in frigid San Francisco Bay in an Armani suit. Jennie Shortridge's fifth novel moves like a thriller, as along with Lucie we discover what led to her flight from her fiance Grady and her high-powered career. In the hands of a less accomplished author the plot could have become maudlin. Here, it's credible; Grady is loving but flawed; the pre-amnesiac Lucie not always likable. But they fight for understanding and happiness, and readers will be cheering for them all the way."
—Cheryl Krocker McKeon, Rakestraw Books, Danville CA

"Love Water Memory is slowly and sweetly revelatory as Lucie, coming out of the fog of amnesia, and Grady, finally swimming to a surface without his father, move toward each other in a new recognition of themselves and each other, leaving behind disguises they no longer need. There is laughter and there are tears as these two people learn to trust each other and to be fearless in finding a better, more honest way of loving than what they once knew."
—Valerie Jean Ryan, Cannon Beach Books, Cannon Beach, OR

"Engaging characters, beautiful settings, and a story that keeps the reader's interest from the very start. Lucie ran away from her fiancé 8 days ago, now she has no memory of who she is or anyone else either. Grady is coming to get her, but he would just as soon Lucie not remember the day she ran. Aunt Helen holds the secrets of a childhood gone terribly wrong. As the characters face the challenges from the past and present, the reader will be rooting for them. These are characters that make you care and a plot line that will not let you go."
—Deon Stonehouse, Sunriver Books & Music, Sunriver, OR

Shortridge (When She Flew) proves herself in her fifth novel. This is thoughtful, with fully developed characters all around.
— Julie Kane

"Warmly emotional….[the] touching story of a woman who recovers her identity while also realizing the cost of repression."

"[A]n emotional heart-tugger that doesn't go where readers might expect; a fascinating turnabout for those who enjoy novels focusing on complex life dramas."

"Shortridge's novel is a poignant examination of the effect of the past, subtle variations of the truth and what it means to love another person."
— Melissa Parcel

"Love Water Memory grabs the reader's attention from the first page…"


— Melinda Bargreen
or
Not Currently Available for Direct Purchase