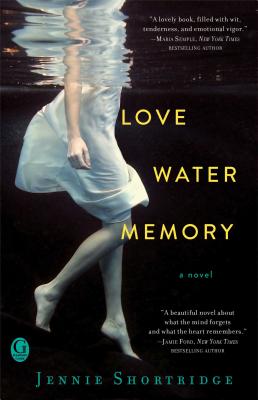 Love Water Memory
Paperback

* Individual store prices may vary.
Other Editions of This Title:
Digital Audiobook (4/1/2013)
MP3 CD (9/22/2015)
Compact Disc (1/14/2014)
Hardcover, Large Print (7/1/2013)
Description
Inspired by a true story, this bittersweet novel about a woman with a rare form of amnesia explores the raw, tender complexities of relationships and personal identity. Library Journal calls it "an emotional heart-tugger that doesn't go where readers might expect; a fascinating turnabout..."

If you could do it all over again, would you still choose him?

At age thirty-nine, Lucie Walker has no choice but to start her life over when she comes to, up to her knees in the chilly San Francisco Bay, with no idea how she got there or who she is. Her memory loss is caused by an emotional trauma she knows nothing about, and only when handsome, quiet Grady Goodall arrives at the hospital does she learn she has a home, a career, and a wedding just two months away. What went wrong? Grady seems to care for her, but Lucie is no more sure of him than she is of anything. As she collects the clues of her past self, she unlocks the mystery of what happened to her. The painful secrets she uncovers could hold the key to her future—if she trusts her heart enough to guide her.
Praise For Love Water Memory…
"This is a moving story told by a wonderful writer. It explores truth and love and reminds us that the people around us have helped form who we are, but in the end, the person we are capable of becoming is up to us."
— Real Simple

"LOVE WATER MEMORY is a lovely book, filled with wit, tenderness and emotional vigor."
— Maria Semple, New York Times bestselling author of Where'd You Go, Bernadette?

"A wonderful book; lovely....just perfect."
—Garth Stein, New York Times bestselling author of The Art of Racing in the Rain

"Part tense mystery and part brilliant psychological drama, Shortridge's eloquent novel is a breathtaking story of how well we really know the people we love—and ourselves."
—Caroline Leavitt, New York Times bestselling author of Pictures of You

"Intriguing, resonant, and deeply satisfying, Love Water Memory takes us into the mystery of one woman's past and her attempts to reclaim both herself and the love she left behind."
—Erica Bauermeister, author of The School of Essential Ingredients

"Love Water Memory is a beautiful novel about what the mind forgets and what the heart remembers. A story of memories as shadows, elongated and distorted by time, until they eclipse cherished loves, familial connections, and painful truths. A captivating read from start to finish."
—Jamie Ford, New York Times bestselling author of Hotel on the Corner of Bitter and Sweet

"By the end of page one of Love Water Memory, readers care about Lucie and why she's standing in frigid San Francisco Bay in an Armani suit. Jennie Shortridge's fifth novel moves like a thriller, as along with Lucie we discover what led to her flight from her fiance Grady and her high-powered career. In the hands of a less accomplished author the plot could have become maudlin. Here, it's credible; Grady is loving but flawed; the pre-amnesiac Lucie not always likable. But they fight for understanding and happiness, and readers will be cheering for them all the way."
—Cheryl Krocker McKeon, Rakestraw Books, Danville CA

"Love Water Memory is slowly and sweetly revelatory as Lucie, coming out of the fog of amnesia, and Grady, finally swimming to a surface without his father, move toward each other in a new recognition of themselves and each other, leaving behind disguises they no longer need. There is laughter and there are tears as these two people learn to trust each other and to be fearless in finding a better, more honest way of loving than what they once knew."
—Valerie Jean Ryan, Cannon Beach Books, Cannon Beach, OR

"Engaging characters, beautiful settings, and a story that keeps the reader's interest from the very start. Lucie ran away from her fiancé 8 days ago, now she has no memory of who she is or anyone else either. Grady is coming to get her, but he would just as soon Lucie not remember the day she ran. Aunt Helen holds the secrets of a childhood gone terribly wrong. As the characters face the challenges from the past and present, the reader will be rooting for them. These are characters that make you care and a plot line that will not let you go."
—Deon Stonehouse, Sunriver Books & Music, Sunriver, OR

"Shortridge (When She Flew) proves herself in her fifth novel. This is thoughtful, with fully developed characters all around."
— Julie Kane

"Warmly emotional….[the] touching story of a woman who recovers her identity while also realizing the cost of repression."
— Publishers Weekly

"[A]n emotional heart-tugger that doesn't go where readers might expect; a fascinating turnabout for those who enjoy novels focusing on complex life dramas."
— Library Journal, Editors' Pick for Spring 2013

"Shortridge's novel is a poignant examination of the effect of the past, subtle variations of the truth and what it means to love another person."
— Melissa Parcel

"Love Water Memory grabs the reader's attention from the first page."
— The Seattle Times
Gallery Books, 9781451684841, 352pp.
Publication Date: January 14, 2014
About the Author
Jennie Shortridge has published five novels: Love Water Memory, When She Flew, Love and Biology at the Center of the Universe, Eating Heaven, and Riding with the Queen. When not writing, teaching writing workshops, or volunteering with kids, Jennie stays busy as a founding member of Seattle7Writers.org, a collective of Northwest authors devoted both to raising funds for community literacy projects and to raising awareness of Northwest literature.
Lucie suffers from dissociative fugue. According to the Cleveland Clinic, "The word fugue comes from the Latin word for 'flight.' People with dissociative fugue temporarily lose their sense of personal identity and impulsively wander or travel away from their homes or places of work. They often become confused about who they are and might even create new identities . . . Dissociative fugue has been linked to severe stress, which might be the result of traumatic events—such as war, abuse, accidents, disasters or extreme violence—that the person has experienced or witnessed." Discuss how the condition applies to Lucie.
Lucie's aunt Helen Ten Hands says, "We didn't know how a mind could break so badly," (p. 316). Discuss how and why neither Lucie nor her loved ones understood the depth of her mental illness. How might they have helped her earlier?
Compare the pre-amnesiac Lucie with the "new" Lucie. How does she change, and what does this signify?
How does Grady's early family life affect his relationship with Lucie, and his own life choices? What role does his large, loquacious family play in the present-day story?
Grady spends much time under water. Lucie woke in the water, and seems to be swimming through a fog. Discuss the symbolism of water for both characters in Love Water Memory.
Lucie goes to great lengths to learn to cook after she comes home. What is the significance of food and the cooking scenes in the story?
Discuss the role of psychotherapy in the book, and each character's take on it. Why doesn't Lucie get help earlier? Can family members force their loved ones to seek counseling?
How did the death of a parent at a young age impact both Lucie and Grady? What are the similarities and differences in their experiences with love and loss, and how does early loss affect each one?
Compare the effect of music for Lucie, and water for Grady. What do they each find in those things, and why?
Helen longs to reconnect with her niece, yet is overwhelmed at having to tell Lucie the truth about the past. What contributes to her internal conflict?
In what ways is Grady holding on to his prior notions of the "old" Lucie? How does this affect his developing feelings for the "new" Lucie?
Discuss the similarities between Grady and Helen's deceased husband, Edward Ten Hands, and what drew Lucie to each of them.
How do you think Lucie will resolve her "new" and "old" selves?
or
Not Currently Available for Direct Purchase