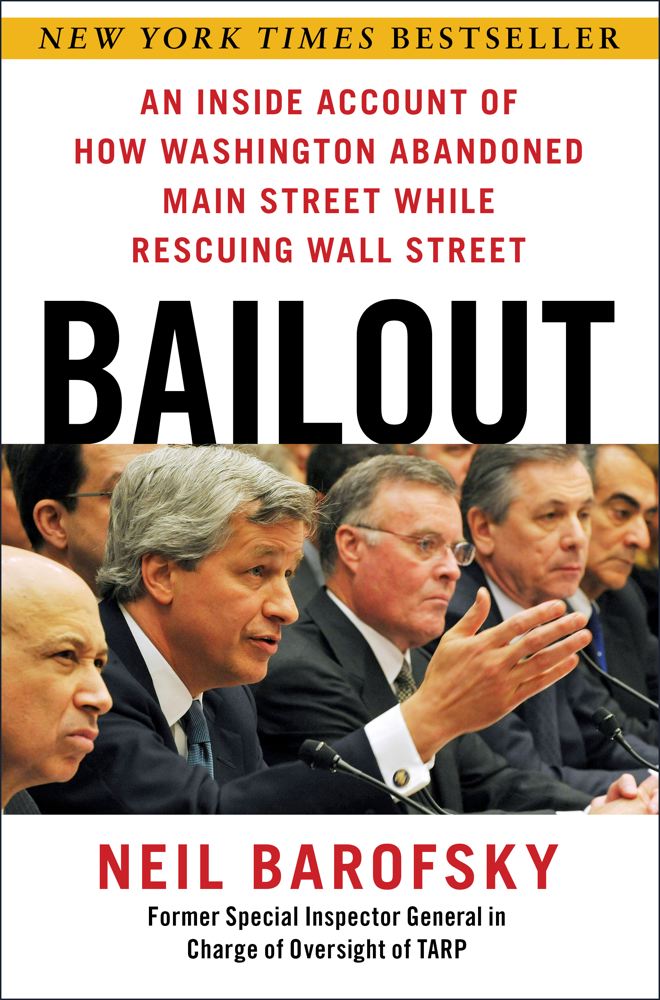 Bailout (Hardcover)
An Inside Account of How Washington Abandoned Main Street While Rescuing Wall Street
Free Press, 9781451684933, 288pp.
Publication Date: July 24, 2012
Other Editions of This Title:
Digital Audiobook (7/23/2012)
Paperback (2/5/2013)
Compact Disc (7/24/2012)
MP3 CD (7/24/2012)
Compact Disc (7/24/2012)
* Individual store prices may vary.
Description
"Bailout is a jaw-dropping play-by-play of how the Treasury Department bungled the financial bailouts…With a prosecutor's logic and copious footnotes, Barofsky makes it clear that things are rarely what they seem in Washington."—USA TODAY

At the height of the financial crisis in 2008, Neil Barofsky gave up his job as a prosecutor in the esteemed US Attorney's Office in New York City, where he had convicted drug kingpins, Wall Street executives, and perpetrators of mortgage fraud, to become the inspector general in charge of overseeing administration of the bailout money. From the onset, his efforts to protect against fraud and to hold big banks accountable for how they spent taxpayer money were met with outright hostility from Treasury officials in charge of the bailouts.

In this bracing, page-turning account Barofsky offers an insider's perspective on the mishandling of the $700 billion TARP (Troubled Asset Relief Program) bailout fund. With vivid behind-the-scenes detail, he reveals the extreme lengths to which our government officials were willing to go in order to serve the interests of Wall Street firms at the expense of the broader public—and at the expense of effective financial reform.

Bailout is a riveting account of Barovsky's plunge into the political meat grinder of Washington, as well as a vital revelation of just how captured by Wall Street our political system is and why the too-big-to-fail banks have become even bigger and more dangerous in the wake of the crisis.
About the Author
Neil Barofsky served as the Special Inspector General in charge of overseeing TARP from December 2008 until March 2011. For eight years prior, he was a federal prosecutor in the US Attorney's Office for the Southern District of New York, during which time he headed the Mortgage Fraud Group. Currently, Neil Barofsky is a senior fellow at New York University School of Law. An alum of the University of Pennsylvania and the New York University School of Law, this is his first book.
Praise For Bailout: An Inside Account of How Washington Abandoned Main Street While Rescuing Wall Street…
"Bailout is a jaw-dropping play-by-play of how the Treasury Department bungled the financial bailouts… With a prosecutor's logic and copious footnotes, Barofsky makes it clear things are rarely what they seem in Washington."

"[Bailout] is an interesting behind-the-scenes account of how Washington tried to save the economy… [and] an enjoyable tale of how a prosecutor of Colombian drug gangs got drafted for the thankless task of policing a $700 billion bailout from a dank basement office of the Treasury."

"[An] everyman account of the pervasive cynicism and insider-dealing of the D.C. establishment."

"[One] of our favorite business books so far this year…The former special inspector general policing the $700 billion Troubled Asset Relief Program lifts the lid on the U.S. Treasury and settles scores… [an] illuminating memoir."

"A damning indictment of the Obama administration's execution of the TARP program."

"A quick, intense, read."

"[Barofsky] set out to account for the TARP spending in a transparent, nonpartisan manner. However, as he demonstrates in his energetically written first-person account, he and his staff met resistance every time they tried to share the truth with Congress, the White House and the American public… a courageous, insightful book that offers no cause for optimism."

"Blistering in its assessment of the Treasury Department's handling of the bailouts."

"In his scathing new book, Barofsky says taxpayers got shafted while the rich got richer… a true expose…. Taxpayers who feel helpless in the midst of the extended economic recession are likely to feel energized to metaphorically blow up the system after reading Barofsky's account."

"[An] explosive account of the mishandling of the Troubled Asset Relief Program funds."

"[Barofsky] unleashes a blistering attack on President Barack Obama's Treasury Department and its management of government bailout programs."

"In Bailout, [Barofsky] gives a detailed account of just how far-reaching, and how much, the corruption spread."

"Of all the major books I've read on the financial crisis, this one is the very best at showing the dysfunctional inner workings of the unholy alliance between Wall Street and Washington, D.C."
or
Not Currently Available for Direct Purchase