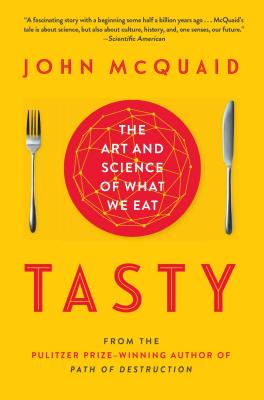 Tasty
The Art and Science of What We Eat
Paperback

* Individual store prices may vary.
Other Editions of This Title:
Digital Audiobook (1/12/2015)
MP3 CD (1/13/2015)
Compact Disc (1/13/2015)
Hardcover (1/13/2015)
Hardcover, Large Print (6/10/2015)
Description
"A fascinating blend of culinary history and the science of taste" (Publishers Weekly, starred review), from the first bite taken by our ancestors to ongoing scientific advances in taste and today's "foodie" revolution.

Can't resist the creamy smoothness of butter? Blame Darwinian natural selection. Crave the immediate zing of sweets? They bathe your brain in a seductive high. Enjoy the savory flavors of grilled meat? So did your ancestor Homo erectus. Coffee? You had to overcome your hardwired aversion to its hint of bitterness and learn to like it. Taste is a whole-body experience, and breakthroughs in genetics and microbiology are casting light not only on the experience of french fries and foie gras, but on the mysterious interplay of body, brain, and mind.

Reporting from kitchens, supermarkets, farms, restaurants, huge food corporations, and science labs, Pulitzer Prize-winning journalist John McQuaid tells the story of the still-emerging concept of flavor and how our sense of taste will evolve in the coming decades. Tasty explains why children have bizarre and stubborn tastes, how the invention of cooking changed our brains and physiology, why artificial sweeteners never taste quite right, why name brands really do taste better, how a 100,000-year-old walkabout by early humans is responsible for George H.W. Bush's broccoli-hatred, why "supertasters" like salt, and why "nontasters" are more likely to be alcoholics.

"A fascinating story with a beginning some half a billion years ago…McQuaid's tale is about science, but also about culture, history and, one senses, our future" (Scientific American). Tasty offers a delicious smorgasbord of where taste originated and where it's going—and why it changes by the day.
Praise For Tasty: The Art and Science of What We Eat…
"McQuaid explores how deliberate manipulation of flavor influences virtually every aspect of the human experience, from pleasure to pain, from joy to sorrow. This is an awe inspiring landmark book, one that clearly deserves several readings."
— David Perlmutter, MD, #1 New York Times Best Selling Author of Grain Brain: The Surprising Truth About Wheat, Carbs and Sugar - Your Brain's Silent Killers

"An excellent and absorbing investigation into the origin and nature of taste..[McQuaid] distills and presents in lively and entertaining prose a dizzying amount of scientific and cultural research throughout."

— Boston Globe

"A fascinating blend of culinary history and the science of taste."
— Publishers Weekly, starred review

"A fascinating story with a beginning some half a billion years ago…McQuaid's tale is about science, but also about culture, history and, one senses, our future."

— Scientific American

"A delightful and eye-opening romp through the evolutionary story of one of the least understood drivers of human behavior. Taste has defined our migration across continents and propelled us to set sail for foreign lands. It even determines whether we can digest milk or are more likely to become alcoholics. John McQuaid packs this ripe and succulent account with one revealing detail after another, leaving readers with a greater understanding of what it means to be human."
— Melanie Warner, author of Pandora's Lunchbox: How Processed Food Took Over the American Meal

"Pulitzer Prize-winning journalist McQuaid offers up with gusto this fascinating and meticulously researched consideration of flavor and the sense of taste...Tasty is an appetizing and satisfying chronicle of what we know of taste, so far. An excellent (and relatively agenda-neutral) choice for those who enjoy Michael Pollan and Gary Paul Nabhan..."
— Library Journal

"[A] provocative investigatory foray into the nature of taste…McQuaid is an enthusiastic writer undisturbed by dead ends, and he provides an entertaining exploration of "the mystery at the heart of flavor," which "has never truly been cracked.""
— Kirkus Reviews

"An exploration of taste in all its complexity and contradiction…McQuaid is a deft writer with a talent for vivid metaphors."

— Business Week

"Our tastes evolved to help us: delicious food nourishes us and makes us healthy. John McQuaid, in teaching us about taste, engagingly shows how our food can be more pleasing and our lives more healthful. The only thing better than a delicious meal, is a delicious meal eaten after reading Tasty!"
— Paul Jaminet, author of Perfect Health Diet: Regain Health and Lose Weight by Eating the Way You Were Meant to Eat

"[A] thoroughly investigated work. . .McQuaid unpacks with appealing gusto the reasons for the wide variety of human reactions to taste...Tasty offers a full meal."
— Booklist
Scribner, 9781451685015, 304pp.
Publication Date: January 12, 2016
About the Author
John McQuaid is the author of Tasty: The Art and Science of What We Eat and his journalism has appeared in Smithsonian magazine, The Washington Post, Wired, Forbes.com, and Eating Well magazine. His science and environment reporting for The Times-Picayune anticipated Hurricane Katrina, explored the global fisheries crisis and the problems of invasive species. His work has won a Pulitzer Prize, as well as awards from the American Association for the Advancement of Science, the American Institute for Biological Sciences, and the International Association of Culinary Professionals. McQuaid is a graduate of Yale. He lives in Silver Spring, Maryland, with his wife and two children.