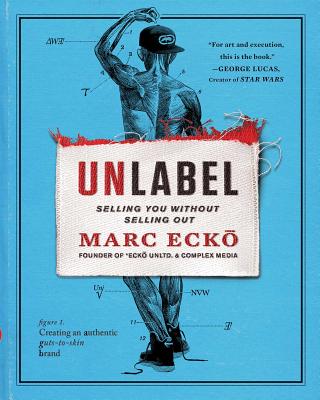 Unlabel (Hardcover)
Selling You Without Selling Out
Atria Books, 9781451685305, 304pp.
Publication Date: October 1, 2013
Other Editions of This Title:
Paperback (5/5/2015)
MP3 CD (4/8/2014)
MP3 CD (5/5/2015)
Compact Disc (10/7/2014)
MP3 CD (10/1/2013)
Compact Disc (10/1/2013)
MP3 CD (10/1/2013)
Compact Disc (10/1/2013)
* Individual store prices may vary.
Description
One of the most provocative entrepreneurs of our time, who started Ecko Unltd out of his parents' garage and turned it into a media empire, Marc Ecko reveals his formula for building an authentic brand or business.

As instructive as it is innovative, Unlabel will empower you to channel your creativity, find the courage to defy convention, and summon the confidence to act and compete in any environment.

This visual blueprint will teach you how to grow both creatively and commercially by testing your personal brand against the principles of the Authenticity Formula.

Marc Ecko shares the bruising mistakes and remarkable triumphs that reveal the truth behind his success, growing from a misfit kid airbrushing T-shirts in his parents' garage to the bold creator of two hugely successful branded platforms—Ecko Unltd. and Complex Media. As Ecko explains, it's not enough to simply merge your inner artist with business savvy, you must understand the anatomy of a brand, starting with its authentic spine.

With Unlabel, you will learn how to discover your own voice by overcoming fear and taking action, what it means to deliver on your promises, why failure is essential, how to understand how your product or service makes people feel, and how to recognize if your nostalgia for the past is hampering your ability to envision your future.

Unlabel is a bold and honest approach to building an authentic personal brand, growing a bootstrap start-up into a sustainable business.
About the Author
Marc Ecko is an American fashion designer, entrepreneur, and artist. He left the safety of pharmacy school and—armed with only hustle, sweat equity, and creativity—turned $5,000 into a global corporation now worth hundreds of millions of dollars. He is the founder of Marc Ecko Enterprises, a fashion and lifestyle company, and the founder and chairman of Complex Media, the world's leading provider of fashion, entertainment, lifestyle, and product trends to young male tastemakers. Visit him online at BeingMarcEcko.com, Unlabel.me, or on Twitter @MarcEcko.
Praise For Unlabel: Selling You Without Selling Out…
"Marc is living proof that you can be a marketing and business whiz and still be a true artist."
— CNBC
Grand harmonic pop-culture convergence. Ecko is at a crossroads … the man is trying to step out from behind his rhino."
— Rob Walker, The New York Times
"No one has made STAR WARS cooler than ECKO. Marc's unique vision became a global force. This is the text book I wish I could have bought in college."
— George Lucas
"[This] media mogul made millions by leveraging his ability to find the next big thing."
— Business Insider
"Ecko brings a sense of edgy wonder to his work."
— Entrepreneur Magazine
"The merging of different worlds is a recurring theme in Marc Ecko's life and in his work."
— ABC Nightline
"Marc Ecko imposes no limits on himself, or his sources of inspiration."
— AskMen.com
"Very, very creative. More edge than most."
— Russell Simmons
"In his role as entrepreneurial guru, Ecko is a sort of anti-Trump, using human frailty instead of unattainable omnificence to educate the next generation of dreamers….A compelling how-to guide…"
— Kirkus Reviews
"It is very rare to read an entire business book from cover to cover like you would a novel, and find within it a story that is so interesting and captivating that it immediately puts perspective on how you channel your own creativity and tell your own story.
Unlabel
is that book. At a time when every business person and company is forced to hustle and fight to be heard in a competitive world,
Unlabel
is the story of a man who clawed his way out of a garage and created a multi-million dollar company in the process. It is a success story, to be sure, but it's one that shares the bruises, scars, and painful mistakes that every entrepreneur and business owner will experience (or some variation of) on the way to becoming his or her own authentic 'brand.'"
— 800-CEO-READ
or
Not Currently Available for Direct Purchase