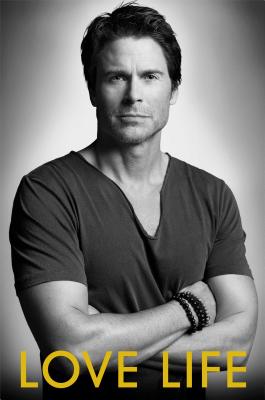 Love Life (Hardcover)
Simon & Schuster, 9781451685718, 272pp.
Publication Date: April 8, 2014
Other Editions of This Title:
Digital Audiobook (4/7/2014)
Paperback (4/21/2015)
CD-Audio (4/8/2014)
Hardcover, Large Print (7/23/2014)
Hardcover (4/10/2014)
* Individual store prices may vary.
Description
Actor, producer, and New York Times bestselling author Rob Lowe offers up a collection of personal stories in an honest and celebratory memoir about men and women, art and commerce, fathers and son, addiction and recovery, and sex and love.

Rob Low is back with stories he only tells his best friends.

When Rob Lowe's first book was published in 2011, he received the kind of rapturous reviews that writers dream of and rocketed to the top of the bestseller list. Now, in Love Life, he expands his scope, using stories and observations from his life in a poignant and humorous series of true tales about men and women, art and commerce, fathers and sons, addiction and recovery, and sex and love.

In Love Life, you will find stories about:

-Kissing unexpectedly
-The secrets they don't teach you in acting school
-His great-great-great-great-great grandfather's role in the American Revolution
-Parks and Recreation, Behind the Candelabra, and Californication
-Trying to coach a kids' basketball team dominated by helicopter parents
-The hot tub at the Playboy mansion
-Starring in and producting a flop TV series
-Camping at Sea World
-Playing saxophone for President Bill Clinton
-The first journey to college with his son
-Warren Beatty
-The benefits of marriage

Throughout this entertaining book, you will find yourself in the presence of a master raconteur, a multi-talented performer whose love for life is as intriguing as his love life.
About the Author
Rob Lowe is a film, television, and theater actor; a producer; and an entrepreneur. He is also involved in politics and is the author of Stories I Only Tell My Friends: An Autobiography. He lives in Los Angeles.
Praise For Love Life…
"[Lowe] skillfully weaves stories together with common themes and a philosophical perspective. … Fans who fear he gave up all the good stuff in the first book will be pleasantly surprised. … Lowe's candor and willingness to admit his flaws create an authentic voice. His easy writing style will hook readers who won't judge his book by the handsome man on its cover."

"Lowe's self-effacing and straightforward assessments of his own foibles and weaknesses, combined with first-rate storytelling skills. . . .make [Love Life] still feel like a night on the town with a well-connected, charismatic friend with more tales to spill. . . .[I]t's sweet, and he includes very funny accounts. . . . Showing how well he can laugh at himself. "

"Lowe addresses his life with a welcome levity. This book confirms that Lowe is more than just a pretty face."

"[Lowe] writes with perspective and humorous self-effacement."

"Not just pretty but witty and wise."

"[Love Life] is loaded with showbiz anecdotes, self-deprecating tales and has a general sweetness that some readers might not be expecting from Lowe."

"Engaging, relatable… entertaining and admirably frank."

"A savvy writer with a quick wit, Lowe invites readers into his world with easy charm and disarming frankness."

"Lowe had been reborn as a winning memoirist."

"Somehow Lowe manages to describe a visit to the Playboy Mansion and an unpleasant grade-school sleepover next to the manatee tank at Sea World with equal enthusiasm."

"If you love Rob Lowe, you'll love his "Love Life."…. His self-effacing humor keeps the pace brisk."

"The fact that his second book is every bit as engaging as the first proves his point. I'm betting he could do an equally fine job on a third."

"Lowe vividly depicts what it was like to be a 19-year-old Hollywood heartthrob. . . . As in the best celebrity memoirs and musings, Love Life is sprinkled with star power. . . . [Lowe] spills secrets and private thoughts with eloquence."

"Lowe is a gifted storyteller who uses humor and self-deprecation to draw readers in, and keeps their attention with fun tales of Hollywood behind-the-scenes."

"[An] easygoing but thoughtful memoir."

"Incredible. … This isn't your typical celebrity written book. This was a fun read and very well written, that'll have you laughing and shedding a tear along the way."

"A wild ride of a memoir by Rob Lowe that will leave you amused, fascinated and ultimately charmed."

"[Lowe is] an interesting and perceptive writer."

"An interesting read, and a page-turner. Lowe has an amazing insight about life and what is important."

"Love Life is just as genially and charmingly guarded as its predecessor. … [Lowe] is admirably self-aware."
or
Not Currently Available for Direct Purchase