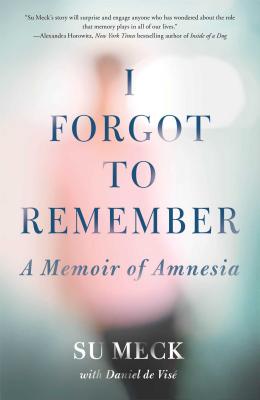 I Forgot to Remember (Hardcover)
A Memoir of Amnesia
Simon & Schuster, 9781451685817, 288pp.
Publication Date: February 4, 2014
* Individual store prices may vary.
Description
For fans of Susannah Cahalan's Brain on Fire, the courageous memoir of a woman robbed of all her memories by a traumatic brain injury—and her more than twenty-five-year struggle to reclaim her life.

What would you do if you lost your past?

In 1988 Su Meck was twenty-two and married with two children when a ceiling fan in her kitchen fell and struck her on the head, leaving her with a traumatic brain injury that erased all her memories of her life up to that point. Although her body healed rapidly, her memories never returned. Yet after just three weeks in the hospital, Su was released and once again charged with the care of two toddlers and a busy household.

Adrift in a world about which she understood almost nothing, Su became an adept mimic, gradually creating routines and rituals that sheltered her and her family, however narrowly, from the near-daily threat of disaster—or so she thought. Though Su would eventually relearn to tie her shoes, cook a meal, and read and write, nearly twenty years would pass before a series of personally devastating events shattered the "normal" life she had worked so hard to build, and she realized that she would have to grow up all over again.

In her own indelible voice, Su offers us a view from the inside of a terrible injury, with the hope that her story will help give other brain injury sufferers and their families the resolve and courage to build their lives anew. Piercing, heartbreaking, but finally uplifting, this book is the true story of a woman determined to live life on her own terms.
About the Author
Su Meck recently graduated from Smith College with a Bachelor's of Arts in Music, in addition to a Book Studies Concentration. Su's written work has also appeared in The New York Times Magazine. She and her husband, Jim, currently live in Northampton, Massachusetts, with their two Lab rescue dogs, Fern and Farley, and their two tuxedo cats, Apollo and Athena. They have three grown children, Benjamin, Patrick, and Kassidy.

Daniel de Visé is an author and journalist who has worked at The Washington Post, The Miami Herald, and three other newspapers in a twenty-four-year career. His investigative reporting has twice led to the release of wrongly convicted men from life imprisonment; he shared a 2001 Pulitzer Prize. A graduate of Wesleyan and Northwestern universities, de Visé lives with his wife and children in Maryland. He is the author of I Forgot to Remember (with Su Meck) and Andy and Don.
Praise For I Forgot to Remember: A Memoir of Amnesia…
"Meck's matter-of-fact delivery makes the harrowing details of her ordeal stand out all the more. . . . [A] tale of triumph in the search for identity."

"The author recounts her grueling climb back to normalcy after an accident robs her of her memory and sense of self in this heartwrenching true story."

"A big achievement . . . poignant."

"[Meck] pieces together a fascinating tale of life after suffering head trauma as a young mother."

"A remarkable story that readers won't soon forget."

"A remarkable memoir . . . unnervingly honest, straightforward to a degree that makes every other memoir I've read seem evasive, self-conscious, and preening. . . . Unlike that of everyone else around her, [Su Meck's] adult life wasn't the result of imagining a happy future, pursuing it with a sense of purpose and then figuring out whether or not her dreams have been fulfilled, betrayed, or misbegotten. Her life was simply 'the way things were'—until, that is, she realized she was in a position to have some say about that. And seeing her seize that opportunity makes for a happier ending than any fairy tale can offer."

"The true story of a woman who at the age of 22 was whacked by a ceiling fan and lost her memory . . . Quite the tale."

"I Forgot to Remember, which was written with the elegant assistance of a Pulitzer prize-winning journalist, is more than a memoir or report on the devastating effects of traumatic brain injury. It is a shocking story about betrayal and trust . . . astounding."

"Remarkable . . . an arresting story about what it's like to live with amnesia."

"Thoroughly fascinating…There are many conditions and diseases that remain hidden this way. This book is a great way to get a glimpse behind that curtain and gain a greater sense of understanding and compassion."

"Best to have a box of tissues on standby for this one."

"Su Meck has made the unimaginable tangible, and we are fortunate to have gotten the chance to know her as she journeys through her own introduction to herself."

"In this remarkable memoir, Meck chronicles her experiences as she learned to live in 'a house full of strangers' . . . . Compelling and inspirational and, one hopes, an important impetus for ongoing brain research."

"Compelling . . . Meck relates with excruciating honesty her journey out of oblivion."

"A brave testament of willpower and perseverance against almost insurmountable odds."

"Su's story has given us all pause to consider just how much we don't know about the brain and its injuries."

"Following a traumatic brain injury that erases every memory from her past, Su Meck takes us on her remarkable journey forward as she stitches her identity back together one thread at a time. A fascinating memoir about resilience, courage, and hope, I Forgot to Remember is not just a survivor's story. This is a hero's story."
— Lisa Genova, New York Times bestselling author of Love Anthony

"One ordinary day, Su Meck lost her memory. This is the highly unusual story of how she remembered herself—and reconciled the person she was with the world around her. Her story will surprise and engage anyone who has wondered about the role that memory plays in all of our lives."
— Alexandra Horowitz, author of the New York Times bestseller Inside of a Dog

"I Forgot to Remember is a brave and raw story about the damage and trials a head injury can inflict on an entire family. Su Meck's spellbinding tale of life, injury and then the arduous task of re-learning everything, even down to how to love again, reminds us all of the importance of living in the moment and the need to cherish the memories we own."
— Lee Woodruff, coauthor of the #1 bestseller In an Instant
or
Not Currently Available for Direct Purchase