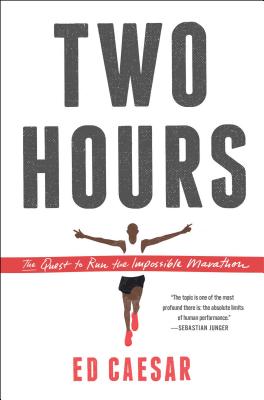 Two Hours (Hardcover)
The Quest to Run the Impossible Marathon
Simon & Schuster, 9781451685848, 256pp.
Publication Date: October 27, 2015
Other Editions of This Title:
Paperback (10/18/2016)
Compact Disc (10/27/2015)
Pre-Recorded Audio Player (11/3/2015)
* Individual store prices may vary.
Description
"Essential reading for every runner." —Men's Fitness

"Compelling…As becomes clear not long after its starting gun, this book transcends the search for a two-hour marathon." —The Washington Post

Two hours to cover twenty-six miles and 385 yards. It is running's Everest, a feat once seen as impossible for the human body. But now we can glimpse the mountaintop. The sub-two hour marathon will require an exceptional combination of speed, mental strength, and endurance. The pioneer will have to endure more, live braver, plan better, and be luckier than anyone who has run before. So who will it be?

In this spellbinding book, journalist Ed Caesar takes us into the world of elite marathoners: some of the greatest runners on earth. Through the stories of these rich characters, like Kenyan Geoffrey Mutai, around whom the narrative is built, Caesar traces the history of the marathon as well as the science, physiology, and psychology involved in running so fast for so long. And he shows us why this most democratic of races retains its brutal, enthralling appeal—and why we are drawn to test ourselves to the limit.

Two Hours is a book about a beautiful sport few people understand. It takes us from big-money races in the United States and Europe to remote villages in Kenya. It's about talent, heroism, and refusing to accept defeat. It is a book about running that is about much more than running. It is a human drama like no other.
About the Author
Ed Caesar has contributed to The New Yorker, The New York Times Magazine, The Atlantic, Outside, and Smithsonian, among many other publications, and has reported from a wide variety of locations, including Iran, the Democratic Republic of Congo, and Kosovo. He has won nine journalism awards and was named the Foreign Press Association's Journalist of the Year in 2014. Two Hours is his first book.
Praise For Two Hours: The Quest to Run the Impossible Marathon…
"Compelling . . . Instructive . . . As becomes clear not long after its starting gun, this book transcends the search for a two-hour marathon." —The Washington Post

"Essential reading for every runner . . . Caesar's conversational voice grabs your attention instantly, making you feel as if you're running alongside elite marathoners, visiting hometowns of the greats like Mutai and Haile Gebrselassie—and ultimately you will think you're reading a fictional story rather than an intensely research-heavy non-fiction book. But that's what it is. . . . Is it possible that things are only impossible when we think they're impossible? That's the question you're left pondering after you put Two Hours back on the shelf." —Men's Fitness

"Explores the lives, training routines and ancestry of today's greatest marathoners . . . Caesar, a war correspondent who has reported from Africa, Iran, and Kosovo, can amusingly sketch the marathon's 'creation myth' (the heroic tale of the Greek messenger Pheidippides in 490 B.C., he says, 'was bunk'), then switch gears and discuss the science of lung and leg capacity and the thorny matter of doping with analytical rigor. There's beautiful imagery here, too: a training group's predawn run in the dusty lanes of the Rift Valley, 50 or 60 Kenyans arranged in single files with the sky 'still black and buckshot with stars'; Geoffrey Mutai pulling away from the lead pack—to say nothing of the more than 50,000 other participants—to win the 2013 New York City Marathon ('It was just him, alone, on Fifth Avenue. He had become the workings of his own body')." —New York Times Book Review

"A zippy, engaging book . . . The writing is stylish and evocative . . . Two Hours centers on the sport's most hotly debated question: will a runner ever clock up their 26 miles and 375 yards in under this time? Caesar follows Geoffrey Mutai, the great Kenyan athlete, in his quest to silence the doubters. In big, confident strides, he also covers marathon history, the science of endurance and the thorny matter of doping." —Financial Times

"Entertaining and informative . . . Caesar's winning prose will keep even armchair readers turning pages, perhaps tuning in to watch the next marathon. . . . Wide-ranging and compelling." —Kirkus Reviews (starred review)

"Caesar, who has reported widely from Africa, does great work capturing the lives, training routines, and proud ancestry of these amazing runners, not to mention the pitfalls and dangers they face before and after they achieve fame. This strong tale covers the joys of athletic triumph and the pain of missed opportunities, while investigating what it means to be born or bred a champion and what it will take to for someone to make running history. Caesar proves himself an engaging storyteller with a book whose time has come." —Publishers Weekly

"Caesar is not the first to explore what it will take to break the two-hour barrier, nor is he the first to go to East Africa in search of what fuels today's great marathoners, but the strength of Two Hours is in combining copious research and emotional human storytelling into a fast-paced narrative." —Stephen Kurczy, Vice Sports

"You might think, at first, that you're going for a very long morning run with a small African man through the streets of Berlin. Before you know it, you're chasing the white whale of human endurance—the two-hour marathon—down every one of its psychological, physiological, geographical, historical, and cultural side streets, running with a tailwind that only great narrative craftsmen like Ed Caesar can exhale." —Gary Smith, author of Beyond the Game

"A fascinating insight into the clockwork of what it means to be an elite athlete, always pushing at the edge of possibility. Like a good runner, Caesar carries the story along with grace and ease and generosity. He brings us to Kenya, New York, London, and Berlin, but ultimately allows us to look inside ourselves. It's the human story that shines through." —Colum McCann, author of Transatlantic and Let the Great World Spin

"Ed Caesar's treatment of the near-mythical two-hour marathon is both implacably scientific and wonderfully reverential. As a former marathoner I deeply appreciate both. The prose hums along effortlessly and the topic is one of the most profound there is: the absolute limits of human performance. Reading a book that combines those two things is one of the great pleasures in life." —Sebastian Junger, author of The Perfect Storm

"There seem to be so few grand pursuits left in sports. Ed Caesar chases one of the last—the two-hour marathon. As he writes, it is sport's Everest, an utterly impossible thing that, like the four-minute mile, the moon landing, and the flying car, people obsessively chase. Ed Caesar is a wonderful writer and he takes us on the brilliant chase and gets us thinking about what impossible even means." —Joe Posnanski, author of Paterno and The Secret of Golf

"A fabulously entertaining and thought-provoking ode to perseverance, Ed Caesar's Two Hours will make you fall in love with elite marathoning even if you can barely jog a mile. It is a tale filled with richly drawn characters whose grit and talent are wonders to behold, as well as keen observations about the twists and turns of the human mind. Read it and you'll yearn to attend as many marathons as possible, so you can marvel at the athletic geniuses who've sacrificed so much to run so beautifully." —Brendan I. Koerner, author of The Skies Belong to Us

"For a human being—for one of us—to run 26.2 miles in 120 minutes will require a belief in everything but our limits. Only a reporter of Ed Caesar's diligence, and a writer of his ease, could make such an improbable achievement feel more than likely. He makes Two Hours feel like destiny." —Chris Jones, author of Out of Orbit

"Combining real drama and pinpoint reportage, Ed Caesar has delivered an absolutely fascinating book about the mother of all endurance events, the marathon, and the outer limits of the human body. Two Hours had me at the ten seconds, and Caesar sets such a compelling, genial pace, synthesizing history, science, and psychology, that his globe-spanning quest to understand everything about the marathon becomes ours. This is a gifted, award-winning writer in full stride, and a must-read pleasure, for you'll never see the great race, or the human body, in the same way ever again." —Michael Paterniti, author of The Telling Room
or
Not Currently Available for Direct Purchase