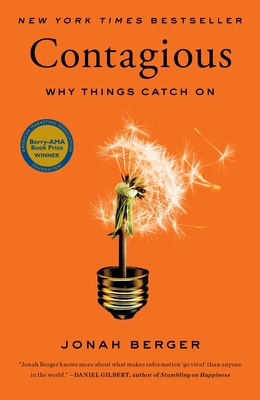 Contagious (Hardcover)
Why Things Catch On
Simon & Schuster, 9781451686579, 256pp.
Publication Date: March 5, 2013
Other Editions of This Title:
Digital Audiobook (3/4/2013)
Paperback (5/3/2016)
CD-Audio (3/5/2013)
Paperback, Chinese (6/1/2020)
Paperback, Chinese (11/17/2015)
Paperback, Chinese (5/20/2013)
Hardcover (12/17/2013)
Paperback (1/1/2014)
* Individual store prices may vary.
Description
The New York Times bestseller that explains why certain products and ideas become popular.

"Jonah Berger knows more about what makes information 'go viral' than anyone in the world." —Daniel Gilbert, author of the bestseller Stumbling on Happiness

What makes things popular? If you said advertising, think again. People don't listen to advertisements, they listen to their peers. But why do people talk about certain products and ideas more than others? Why are some stories and rumors more infectious? And what makes online content go viral?

Wharton marketing professor Jonah Berger has spent the last decade answering these questions. He's studied why New York Times articles make the paper's own Most E-mailed list, why products get word of mouth, and how social influence shapes everything from the cars we buy to the clothes we wear to the names we give our children.

In Contagious, Berger reveals the secret science behind word-of-mouth and social transmission. Discover how six basic principles drive all sorts of things to become contagious, from consumer products and policy initiatives to workplace rumors and YouTube videos. Learn how a luxury steakhouse found popularity through the lowly cheesesteak, why anti-drug commercials might have actually increased drug use, and why more than 200 million consumers shared a video about one of the most boring products there is: a blender.

Contagious provides specific, actionable techniques for helping information spread—for designing messages, advertisements, and content that people will share. Whether you're a manager at a big company, a small business owner trying to boost awareness, a politician running for office, or a health official trying to get the word out, Contagious will show you how to make your product or idea catch on.
About the Author
Jonah Berger is a marketing professor at the Wharton School at the University of Pennsylvania and internationally bestselling author of Contagious, Invisible Influence, and The Catalyst. He's a world-renowned expert on social influence, word of mouth, and why products, ideas, and behaviors catch on and has published over 50 papers in top-tier academic journals. He has consulted for a range of Fortune 500 companies, keynoted hundreds of events, and popular accounts of his work often appear in places like The New York Times, The Wall Street Journal, and Harvard Business Review. His research has also been featured in the New York Times Magazine's "Year in Ideas."
Praise For Contagious: Why Things Catch On…
"Jonah Berger is as creative and thoughtful as he is spunky and playful. Looking at his research, much like studying a masterpiece in a museum, provides the observer with new insights about life and also makes one aware of the creator's ingenuity and creativity. It is hard to come up with a better example of using social science to illuminate the ordinary and extraordinary in our daily lives."
— Dan Ariely, James B. Duke professor of psychology and behavioral economics at Duke University and bestselling author of Predictably Irrational

"Why do some ideas seemingly spread overnight, while others disappear? How can some products become ubiquitous, while others never gain traction? Jonah Berger knows the answers, and, with Contagious, now we do, too."
— Charles Duhigg, author of the bestselling The Power of Habit

"If you are seeking a bigger impact, especially with a smaller budget, you need this book. Contagious will show you how to make your product spread like crazy."
— Chip Heath, co-author of Made to Stick and Decisive

"Jonah Berger knows more about what makes information 'go viral' than anyone in the world."
— Daniel Gilbert, Professor of Psychology, Harvard University and author of Stumbling on Happiness

"Jonah Berger is the rare sort who has studied the facts, parsed it from the fiction—and performed groundbreaking experiments that have changed the way the experts think. If there's one book you're going to read this year on how ideas spread, it's this one."
— Dave Balter, CEO of BzzAgent and Co-founder of the Word of Mouth Marketing Association

"A provocative shift in focus from the technology of online transmission to the human element and a bold claim to explain 'how word of mouth and social influence work . . . [to] make any product or idea contagious."
— Kirkus Reviews

"Contagious contains arresting — and counterintuitive — facts and insights. . . . Most interesting of all are the examples Berger cites of successful and unsuccessful marketing campaigns."
— Glenn C. Altschuler

"An infectious treatise on viral marketing. . . . Berger writes in a sprightly, charming style that deftly delineates the intersection of cognitive psychology and social behavior with an eye toward helping businesspeople and others spread their messages. The result is a useful and entertaining primer that diagnoses countless baffling pop culture epidemics."
— Publishers Weekly

"The book is just plain interesting. Berger's cases are not only topical and relevant, but his principles seem practical and are easily understood. . . . I have a strong feeling that this book will catch on."
— Ben Frederick

"Think of it as the practical companion to Malcolm Gladwell's The Tipping Point."
— Tasha Eichenseher

"An exegesis on how ideas really 'go viral' (hint: the internet gets too much credit) by a marketing wunderkind."
— Details
Book Videos