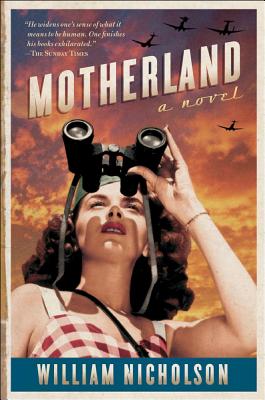 Motherland
A Novel
Hardcover

* Individual store prices may vary.
Description
From an Academy Award-nominated screenwriter, a powerful story of a love triangle set in England, France, India, and Jamaica against the backdrop of World War II.

From an Academy Award–nominated screenwriter, an epic novel of love and loss and the long shadows war leaves behind.

Summer, 1942. Kitty, an army driver stationed in Sussex, meets Ed, a Royal Marine commando, and Larry, a liaison officer with Combined Ops. She falls instantly in love with Ed, who falls in love with her. So does Larry. Both men go off to war, and Ed wins the highest military honor for his bravery. But sometimes heroes don't make the best husbands.

Motherland follows Kitty, Ed, and Larry from wartime England and the brutally tragic Dieppe raid to Nazi-occupied France, India after the war, and Jamaica before independence. Against this ever-changing backdrop—as they witness history being made and participate in the smaller dramas of romance, friendship, and parenthood—these three friends make choices that will determine the challenges and triumphs of their lives. But the insistent current running through all they experience is the unacknowledged tension of the love triangle that binds them together and must somehow be resolved.

Written by an award-winning screenwriter whose novels have earned extraordinary critical praise, Motherland is a compelling, page-turning narrative brimming with stunning war scenes, pageantry, politics, and questions about faith and art, as well as quiet, intimate moments of passion, doubt, and longing. Above all, it is a great love story about three people struggling to find happiness and meaning amid war and its aftermath.
Praise For Motherland: A Novel…
"A terrific book with a wonderful understanding of life in pre-war and post-war Britain. The description of the abortive Dieppe landings are extraordinary. The post-war lives of those who survived are particularly well drawn, the characters rich and varied. And there are always surprises. It reminds me of the first time I read Brideshead Revisited. A total triumph."
— Julia Gregson

"Nicholson's great strength lies in his ability to make the reader understand and care about his characters; he loves them and we get to love them too. He is particularly concerned with morality and love, subjects that have inspired all great novelists. It is a joy to find a contemporary writer passionately engaged with both. This is a novel worth reading more than once."
— Elizabeth Jane Howard

"A wartime love story in the tradition of Atonement...affecting."

"A sweeping historical epic...won't disappoint fans of classic Hollywood-style storytelling that grapples with life's big-ticket issues...infused with realistic dialogue and fastidious attention to historical detail... will make true romantics swoon."

"Nicholson pays careful attention to historical details. He develops central characters that stir our emotions and keep us engaged...."

"Depictions of postwar France, pre-independence India, and battlefield chaos add scope to Nicholson's ruminations on love, faith, decency, the choices ordinary people make, and how they cope with the consequences."

"Intelligently scrumptious."

"Nicholson manages not to write a single clichéd sentence…extremely powerful."

"Masterful, engaging and romantic...his forte is in describing the nuances and complications of relationships and this talent really shines in Motherland. His simple, intense style...is one to get lost in."

"A profound and moving novel; tender and compassionate...there is always, in Nicholson and his characters, however desperate and lost, the small fierce spark of humanity. His great triumph is in creating a love triangle in which we, as much as the characters themselves, can see no resolution, because it is unbearable to imagine any of them hurt."
— Clare Clark
Simon & Schuster, 9781451687132, 464pp.
Publication Date: April 9, 2013
About the Author
William Nicholson is a screenwriter, playwright, television writer, and novelist. In addition to his Academy Award–nominated screenplays for Shadowlands and Gladiator, he is the author of Motherland; several young adult and fantasy novels; and a sequence of contemporary adult novels set in England. He lives in Sussex, England.
When Alice travels to Normandy, her grandmother Pamela tells her there was one true love story in the family. To whom do you think she was referring–Kitty and Ed, or Kitty and Larry? Discuss why.
How might the current generation, including Guy Caulder and his daughter Alice Dickinson, repeat the past joys and mistakes of their family? How can knowing the stories of the past guide them along the way?
The prologue states, "You lead the life you choose to lead." How does this statement set the tone for Motherland?
Ed says to Larry, "You can't deny that most people are unhappy most of the time" (p. 115). Discuss the feelings of unhappiness felt by the characters throughout the story. What outside influences made an impact, and how did each contribute to their own sorrow?
Larry says to Kitty, "There are so few good men in books" (p. 103). In what ways are the men in Motherland good, and how are they bad?
Kitty has a seemingly magnetic beauty and personality that makes men like Ed and Larry fall in love with her. What about her is so alluring?
Before the battle at Dieppe, Kitty says about Ed's inherent sadness, "I think that's almost what makes me love him the most" (p. 107). How does this foreshadow Kitty's future with Ed?
The raid on the beaches at Dieppe is viewed as one of the worst disasters of the war. Compare Larry's and Ed's experiences at Dieppe, and the repercussions it had on each of them.
The Victoria Cross is a double-edged sword for Ed. Discuss his role as a reluctant hero.
How does fear impact Larry Cornford—as a soldier, an artist, a son, a husband, and a businessman? In what area of his life is he most fearless?
Throughout Motherland, seemingly perfect marriages (Kitty and Ed, Larry and Geraldine, Louisa and George) all have their problems. How does each person contribute to the success or failure of their relationship?
Compare Larry's relationships with Nell and Geraldine, and the role of sex in each.
Compare Ed's roles as a husband and father. What is he able to provide for Pamela that he cannot give to Kitty, and how does this impact their family dynamic?
Cecil Owen describes India and Jamaica as "angry children." He says, "if you spend 300 years telling people they're children, they become afraid to go out alone" (p. 457). How does this tie into the greater themes of both Fyffes and the title Motherland?
Motherland explores the roles of marriage, love, and happiness. Discuss where these themes intersect and where they do not.
London's The Sunday Times has said that author William Nicholson's writing "widens one's sense of what it means to be human." How does Motherland achieve this?
or
Not Currently Available for Direct Purchase