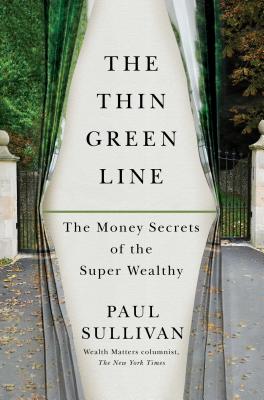 The Thin Green Line (Hardcover)
The Money Secrets of the Super Wealthy
Simon & Schuster, 9781451687248, 256pp.
Publication Date: March 10, 2015
Other Editions of This Title:
Digital Audiobook (3/9/2015)
Paperback (3/29/2016)
* Individual store prices may vary.
Description
The "Wealth Matters" columnist of The New York Times reveals the habits, worldviews, and practices that lead to true wealth—and why it's more important to be "wealthy" than "rich."

For the better part of the past decade, Paul Sullivan has written about and lived among some of the wealthiest people in America. He has learned how they save, spend, and invest their money; how they work and rest; how they use their wealth to give their children educational advantages but not strip them of motivation. He has also seen how they make horrendous mistakes. Firsthand, Sullivan knows why some people, even "rich" people, never find true wealth, and why other people, even those who have far less are much wealthier.

Sullivan is part of the "The One Percent" today, but he came from far humbler roots, starting life in the bottom twenty-five percent. This personal book shows how others can make better financial decisions—and come to terms with what money means to them. It lays out how they can avoid the pitfalls around saving, spending and giving their money away and think differently about wealth to lead more secure and less stressful lives. An essential complement to all of the financial advice available, this unique guide is a welcome antidote to the idea that wealth is a number on a bank statement.
About the Author
Paul Sullivan writes the "Wealth Matters" column for The New York Times and is the author of The Thin Green Line: The Money Secrets of the Super Wealthy and Clutch: Why Some People Excel Under Pressure and Others Don't. His articles have appeared in Fortune, Conde Nast Portfolio, The International Herald Tribune, Barron's, The Boston Globe, and Food & Wine. From 2000 to 2006, he was a reporter, editor, and columnist at the Financial Times. A graduate of Trinity College and the University of Chicago, Sullivan lives in Fairfield County, Connecticut.
Praise For The Thin Green Line: The Money Secrets of the Super Wealthy…
"Sullivan lays bare a number of his own financial concerns, foibles, and successes. His personal journey… proves both entertaining and instructive. Drawing on research in behavioral economics, the book is timely—taking up the topic of income inequality without picking a side—as well as smart."

"Rather than function as wealth porn, this book looks at how people with lots of money exercise self-control. Just as you bore of their piousness, it switches focus to those who love to spend. Fun!"

"I loved Sullivan's breezy, compelling writing. He's a natural storyteller and each chapter feels more like a thoughtful conversation with an old and trusted friend than some important lesson you're supposed to be memorizing… Read The Thin Green Line if you're looking for new ideas to increase your personal net worth or you want to see how your own decisions measure up to those who've had great financial success."

"Chances are you will buy this book for its smart and practical advice about building true wealth. (Seriously, buy it.) But what kept me hooked were the tales of money decisions gone horribly awry: fortunes squandered, kids ruined by inheritances, and rich people made miserable by their riches. Learn from the wise, or learn from the foolish--either way, you win."
— Dan Heath, coauthor of the New York Times bestsellers Decisive, Switch, and Made to Stick

"[A] deeper, more sophisticated take on money management... There's good how-to stuff here, but Sullivan's added value is his gentle insistence that wealth and money aren't synonyms."