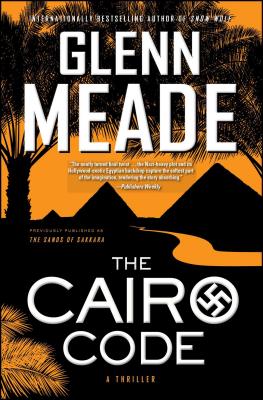 The Cairo Code
A Thriller
Paperback

* Individual store prices may vary.
Description
The international bestseller takes you on a fast-paced, nail-biting thrill ride from the Great Pyramids in Cairo, to behind the Nazi lines in Berlin, to the very seat of democracy as our hero tries to unravel a plot that could kill FDR and Winston Churchill.

To save the Western Allies, he must kill the woman he loves…

November 1943: Adolf Hitler sanctioned his most audacious mission ever—to kill US President Franklin D. Roosevelt and Prime Minister Winston Churchill while they visit Cairo for a secret conference to plan the Allied invasion of Europe, an invasion which threatens imminent defeat for Germany.

Only one man is capable of leading the defiant Nazi mission—Major Johann Halder, one of the Abwehr's most brilliant and daring agents. He is a man with a tortured soul and a talent for the impossible. Accompanied by an expert undercover team and Rachael Stern, the young and beautiful Egyptologist, Halder must race against time across a hostile desert to reach Cairo and successfully complete the assignment, or else forfeit his life and the life of his son.

When US military intelligence hears about the plan, they assign Lieutenant-Colonel Harry Weaver, one of their best officers, to hunt down and eliminate Halder and his team. But for Weaver, as well as for Halder and Stern, there's more than the balance of war and the lives of the Allied leaders at stake—a pact of love and friendship will be tested in the frantic, high-stakes chase to the death.

Based on a real attempt to kill the President, The Cairo Code is a breathless, suspenseful thriller—a heart-wrenching tale of friendship, love, and treachery set against the exotic and intriguing backdrop of wartime Egypt.
Praise For The Cairo Code: A Thriller…
"This satisfying read includes a fast-paced plot, intriguing interpretations of historical fact, and characters forced to take a close look at their motives."
— Publishers Weekly

"As in the author's previous World War II blockbusters, Brandenburg and Snow Wolf, former journalist Meade knows how to blend his copious historical research into an intriguing fictional frame."
— Amazon.com

"he neatly turned final twist... the Nazi-heavy plot,and its Hollywood-exotic Egyptian backdrop capture the softest part of the imagination, rendering the story absorbing."
— Publishers Weekly

"Meade weaves well-developed characters into a complex plot that moves at a brisk pace. His vivid descriptions of the sights and sounds of Egypt made me feel like I was back at Sakkara."
— San Francisco Examiner

"Compelling."
— Raleigh News & Observer

"Meade captures the flavor of the era, the war and the people."
— Daily Oklahoman

"A non-stop World War II thriller that will prove much enjoyment to fans of the sub-genre. The story line uses authentic events, which enhance the speed of the novel... Glenn Meade is quickly attaining a reputation for historical thrillers."
— Midwest Book Review

"A sizzling read, packed with action, great characters, and adventure writing of the highest caliber."
— Irish-American News

"A heart-wrenching tale of friendship, love and treachery set against the exotic and intriguing backdrop of wartime Egypt."
— Sullivan County Democrat

"Terrific entertainment, a page-turner in the best tradition of thrillers. It's also unsettlingly plausible."
— Campbell Armstrong

"Ingenious ... [Meade] spins out this involving yarn with skill and clarity ... An outstanding premise!"
— Publishers Weekly
Howard Books, 9781451688276, 592pp.
Publication Date: April 19, 2016
About the Author
Glenn Meade was born in 1957 in Finglas, Dublin. His novels have been international bestsellers, translated into more than twenty languages, and have enjoyed both critical and commercial success.