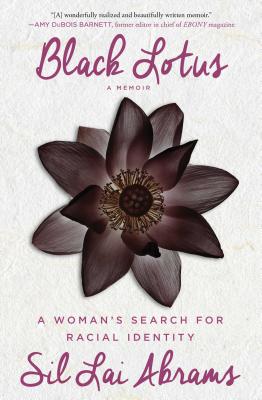 Black Lotus
A Woman's Search for Racial Identity
Hardcover

* Individual store prices may vary.
Description
A unique and exquisitely wrought story of one multiracial woman's journey to discover and embrace herself in a family that sought to deny her black heritage, Sil Lai Abrams shares her story in Black Lotus: A Woman's Search for Racial Identity—an account that will undoubtedly ignite conversation on race, racial identity, and the human experience.

Author and activist Sil Lai Abrams was born to a Chinese immigrant mother and a white American father. Out of her family, Sil Lai was the only one with a tousle of wild curls and brown skin. When she asked about her darker complexion, she was given vague answers. At fourteen, the man she knew her entire life as her birth-father divulged that Abrams was not his biological child, but instead the daughter of a man of African descent who didn't know she existed.

This shocking news sparked a quest for healing that would take her down the painful road to reclaim her identity despite the overt racism in her community and her own internalized racism and self-hatred. Abrams struggled with depression, abuse, and an addiction that nearly destroyed her. But eventually she would leave behind the shame over her birthright and move toward a celebration of her blackness.

In Black Lotus, Abrams takes you on her odyssey filled with extreme highs and lows and the complexities of not only the black experience, but also the human one. This vivid story reexamines everything you think you know about racial identity while affirming the ability of the human spirit to triumph over tragedy. Ultimately, Black Lotus shines a light on the transformative power of truth and self-acceptance, and the importance of defining your personal identity on your own terms.
Praise For Black Lotus: A Woman's Search for Racial Identity…
"Her ability to own her identity as a biracial woman with a troubled past is the greatest strength of this compelling narrative. A searingly honest coming-of-age memoir."
— KIRKUS REVIEWS

"In her honest account of her tumultuous, loveless childhood, lost girl years, and her painful search for identity, Sil Lai Abrams opens her heart and bravely owns her story."
— Wendy Lawless, New York Times bestselling author of Chanel Bonfire

"Compelling . . . Resonant. I felt her story represented a broader narrative of the black experience that deserved an audience."
— Amy DuBois Barnett, former editor in chief of EBONY magazine and author of Get Yours! How to Have Everything You Ever Dreamed Of and More

"Like a slow, steady bass line, Sil Lai viscerally draws you into her aching journey to find her place in the world."


— Nile Rodgers, Grammy award–winning composer, producer, cofounding member of CHIC, and author of Le Freak: An Upside Down Story of Family, Disco, and Destiny

"[Black Lotus] resonates powerfully with generations of people growing up in our multicultural society.
— Walter M. Kimbrough, PhD, president of Dillard University

Sil Lai Abrams stunning and compelling memoir, Black Lotus examines race, class, dysfunctional family dynamics, abandonment, addiction, and nature versus nurture. In Black Lotus, Sil Lai skillfully and poignantly tells her story in a manner that doesn't let up and won't let you go, taking you on her remarkable journey to overcome the parallel rejection of society and her family. Her surreal story is one of persistent, circular encounters with bad treatment, bad luck and bad decisions, yet amazingly, she not only survives but thrives.
— Tom Burrell, author of Brainwashed: Challenging the Myth of Black Inferiority

"Verdict: A fast-paced, emotional narrative that memoir fans will devour."
— LIBRARY JOURNAL (starred review)
Gallery Books/Karen Hunter Publishing, 9781451688467, 368pp.
Publication Date: August 2, 2016
About the Author
Sil Lai Abrams is a NABJ award-winning New York City-based writer, inspirational speaker, and domestic violence awareness activist. She has appeared on ABC, CNN, MSNBC, TV One, Al Jazeera, FOX, BET, Court TV, and TruTV as an expert on relationships and domestic violence, and been featured in national magazines such as Modern Woman, Oprah, Redbook, EBONY, Black Enterprise, and Sister 2 Sister. Abrams is the founder & CEO of Truth in Reality, a social advocacy organization committed to changing the media's depiction of women of color in an effort to reduce the rates of gender-based violence in the black community, and also serves on the national Board of Directors for the National Domestic Violence Hotline. She lives in New York, New York.

or
Not Currently Available for Direct Purchase