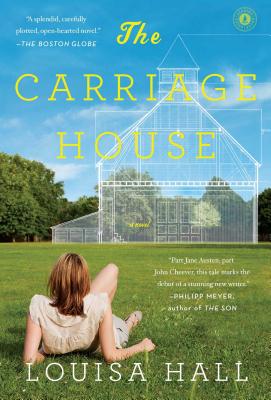 The Carriage House
A Novel
Paperback

* Individual store prices may vary.
Other Editions of This Title:
Digital Audiobook (9/18/2014)
Description
The "splendid" (The Boston Globe) debut novel by the author of Speak.

For more than thirty years, William Adair's faith in life was based on two indisputable principles: the exceptional good looks and athletic talents of his three daughters and the historical status of his family in their Philadelphia suburb. After suffering a stroke, William wakes up in his hospital bed to realize that his world has collapsed: his children are less extraordinary than he had remembered and his family's notable history has been forgotten.

William's daughters—all tennis champions in their youth—are in decline. Having lost their father's pride, the three sisters struggle to define themselves. Their mother, whose memory has started to fade, is unable to help them recall the talented girls they used to be.

For three generations, a carriage house has stood on the Adair property. Built by William's grandfather, it was William's childhood refuge and a sign of the family's prominence. Now held captive by a neighbor due to a zoning error, the house has decayed beyond recognition and may even be condemned.

Rallying to save their father, Diana, Elizabeth, and Isabelle take on the battle for the carriage house that once stood as a symbol of their place in the world. Overcoming misunderstandings and betrayals both deep in the past and painfully new, each of the Adairs ultimately finds a place of forgiveness. The Carriage House is a moving, beautifully wrought debut novel about the complex bonds of siblings, about rebuilding lost lives, and about the saving grace of love.
Praise For The Carriage House: A Novel…
"[A] marvelously mature debut…Hall displays a Whartonian malice…[and] seamlessly transitions among the many individual points of view…The novel's technical proficiency and its gratifyingly nuanced ending make it easy to recommend."
— Sam Sacks

"Every sentence in The Carriage House is full of clarity, attention, and grace. Louisa Hall is a writer to be admired."
— Kevin Powers, author of The Yellow Birds

"Graceful prose... The themes of memory and nostalgia threading through the novel are especially resonant."
— The New York Times Book Review

"Ambitious…Intricate…A splendid, carefully-plotted, open-hearted novel."
— James Zug

"[The Carriage House is] a twisted family saga lodged in John Cheever and Wes Anderson."
— Rebecca Bengal

"Inspired by Jane Austen's Persuasion, this debut novel follows three daughters who work together to restore their father's health and save their Main Line, Philadelphia home and all it represents."
— O, the Oprah magazine

"Louisa Hall deftly explores the notions of romantic and familial regret in her debut novel…The Carriage House is full of compelling personal portraits—characters who'll stay with you long after you put the book down."
— Charles Ealy

"Hall provides keen insight…A thoughtful, character-driven novel."
— Christine Perkins

"Hall's decision to shift the perspective to include multiple voices deepends the reader's empathy for characters who were more minor (and noxious) in Persuasion."
— Kimberley Jones

"The Carriage House is gorgeously detailed and rife with betrayal, heartbreak, nostalgia, lost love, and possibilities for redemption. You will ache for the Adair family, cringe at their mistakes, and plead with them to make peace with each other before it's too late. In her smart and insightful debut, Louisa Hall examines the ways in which we fail and forgive others—and ourselves."
— Megan Mayhew Bergman, author of Birds of a Lesser Paradise

"Louisa Hall writes about the wars waged between neighbors and family members with extraordinary sympathy and a keen sense of humor. Part Jane Austen, part John Cheever, this tale of upheaval in a suburban Philadelphia household marks the debut of a stunning new writer."
— Philipp Meyer, author of The Son
Scribner, 9781451688641, 304pp.
Publication Date: June 3, 2014
About the Author
Louisa Hall grew up in Philadelphia. She is the author of the novels Trinity, Speak, and The Carriage House, and her poems have been published in The New Republic, Southwest Review, and other journals. She is a professor at the University of Iowa, and the Western Writer in Residence at Montana State University.