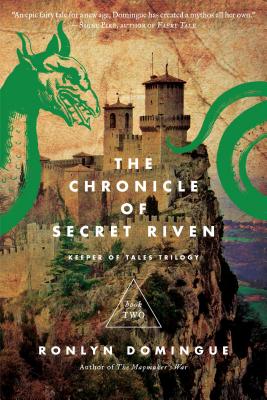 The Chronicle of Secret Riven (Hardcover)
Keeper of Tales Trilogy: Book Two (The Keeper of Tales Trilogy #2)
Atria Books, 9781451688917, 400pp.
Publication Date: May 20, 2014
Other Editions of This Title:
Paperback (4/14/2015)
* Individual store prices may vary.
Description
An uncanny child born to brilliant parents, befriended by a prince, mentored by a wise woman, pursued by a powerful man, Secret Riven has no idea what destiny will demand of her or the courage she must have to confront it in the breathtakingly epic, genre-spanning sequel to The Mapmaker's War.


To see is a trick of the mind, but to believe is a trick of the heart.

One thousand years after a great conflict known as The Mapmaker's War, a daughter is born to an ambitious historian and a gifted translator. Secret Riven doesn't speak until her seventh year but can mysteriously communicate with plants and animals. Unsettled by visions and dreams since childhood, she tries to hide her strangeness, especially from her mercurial father and cold mother. When her knowledge of an esoteric symbol brings unwelcome attention, gentle, watchful Secret finds acceptance from Prince Nikolas, her best friend, and Old Woman, who lives in the distant woods.

When Secret is twelve, her mother, Zavet, receives an arcane manuscript to translate from an anonymous owner. Zavet begins to suffer nightmares and withdraws into herself. Secret sickens with a fever and awakens able to speak an ancient language, discovering that her mother is fluent as well. Suddenly, Zavet dies. The manuscript is missing, but a cipher has been left for Secret to find. Soon, Secret will have a choice to make: confront a destiny tied to an ancient past or deny it, never to know its whole truth.

A spellbinding story, rich with vivid characters and set in a fascinating world, The Chronicle of Secret Riven explores the tension between love and hate, trust and betrayal, fate and free will.
About the Author
Ronlyn Domingue is the author of The Chronicle of Secret Riven, The Mapmaker's War, and The Mercy of Thin Air, which was published in ten languages. Her essays and short stories have appeared in several print and online publications, including New England Review, Shambhala Sun, and The Nervous Breakdown. Connect with her on RonlynDomingue.com, Facebook, and Twitter.
Praise For The Chronicle of Secret Riven: Keeper of Tales Trilogy: Book Two (The Keeper of Tales Trilogy #2)…
"The Chronicle of Secret Riven hypnotizes with the cadence of a fairy tale and the sweeping scope of an epic. I longed to linger in this world of eloquent animals, hidden forests, and magical libraries, and felt nearly heartbroken to turn the last page. Ronlyn Domingue, like her unforgettable heroine Secret Riven, has a knack for making us all see the wonder in what appears to be ordinary."
— Amy Shearn, author of The Mermaid of Brooklyn and How Far Is the Ocean from Here

"A rare blend of historical mysticism and elaborately imagined fantasy…. This is a fantastically satisfying novel in which a character can plausibly converse with insects and foliage, while always maintaining a strict internal logic. I wish I could buy real estate in Domingue's world."
— Sean Beaudoin, author of The Infects and Wise Young Fool

"Mysterious manuscripts, arcane languages, and sinister silences animate the wonderfully inventive realm of Secret Riven, a character so powerful that we are both startled and enchanted as we tumble headlong into her world."
— Maria Tatar, author of Enchanted Hunters: The Power of Stories in Childhood

"The Chronicle of Secret Riven is an extraordinary mix of a fresh voice and an Old World sensibility. With mesmerizing language, Ronlyn Domingue spins a tale of wonder, danger, and magic, taking the reader to a faraway world that helps us to see our own with more clarity. This is a book that reminds us of the power of silence, of paying attention, of intuition, and of protecting the most vulnerable among us."
— Susan Henderson, author of Up From the Blue

"An epic fairy tale for a new age; Ronlyn Domingue has created a mythos all her own. The Chronicle of Secret Riven deftly braids the story of love, loss, magic, myth, and ancestry together into a hauntingly beautiful tale. The book also possesses a secret itself. If you know how to look for it, if you know how to listen, you'll risk being inspired by the powerful message that glimmers beyond the pages of this shimmering story."
— Signe Pike, author of Faery Tale

"Domingue lushly layers Secret's hopes, dreams and visions…[the] tale will charm…lovers of fantasy."

"Journey to the heart of a fairy-tale land with doomed queens, epic quests, and enemy kingdoms in The Mapmaker's War. Ronlyn Domingue's jewel of a book has a big canvas, memorable characters, and intimate storytelling. You will be swept away by this otherworldly tale that charts the all-too-human territory between heartbreak and hope."
— Deborah Harkness, New York Times bestselling author of A Discovery of Witches

"A map can make sense out of the seen world. But it can also evoke greed. And what of a map of the heart? Legend, allegory, fantasy—this second novel by Domingue entwines genres to cast a spell upon its reader.... A curious, thought-provoking story about how the heart's terrain bears charting, too."

"What a stunning, original book this is—restrained and sensual, cerebral and lush, always blazingly intelligent, epic and expansive, yet filled with the most precisely and lovingly observed details. This is one of the best books I've read in years. Reminiscent of Margaret Atwood's best work and yet wholly its own, The Mapmaker's War evokes one of its heroine's fantastic, world-defining maps: giving lines to human landscapes as old as myth, seemingly for the first time. You won't be able to put this book down, and it will take you somewhere you've never been, leaving you transformed."
— Carolyn Turgeon, author of Mermaid and The Fairest of Them All

"Domingue deftly explores themes of motherhood, gender equality, and the powerful ties that bind us to our roots, while at the same time mesmerizing the reader with the story of a mythical land struggling to protect itself from the greed and jealousy of the slowly encroaching outside world."

"The Mapmaker's War is an extraordinary tale of a woman's courage in an ancient Utopian world. Domingue has taken on the herculean task of inventing a new legend, and the result is a remarkable novel at once absorbing and heart wrenching, but above all mesmerizing!"
— M.J. Rose, internationally bestselling author of Seduction

"The Mapmaker's War evokes not mere fantasy, but the real magic I found as a child, reading by flashlight under a blanket. As then, the story takes me by the hand to exotic lands and noble people. As it proceeds, I'm reminded of myself as a teen-age girl, chafing under the restrictions of an established order. Further on, I'm lead into adulthood. The story keeps me under its spell, but it fills with adult contradictions, with experiences of betrayal and regret, with sex and self-knowledge, with the reality of evil, and all the while, yes, the same old magic. But the magic has matured, now, redeemed by love and wisdom."
— Ava Leavell Haymon, author of Why the House Is Made of Gingerbread: Poems, Winner of the MIAL 2011 Prize for Poetry

"With an original voice, Ronlyn Domingue takes us into a land of strange truths and raw beauty. Writing against contemporary norms, she dares to forge into new territory even as she takes us into an ancient world. To the place of a red dragon and warm desire. A world full of love, and hate, and recompense. Domingue has a rare eye for the honest word and a heart willing to travel where the story leads. The Mapmaker's War offers us the chance to reflect on both our sins and saving graces and to believe in the possibility of a future that holds kindness and understanding as key. This novel is a celebration of brave women and men, of expansive vision, and ultimately, of a humanity not easily denied."
— River Jordan, nationally bestselling author of Praying for Strangers and The Miracle of Mercy Land

"A fun read for fantasy lovers."
or
Not Currently Available for Direct Purchase