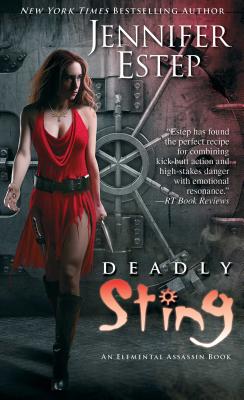 Deadly Sting (Elemental Assassin #8) (Mass Market)
Pocket Books, 9781451688993, 400pp.
Publication Date: March 26, 2013
Other Editions of This Title:
MP3 CD (12/2/2014)
MP3 CD (5/21/2013)
MP3 CD (5/21/2013)
Compact Disc (5/21/2013)
Compact Disc (5/21/2013)
* Individual store prices may vary.
Description
The eighth hotly anticipated book in the Elemental Assassin series by New York Times bestselling author Jennifer Estep: it's Gin Blanco's party—and you'll cry if she wants you to.

Red is definitely my color. Good thing, because in my line of work, I end up wearing it a lot.

Most people shy away from blood, but for an assassin like me— Gin Blanco, aka the Spider—it's just part of the job. Still, it would be nice to get a night off, especially when I'm attending the biggest gala event of the summer at Briartop, Ashland's fanciest art museum. But it's just not meant to be. For this exhibition of my late nemesis's priceless possessions is not only the place to be seen, but the place to be robbed and taken hostage at gunpoint as well. No sooner did I get my champagne than a bunch of the unluckiest thieves ever burst into the museum and started looting the place.

Unlucky why? Because I brought along a couple of knives in addition to my killer dress. Add these to my Ice and Stone magic, and nothing makes me happier than showing the bad guys why red really is my color.
About the Author
Jennifer Estep is a New York Times and USA Today bestselling author prowling the streets of her imagination in search of her next fantasy idea. Spider's Bite, Web of Lies, Venom, Tangled Threads, Spider's Revenge, By a Thread, Widow's Web, Deadly Sting, Heart of Venom, The Spider, Poison Promise, Black Widow, Spider's Trap, Bitter Bite, Unraveled, and Snared, along with the e-shorts Thread of Death, Parlor Tricks, Kiss of Venom, Unwanted, and Nice Guys Bite are the other works in her red-hot Elemental Assassin urban fantasy series. Jennifer is also the author of the Black Blade and Mythos Academy young adult urban fantasy series and the Bigtime paranormal romance series. For more on Jennifer and her books, visit her at JenniferEstep.com and @Jennifer_Estep.
Praise For Deadly Sting (Elemental Assassin #8)…
"A raw, gritty, and compelling walk on the wild side..."
— Nalini Singh, New York Times bestselling author

"[A] raw, broken, ruthless heroine who remains decent and honorable at her core..."
— Smash Attack Reads

"A raw, gritty, and compelling walk on the wild side…"
— Nalini Singh, New York Times bestselling author