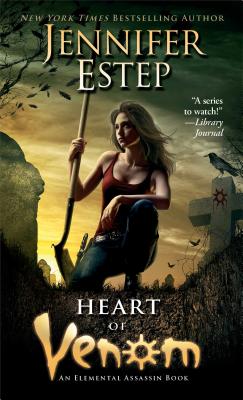 Heart of Venom (Elemental Assassin #9) (Mass Market)
Pocket Books, 9781451689006, 384pp.
Publication Date: August 27, 2013
* Individual store prices may vary.
Description
The hotly anticipated ninth novel in the hugely popular Elemental Assassin series finds Gin Blanco on a dangerous mission to rescue a friend.

When I say you're a dead man, take that literally.

To me, killing people is like a day at the salon: cut and dry. Well, more like rinse and repeat when you moonlight as the assassin the Spider. But my last spa day ended redder than my freshly painted nails after a twisted Fire elemental and his goons kidnapped my close friend Sophia Deveraux and nearly killed her sister Jo-Jo in the process.

Up Ashland's most dangerous mountains, and deep into the heart of its blackest woods—I'll track these thugs no matter where they take Sophia. It doesn't matter what kinds of elemental magic they try to throw at me, my Ice and Stone powers can take the heat and then some. I will get Sophia back, over their dead bodies.

Because anybody that hurts Gin Blanco's family becomes a body.
About the Author
Jennifer Estep is a New York Times and USA Today bestselling author prowling the streets of her imagination in search of her next fantasy idea. Spider's Bite, Web of Lies, Venom, Tangled Threads, Spider's Revenge, By a Thread, Widow's Web, Deadly Sting, Heart of Venom, The Spider, Poison Promise, Black Widow, Spider's Trap, Bitter Bite, Unraveled, and Snared, along with the e-shorts Thread of Death, Parlor Tricks, Kiss of Venom, Unwanted, and Nice Guys Bite are the other works in her red-hot Elemental Assassin urban fantasy series. Jennifer is also the author of the Black Blade and Mythos Academy young adult urban fantasy series and the Bigtime paranormal romance series. For more on Jennifer and her books, visit her at JenniferEstep.com and @Jennifer_Estep.
Praise For Heart of Venom (Elemental Assassin #9)…
"Gin Blanco is one of the most intriguing heroines on the scene. . . . If you have not gotten on the Gin bandwagon yet, do so today!"

"Bodies litter the pages of this first entry in Estep's engrossing Elemental Assassin urban fantasy series. . . . Urban fantasy fans will love it."

"This series kicked off with a bang, and the action hasn't let up since."

"Watch out world, here comes Gin Blanco. Funny, smart, and dead sexy."
— -- Lilith Saintcrow, author of Redemption Alley

"A raw, gritty, and compelling walk on the wild side, one that had me hooked from the first page."
— -- Nalini Singh, New York Times bestselling author

"When it comes to work, Estep's newest heroine is brutally efficient and very pragmatic, which gives the new Elemental Assassin series plenty of bite. Shades of gray rule in this world where magic and murder are all too commonplace. The gritty tone of this series gives Estep a chance to walk on the darker side. Kudos to her for the knife-edged suspense!"
or
Not Currently Available for Direct Purchase