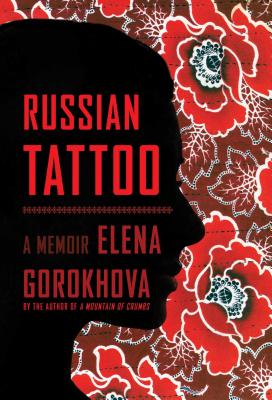 Russian Tattoo (Hardcover)
A Memoir
Simon & Schuster, 9781451689822, 336pp.
Publication Date: January 6, 2015
Other Editions of This Title:
Paperback (1/26/2016)
* Individual store prices may vary.
Description
Finalist for the William Saroyan International Prize for Writing

From the bestselling author of A Mountain of Crumbs, a "brilliant and illuminating" (BookPage) portrait of mothers and daughters that reaches from Cold War Russia to modern-day New Jersey to show how the ties that hold you back can also teach you how to start over.

Elena Gorokhova moves to the US in her twenties to join her American husband and to break away from her mother, a mirror image of her Soviet Motherland: overbearing, protective, and difficult to leave. Before the birth of Elena's daughter, her mother comes to help care for the baby and stays for twenty-four years, ordering everyone to eat soup and wear a hat, just as she did in Leningrad. Russian Tattoo is the story of a unique balancing act and a family struggle: three generations of strong women with very different cultural values, all living under the same roof and battling for control. As Elena strives to bridge the gap between the cultures of her past and present and find her place in a new world, she comes to love the fierce resilience of her Soviet mother when she recognizes it in her American daughter.

"Gorokhova writes about her life with a novelist's gift," says The New York Times, and her second memoir is filled with empathy, insight, and humor.
About the Author
Elena Gorokhova grew up in St. Petersburg, Russia, although for most of her life it was known to her as Leningrad. At the age of twenty-four she married an American and came to the United States with only a twenty kilogram suitcase to start a new life. The bestselling author of A Mountain of Crumbs and Russian Tattoo, she has a Doctorate in Language Education and currently lives in New Jersey. Her work has appeared in The New York Times, The Daily Telegraph, on BBC Radio, and in a number of literary magazines.
Praise For Russian Tattoo: A Memoir…
"This incredibly powerful book slips into your unconscious with charm and warmth and then grabs you by the gut. By the time you reach the end, you'll have experienced the laughter, sorrow, joy, regret, love and hurt of a real life. And you'll have a lump in your throat the size of Petersburg. With a magical command of language, Elena Gorokhova has painted images on my brain I won't forget, as if I'd lived those moments myself. Because, somehow, I did."
— Alan Alda

"Elena Gorokhova's memoir of her journey to America is delightful, hilarious and bracingly candid, a memorable odyssey of learning and striving as she escapes from the crumbling old world to a strange and mystifying new life."
— David E. Hoffman, Pulitzer Prize-winning author of The Dead Hand

"Fluid and evocative prose. … An imaginative writer."

"[An] evocative memoirist building on a fine previous volume … [Gorokhova] imbues this narrative of the gathering momentum of her assimilation with admirable esprit."

"Russian Tattoo is the story of an immigrant, of leaving what you know and love. It is the story of mothers and daughters--a story of love, forgiveness, and the desire to belong."
— Anya Von Bremzen, author of Mastering the Art of Soviet Cooking

"Self-effacing and candid, yet also deeply observant and as powerfully descriptive as a novel, Russian Tattoo is that rare book written by an immigrant that helps a native understand their country better, seeing it from the peeled-back perspective of a newcomer."

"Written fully, laden with emotion."

"If Elena Gorokhova's splendid second memoir merely conveyed to readers a vivid, almost visceral understanding of the sometimes paralyzing sense of dislocation she experienced arriving in the United States in 1980 from the Soviet Union, that alone would be reason enough to read it. … Brilliant [and] illuminating."

"Engaging. … With wry, unswervingly honest observer's eye, Gorokhova chronicles the increasing strangeness of her new country. … This work from a young immigrant's point of view is both wondrous and stinging."

"Russian Tattoo is a page-turner from the start. . . . Gorokhova fills her story of arriving in the U.S. with telling, fascinating details . . . [and] bravely, frankly shares her life."
— Eloise Kinney

"Russian Tattoo is a gripping story, Elena Gorokhova is a clear-voiced and human narrator, and her life is captivating without becoming incomprehensible. The glory of the book is in its little things: the pride that comes from feeling respected by a parent, and the trust needed to humble yourself before them."

"A refreshing amount of candor elevates this memoir of an immigrant's life in America. … [A] wonderful and entertaining work."

"An epic read."

"Blazingly entertaining."
— Caroline Leavitt (blogger)
or
Not Currently Available for Direct Purchase