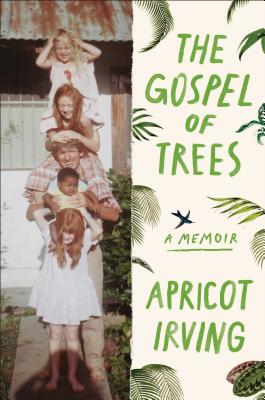 The Gospel of Trees (Hardcover)
A Memoir
Simon & Schuster, 9781451690453, 384pp.
Publication Date: March 6, 2018
Other Editions of This Title:
Paperback (3/26/2019)
MP3 CD (2/12/2019)
* Individual store prices may vary.
Description
In this compelling, beautiful memoir, award-winning writer Apricot Irving recounts her childhood as a missionary's daughter in Haiti during a time of upheaval—both in the country and in her home.

Apricot Irving grew up as a missionary's daughter in Haiti—a country easy to sensationalize but difficult to understand. Her father was an agronomist, a man who hiked alone into the hills with a macouti of seeds to preach the gospel of trees in a deforested but resilient country. Her mother and sisters, meanwhile, spent most of their days in the confines of the hospital compound they called home. As a child, this felt like paradise to Irving; as a teenager, the same setting felt like a prison. Outside of the walls of the missionary enclave, Haiti was a tumult of bugle-call bus horns and bicycles that jangled over hard-packed dirt, the clamor of chickens and cicadas, the sudden, insistent clatter of rain as it hammered across tin roofs and the swell of voices running ahead of the storm.

As she emerges into womanhood, an already confusing process made all the more complicated by Christianity's demands, Irving struggles to understand her father's choices. His unswerving commitment to his mission, and the anger and despair that followed failed enterprises, threatened to splinter his family.

Beautiful, poignant, and explosive, The Gospel of Trees is the story of a family crushed by ideals, and restored to kindness by honesty. Told against the backdrop of Haiti's long history of intervention—often unwelcome—it grapples with the complicated legacy of those who wish to improve the world. Drawing from family letters, cassette tapes, journals, and interviews, it is an exploration of missionary culpability and idealism, told from within.
About the Author
Apricot Anderson Irving is currently based in the woods outside Portland, Oregon, but has lived in Haiti, Indonesia, and the UK. Her missionary parents moved to Haiti when she was six years old; she left at the age of fifteen. She returned to Haiti in the spring of 2010 to cover the earthquake for the radio program This American Life. She is the recipient of a Rona Jaffe Foundation Writers' Award and an Oregon Literary Arts Fellowship. Her renowned oral history project, BoiseVoices.com, was a collaboration between youth and elders to record the stories of a neighborhood in the midst of gentrification. She loves to garden, and on rare occasions she can be persuaded to belt out Irish folk songs in bars. The Gospel of Trees is her first book.
Praise For The Gospel of Trees: A Memoir…
"Finely crafted...Irving moves seamlessly between the wide-eyed perspective of the child and the critical gaze of the adult, creating a tale as beautiful as it is discomfiting."

"The daughter of a dedicated missionary, Irving grew up in Haiti, where she learned both the power and the risks of working to improve the world--and the toll it can take on a family. An eye-opening memoir."


"Apricot Irving's honest memoir highlights the good, the bad and the ugly of missionary life, challenging traditional "white savior" narratives."

"Lush, emotional debut...A beautiful memoir that shows how a family altered by its own ambitious philanthropy might ultimately find hope in their faith and love for each other, and for Haiti."

"With insight and admirable even-handedness, Irving shows the complex forces at play in both the story of Haiti's cycle of poverty and the more personal dynamics at play in her family as they struggle mightily to do God's work."

"Provide[s] a useful view of the inherent ethical and moral ambiguities of well-meaning but sometimes ineffective charitable interventions in Haiti."

"A timely and often insightful perspective on modern-day Haiti."

"Saving souls and saving Haiti, one tree at a time: this is the charge of the Anderson family when it arrives in Haiti in 1981. They are "the sent ones," Baptist missionaries led by a workaholic agronomist father who walks the hills declaiming Bible verses about trees in Haitian Kreyol. If a memoir's worth lies in the truths it's willing to tell, then The Gospel of Trees is the most worthwhile of memoirs, an unflinching and gorgeously written account of a young girl's coming of age in a difficult family, in one of the world's most difficult places. How do we survive our own lives? "Such endeavors only look easy from a distance," writes Apricot Irving, née Anderson, apropos of planting trees, though of course it's about so much more than those trees. Her story hits hard, and sticks, as only the very best stories do."
— Ben Fountain, New York Times bestselling author of Billy Lynn's Long Halftime Walk

"An engaging, detailed, nuanced and penetrating look at the seldom-studied effects of the do-gooders on the countries, communities, families they seek to improve. Neither sugar-coated, nor cynical, Apricot Irving has mastered the most difficult aspect of this kind of memoir: the just-right tone of compassion and hard-earned hope. Hers is a valuable lived experience which she reports in lucid and lively writing. We learn not just about Haiti, but about families, about the human heart. A family memoir, a coming of age story, an exploration of a country greatly loved and little understood. A cautionary tale for all those setting out to do good, may this gospel be read as the good news it is—a moral compass and a must read for all of us who struggle with how to create a better world."
— Julia Alvarez, author of numerous novels, including How the García Girls Lost Their Accents, In the Time of the Butterflies, and Saving the World, as well as the memoir, A Wedding in Haiti

"A beautiful exploration of hope and hubris. Irving shows us the many entanglements among our relationships with the land, other cultures, and the mysteries of our own families."
— David George Haskell, author of The Songs of Trees and Pulitzer Prize finalist The Forest Unseen

"The Gospel of Trees is rich with such passionate insights; also, it's a rare thing to find an insider account of missionary life not blunted by conventional piety. Very particularly sensitive to Haiti, this book is an object lesson for anyone wanting to do good in the world: forget about moving that mountain of sand with your tweezers; you will (as the old Vodou song has it) be carrying water with a spoon."
— Madison Smartt Bell, award-winning author of All Soul's Rising