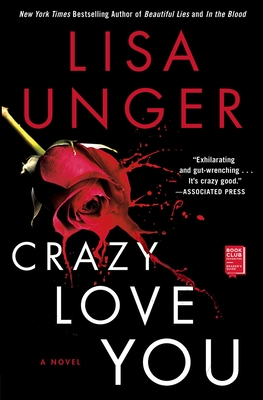 Crazy Love You (Paperback)
A Novel
Gallery Books, 9781451691214, 384pp.
Publication Date: August 11, 2015
Other Editions of This Title:
Digital Audiobook (2/9/2015)
CD-Audio (2/10/2015)
Hardcover (2/10/2015)
Mass Market (3/29/2016)
Paperback (7/30/2015)
Pre-Recorded Audio Player (2/10/2015)
* Individual store prices may vary.
Description
The explosive novel by New York Times bestselling author Lisa Unger, which the Providence Journal called "A simmering tale of romantic obsession and angst in the tradition of Body Heat or Fatal Attraction, laced with the noirish spirit of James M. Cain. Wonderfully crafted and beautifully executed."

Falling in love can feel like a dream…or a living nightmare.

Darkness has a way of creeping up when Ian is with Priss. Even when they were kids, playing in the woods of their small upstate New York town, he could feel it. Still, Priss was his best friend, his salvation from the bullies who called him "loser" and "fatboy"…and from his family's deadly secrets.

Now that they've both escaped to New York City, Ian no longer inhabits the tortured shell of his childhood. He is a talented and successful graphic novelist, and Priss…Priss is still trouble. The booze, the drugs, the sex—Ian is growing tired of late nights together trying to keep the past at bay. Especially now that he's met sweet, beautiful Megan, whose love makes him want to change for the better. But Priss doesn't like change. Change makes her angry. And when Priss is angry, terrible things begin to happen…
About the Author
Lisa Unger is an award-winning New York Times and internationally bestselling author. Her novels have sold more than two million copies and have been translated into twenty-six languages. She lives in Florida. Visit LisaUnger.com.
Praise For Crazy Love You: A Novel…
Praise for Crazy Love You:
"Sharply drawn characters and occasional rest breaks of humor . . . Unger is adept at evoking the eerie, but she's also capable of droll sociological commentary on the urban scene. . . . After reading Unger's sinister thriller, anyone cavalier enough to think they can easily put the past to rest (and even live companionably with the dead) will think again."
— Maureen Corrigan, Washington Post

"Nothing is what it seems in this creepy romance novel."
— The Oklahoman

"Exhilarating and gut-wrenching . . . Proves to be complex and surprising in several ways, and Unger has a gift for telling a story with great characters while also manipulating the reader. . . . It's crazy good."
— Associated Press

"Manages to keep us guessing."
— Raleigh News & Observer

"An extraordinary psychological thriller . . . Manages to do an incredible amount of things, all of them well, including a truly unique romantic triangle and the blurred lines between unconditional friendship and romantic infatuation. . . . A simmering tale of romantic obsession and angst in the tradition of Body Heat or Fatal Attraction, laced with the noirish spirit of James M. Cain. Wonderfully crafted and beautifully executed."
— Providence Journal

"CRAZY LOVE YOU kept me reading like a madwoman, desperate to find out what happens next. This is a haunting, compulsive tale that will have you under its spell long after you've closed the book."
— Tess Gerritsen, author of Die Again

"Unger's skillful portrayal of complex and traumatized characters make her latest psychological thriller one that will keep readers engaged from start to finish. . . . This imaginative tale . . . may be the author's best work yet."
— Library Journal (starred review)

"Riveting . . . This is a complex, intricate story, yet the pages fly by as Ian, the most unreliable narrator since Nick Dunne in Gone Girl, leads us on a wild ride in this superb psychological thriller. Unger is at the top of her game here."—Booklist (Starred review)

"Darkly compelling psychological thriller."
— Family Circle

"Scores another bull's eye with this one. Classic Unger and a surefire hit."
— Kirkus Reviews

"Emotionally involving . . . Unger skillfully keeps the reader off kilter as she delves into the psyches of Priss and Ian."
— South Florida Sun-Sentinel

"Suspenseful . . . Will keep readers hooked."
— Publishers Weekly

"Crazy Love You ups the ante. Every time I thought I had a handle on what was really happening and why, [Unger] gave the plot another sly twist that left me scrambling to catch up. . . . Has enough supernatural elements to remind us of Stephen King territory."
— Tampa Bay Times

"Page-turning psychological suspense."
— DuJour Magazine.com

"The psychological and paranormal dimensions of Crazy Love You are superbly drawn, endlessly fascinating and extremely frightening. The undertow of despair might not be safe for novice word-swimmers….A book so richly textured."
— Florida Weekly

"A deeply layered and finely textured novel about a special relationship that has taken a dark turn. It is a novel of obsession, unrequited love, loneliness and the rage that comes from not fitting in."
— BookReporter

"At first I thought I knew where Unger was driving me, but then she slammed on the brakes, turned and drove me right off a cliff."
— Minneapolis Star-Tribune

"Mesmerizing and unnerving from its first pages to its stunner of an ending, Lisa Unger's Crazy Love You is a tale you won't soon forget."
— Megan Abbott, author of The Fever

"When I tell you I could not put this book down, I mean I COULD NOT PUT THIS BOOK DOWN!!! It is dark and twisted and captivating and full of endless surprises. I promise you're in for a wild ride."
— John Searles, author of Help for the Haunted and Strange But True

"With CRAZY LOVE YOU, Lisa Unger has outdone herself. I've been a fan of hers for years but this is hands-down my favorite book she's written. It has all the twists and turns we've come to expect from her, along with a delightfully unreliable narrator, and a psychological depth that is as poignant as it is shocking. People like to exaggerate claims of reading a book in a single sitting. I did—cover to cover without once rising from my chair. It's that good."
— Gregg Hurwitz, author of Don't Look Back

Praise for Lisa Unger:
"Unger pulls off a bravura feat. . . . Readers will … savor the pleasure of being guided by Unger's sure hand along a deliciously twisted narrative path. Another scary winner from an accomplished pro."
— Kirkus Reviews

"[A] gripping novel of psychological suspense. . . [with a] tense, surprise-laden plot."
— Publishers Weekly (starred review)

"In the Blood is an absolute corker of a thriller that cements Lisa Unger's status as one of the brightest stars in the game."
— Dennis Lehane

"Reading In the Blood is like grabbing a live wire. . . . A shocking, unputdownable thriller."
— Karin Slaughter

"In the Blood is a riveting new thriller from Lisa Unger. Dark and haunting, with a deadly twist that you won't see coming 'til you're hit between the eyes, this book is a winner."
— Linda Fairstein

"In the Blood is a psychological thriller that played me--in the best sense--from beginning to surprising end. I guarantee Lisa Unger will pull the rug out from under you more than once, so hold tight."
— Andrew Pyper

"Stellar... Heartbroken should be on everyone's summer to-read list. For best results, read it alone on an island on a dark and stormy night."
— USA Today (4 stars)

"Heartbroken has all the makings of a high-wire thriller. But it's the twisted psyches of its main characters that really unsettle."
— People (3 ½ stars)

"Deeply plotted and complex and carries an undeniable momentum. Lisa Unger's enthralling cast of characters pulled me right in and locked me down tight. This is one book that will have you racing to the last page, only to have you wishing the ride wasn't over."
— Michael Connelly

"A nail-biting, nuanced whodunit."
— People

"Riveting psychological suspense of the first order. If you haven't yet experienced Lisa Unger, what are you waiting for?"
— Harlan Coben

"I read Black Out in one hungry gulp and spent the rest of the night trying to calm my jangled nerves. This is a stunning, mind-bending shocker with moments of sheer terror — one of the best thrillers I've read this year!"
— Tess Gerritsen

"Unger's latest keeps the adrenaline pumping with a roller-coaster plot and harrowing psychological suspense. … Well worth the ride."
— People

"Suspenseful, sensitive, sexy, subtle … The best nail-biter I have read for ages. Highly recommended."
— Lee Child