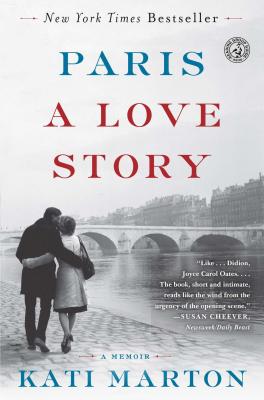 Paris (Paperback)
A Love Story
Simon & Schuster, 9781451691559, 224pp.
Publication Date: March 12, 2013
* Individual store prices may vary.
Description
This New York Times bestseller is a memoir for anyone who has ever fallen in love in Paris or with Paris.

This is a memoir for anyone who has ever fallen in love in Paris, or with Paris.

PARIS: A LOVE STORY is for anyone who has ever had their heart broken or their life upended.

In this remarkably honest and candid memoir, award-winning journalist and distinguished author Kati Marton narrates an impassioned and romantic story of love, loss, and life after loss. Paris is at the heart of this deeply moving account. Marton paints a vivid portrait of an adventuresome life in the stream of history. Inspirational and deeply human, Paris: A Love Story will touch every generation.
About the Author
Kati Marton is the author of True Believer: Stalin's American Spy; Enemies of the People: My Family's Journey to America, a National Book Critics Circle Award finalist; The Great Escape: Nine Jews Who Fled Hitler and Changed the World; Hidden Power: Presidential Marriages That Shaped Our History; Wallenberg; The Polk Conspiracy; and A Death in Jerusalem. She is an award-winning former NPR and ABC News correspondent. She lives in New York City.
Praise For Paris: A Love Story…
"Like . . . Didion, Joyce Carol Oates. . . . The book, short and intimate, reads like the wind from the urgency of the opening scene."
— Susan Cheever

"I stayed up last night and read this book cover to cover. I can't remember the last time I did that. It is wonderful—touching, romantic and honest—and oh, how it made me want to go to Paris!"
— Barbara Walters

"[A] must-read . . . enthralling"

"Kati Marton has lived a thrilling and turbulent life. … She fell in love with and married two famous men. … She has been an eyewitness to history in all its cruelty. … [I]n this memoir … she grapples with an unexpected new stage of life: widowhood. … [A] delicious read by a well-connected author."

"Paris provides a backdrop for this absorbing memoir of love and painful loss, played out on the larger stage of world politics….On a first-name basis with the political movers and shakers on a global stage, Marton has observed world politics in the making and makes space for readers on her catbird seat."

"Kati Marton is a writer of great clarity and grace. Paris: A Love Story is a revealing memoir about the contours of her own humanity, rendered with precision and honesty. It is a memorable story of love, loss and landscape that is as expansive as her remarkable life."
— Steve Coll, author of Private Empire: ExxonMobil and American Power

"A great read—the lightness of love, the drama of war and sudden death—with Paris in the background."
— Diane von Furstenberg