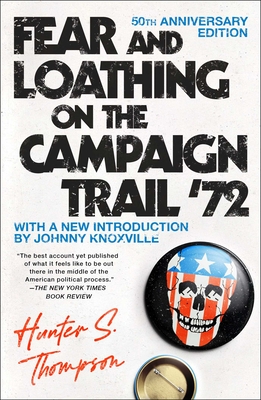 Fear and Loathing on the Campaign Trail '72
Paperback

* Individual store prices may vary.
Other Editions of This Title:
Mass Market Paperback (4/1/1985)
Description
From the legendary journalist and creator of "Gonzo" journalism, Hunter S. Thompson comes the bestselling critical look at Nixon and McGovern's 1972 presidential election.

Forty years after its original publication, Fear and Loathing on the Campaign Trail '72 remains a cornerstone of American political journalism and one of the bestselling campaign books of all time. Hunter S. Thompson's searing account of the battle for the 1972 presidency—from the Democratic primaries to the eventual showdown between George McGovern and Richard Nixon—is infused with the characteristic wit, intensity, and emotional engagement that made Thompson "the flamboyant apostle and avatar of gonzo journalism" (The New York Times). Hilarious, terrifying, insightful, and compulsively readable, Fear and Loathing on the Campaign Trail '72 is an epic political adventure that captures the feel of the American democratic process better than any other book ever written.
Praise For Fear and Loathing on the Campaign Trail '72…
"The best account yet published of what it feels like to be out there in the middle of the American political process." —The New York Times Book Review

"The best stuff on the campaign I've read anywhere." —The Washington Post

"An American original. He hit the high notes out on the ragged edge, and thousands of us heard him above the canned din of the safe center." —Los Angeles Times

"Thompson should be recognized for contributing some of the clearest, most bracing and fearless analysis of the possibilities and failures of American democracy in the past century." —Chicago Tribune

"Some of the finest political and social writing of our times." —The Seattle Times

"Obscene, horrid, repellent . . . Driving, urgent, candid, searing . . . A fascinating, compelling book." —The New York Post
Simon & Schuster, 9781451691573, 512pp.
Publication Date: June 26, 2012
About the Author
Hunter S. Thompson was born and raised in Louisville, Kentucky. His books include Hell's Angels, Fear and Loathing at Rolling Stone, Fear and Loathing on the Campaign Trail '72, The Rum Diary, and Better than Sex. He died in February 2005.