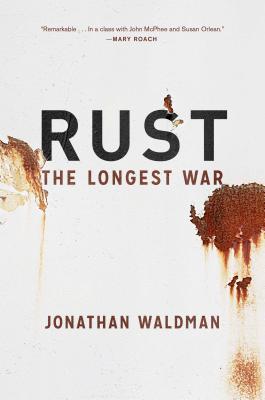 Rust (Hardcover)
The Longest War
Simon & Schuster, 9781451691597, 304pp.
Publication Date: March 10, 2015
Other Editions of This Title:
Paperback (3/22/2016)
Compact Disc (3/22/2016)
MP3 CD (3/22/2016)
Pre-Recorded Audio Player (3/22/2016)
MP3 CD (3/10/2015)
Compact Disc (3/10/2015)
* Individual store prices may vary.
Description
Finalist for the Los Angeles Times Book Prize ** A Wall Street Journal Best Book of the Year

It has been called "the great destroyer" and "the evil." The Pentagon refers to it as "the pervasive menace." It destroys cars, fells bridges, sinks ships, sparks house fires, and nearly brought down the Statue of Liberty. Rust costs America more than $400 billion per year—more than all other natural disasters combined.

In a thrilling drama of man versus nature, journalist Jonathan Waldman travels from Key West, Florida, to Prudhoe Bay, Alaska, to meet the colorful and often reclusive people who are fighting our mightiest and unlikeliest enemy. He sneaks into an abandoned steelworks with a brave artist, and then he nearly gets kicked out of Ball Corporation's Can School. Across the Arctic, he follows a massive high-tech robot that hunts for rust in the Alaska pipeline. On a Florida film set he meets the Defense Department's rust ambassador, who reveals that the navy's number one foe isn't a foreign country but oxidation itself. At Home Depot's mother ship in Atlanta, he hunts unsuccessfully for rust products with the store's rust-products buyer—and then tracks down some snake-oil salesmen whose potions are not for sale at the Rust Store. Along the way, Waldman encounters flying pigs, Trekkies, decapitations, exploding Coke cans, rust boogers, and nerdy superheroes.

The result is a fresh and often funny account of an overlooked engineering endeavor that is as compelling as it is grand, illuminating a hidden phenomenon that shapes the modern world. Rust affects everything from the design of our currency to the composition of our tap water, and it will determine the legacy we leave on this planet. This exploration of corrosion, and the incredible lengths we go to fight it, is narrative nonfiction at its very best—a fascinating and important subject, delivered with energy and wit.
About the Author
Jonathan Waldman studied writing at Dartmouth and Boston University's Knight Center for Science Journalism, and worked in print, radio, and TV before landing in books. His first book, Rust: The Longest War, was a finalist for the Los Angeles Times Book Prize and winner of the Colorado Book Award. His writing has otherwise appeared in The New York Times and McSweeney's. Visit him at JonnyWaldman.com or email him at JonnyWaldman@gmail.com.
Praise For Rust: The Longest War…
"Jonathan Waldman's first book, Rust, sounds like a building code violation. But don't let that fool you. This look at corrosion—its causes, its consequences, and especially the people devoted to combating it—is wide-ranging and consistently engrossing. Mr. Waldman makes rust shine. . . . At one point, a canning executive hostile to Mr. Waldman's questions tells him rust is 'a silly subject to write about.' It is a testament to Mr. Waldman's skill and perseverance that this book proves that man so thoroughly wrong." —Gregory Cowles, The New York Times

"Compelling . . . Mr. Waldman does a masterful job of interweaving elements of the science and technology." —Henry Petroski, The Wall Street Journal

"Engrossing . . . Brilliant . . . Waldman's gift for narrative nonfiction shines in every chapter. . . . Watching things rust: who would have thought it could be so exciting!" —Natural History

"It never sleeps, as Neil Young noted: Rust is too busy wrecking our world. The relentless, destructive process has downed planes, sunk ships, crashed cars, dissolved priceless artifacts, and committed countless other crimes of corrosion. Waldman uses our long war with the iron oxide . . . [to] offer fascinating insights into our endless battle with the dreaded four-letter word." —Discover

"Lively . . . Don't be put off by the subtitle, The Longest War. Waldman has embarked on the opposite of a slog." —The Atlantic

"Fascinating . . . Waldman attends 'Can School,' interviews rust experts, and visits the Alaska pipeline, among other adventures, to illuminate the myriad attacks rust makes on our daily lives. In doing so, he adds luster to a substance considered synonymous with dullness." —Scientific American

"Arresting . . . A book of nonstop eye-opening surprises . . . Brilliantly written and fascinating." —Booklist

"A mix of reporting and history lesson that never gets boring . . . Impossible to put down." —Men's Journal

"The story of corrosion is in some ways the story of Western civilization—the outsized ambitions, the hubris and folly, the eccentric geniuses and dreamer geeks who changed the world. What a remarkable, fascinating book this is. The clarity and quiet wit of Waldman's prose, his gift for narrative, his zeal for reporting and his eye for detail, these things and more put him in a class with John McPhee and Susan Orlean." —Mary Roach, author of Stiff, Bonk, and Gulp

"In this remarkable book, Jonathan Waldman takes one of our planet's oldest, most everyday—and most dangerously corrosive—chemical reactions and uses it as the starting point for a literary odyssey. Part adventure, part intellectual exploration, part pure fun, it will make you see both rust and life on earth in a new way." —Deborah Blum, author of The Poisoner's Handbook

"It is often said that in the Future we will live in the Cloud. That's a good reason to love rust. A silent rebuke to the hype of the modern, it never stops its good work of blunting the cutting edge. But you don't have to be a reactionary to love Rust: The Longest War, as I did. Jonathan Waldman weaves together cultural history with a history of the stuff on which culture is built, showing how the drama of human striving and renewal are inescapably tied to limit and decay." —Matthew Crawford, author of Shop Class as Soulcraft

"Waldman is a bright and curious companion in this lively adventure in search of the scourge of rust and its ingenious opponents." —Kirkus Reviews

"Lively . . . A detailed, fun read with a valuable reminder that every seemingly irrelevant item we take for granted each day is front and center for someone else." —Publishers Weekly
or
Not Currently Available for Direct Purchase